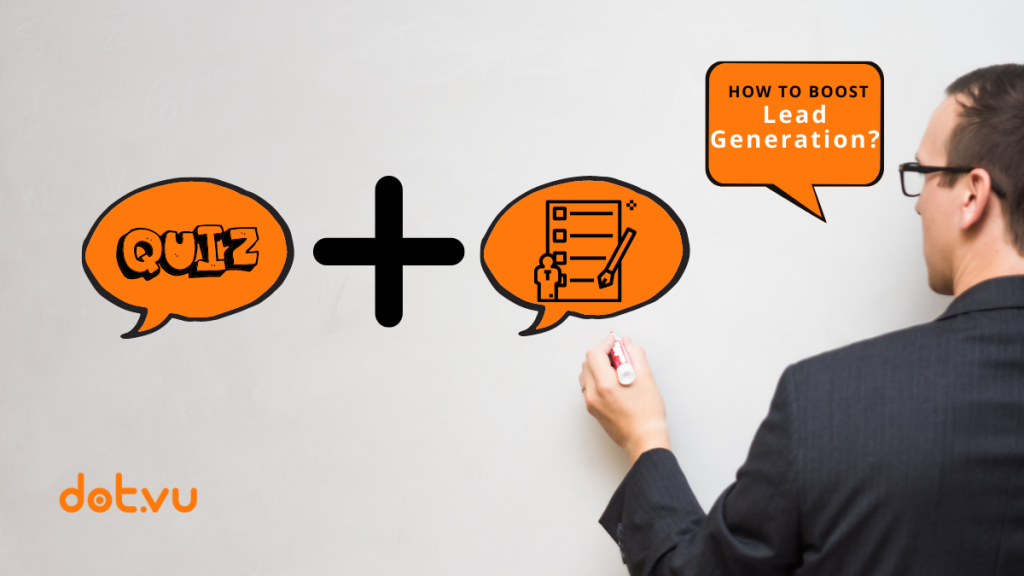 ---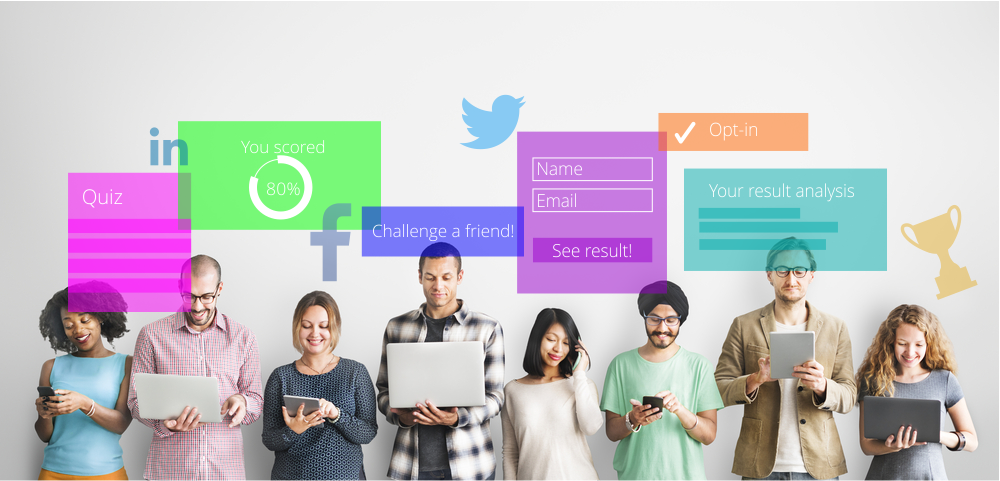 You've seen plenty of those silly leads quizzes in your social feed. "What Game of Thrones character are you?"or other ones such as "How good is your grammar?" – they're all over the internet. And admit it, you've been tempted to take one at some point or the other. Why? Because they spark our curiosity and competitive gene. Silly or not, people love quizzes and they do, in fact, present great opportunities for marketers.
Leads Quizzes for serious brands?
Leads Quizzes challenge, entertain, and engage people; and brands all over the world are tapping into this phenomenon not only to gain traction on social media but also to generate leads.
"Depending on the gating (lead-gen) tactics used, we've seen our clients turn visitors into trackable contacts (subscribers or leads) with a conversion rate of between 30 to 70 percent. As compared to typical blogs or landing pages, that's a rather high number" says Dot.vu CEO, Casper Kandelsdorff.
Leads Quizzes don't have to be all froth and trivia, B2C and B2B companies alike use them in a variety of different ways – with formats ranging from fun personality tests to more serious knowledge tests about industry insights.
People love to assess themselves
Assessments are like leads quizzes, but longer and are normally used for self-evaluation. Whether it's about personal factors like knowledge, skills, and competences, or about professional benchmarking like business-unit performance, compliance, or technology-readiness. It's a great way to discover your customers' needs/pains and plug them into your solutions.

Pick a topic that you reckon is a focus area for your audience and one that you excels at. If you're having trouble coming up with questions, start with a set of best practices, data, or benchmarks you already have. Turn those into a questionnaire that gets your audience to reflect on their current situation. The point is getting them to acknowledge areas that they struggle with or need help with.
6 Clever lead-generation tactics
The great thing about formats like quizzes and assessments is that they offer immediate, real-time feedback of a score, advice, or personalized solution. Marketers can use this to their advantage and gate content strategically to generate leads.
Here are a few different ways to generate leads and opt-ins:
1. High gate at the start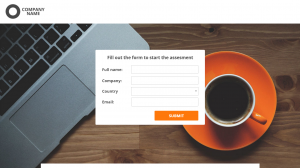 Place your lead-gen form with a maximum of input fields at the very beginning before your users begin answering questions. This is only to be used if your content and analysis is of high value. If you're using a quiz contest to generate leads, make sure your prize/giveaway if of high value. Click here to view this template.
2. Low gate at the start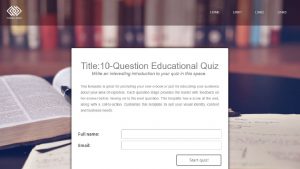 Like the option above, but with lower input fields. Again, the trick is to make sure that you are balancing the value you offer with what your audience is paying (amount of required contact information). Click here to view this template.
3. Gate the results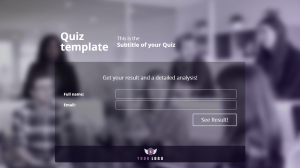 questionnaire open – let people answer all the questions without requiring them to fill out anything – but gate the results. In other words, request your users to fill out a lead-gen form (high gate or low – you take the call depending on the offered value of the result) to access their results. Click here to preview this template.
4. 'Unlock full analysis' gate: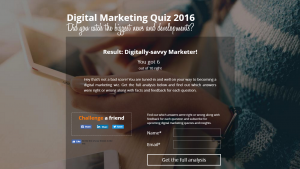 This is sneaky stuff. You only show the most basic part of the result and require the user to fill in their details to 'unlock' the full analysis. Click here to view this example.
5. Opt-in before results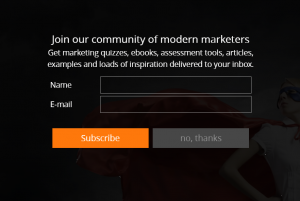 With this tactic, you're not making it mandatory to fill out any form, but suggesting it before the results are revealed to the user. Here, you point out the value of subscribing to your newsletter/blog and encourage people to fill it with a highlighted CTA – and make the 'skip this' button less attractive. Click here to see this example.
6. Opt-in along with results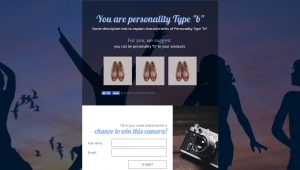 This is a less intrusive experience for the user, where you place an opt-in form just below or to the side of the results.
Click here to preview this template.
Capturing valuable, lead-qualifying insights
Today's audience is discerning; it's getting tougher to get people to fill out those long lead-generation forms. With quizzes and assessments, you can ask for less and instead, strategically place your lead qualifying questions your quiz/assessment questionnaire. If it's done well, your users won't even notice it, and just continue answering as part of the experience.
For example, in this quiz, I asked the user to choose what kind of achievement meant the most to them. Their answers gave me an idea of marketing goals each individual user has. We then used that insight to tweak our pitch, to match their specific goals.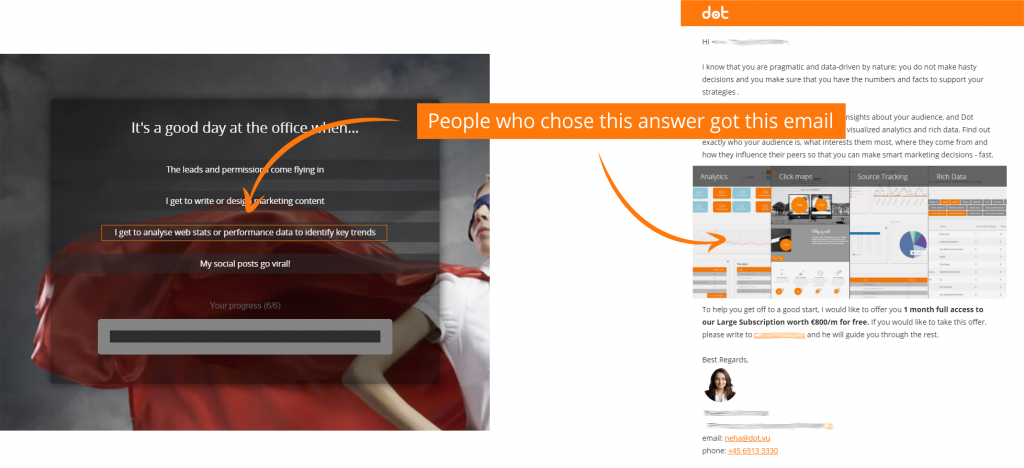 A few inspiring examples:
The Classic knowledge test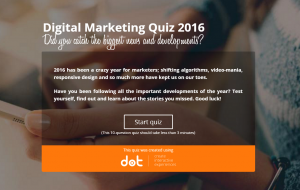 A Series of multiple-choice questions with 1 right answer and alternative (wrong) answers. Results include a score with feedback, commentary, or advice.
See how Dot.vu used a quiz to engage their target audience (marketers) by challenging them to this Digital Marketing Quiz. Click here to experience
The Personality Test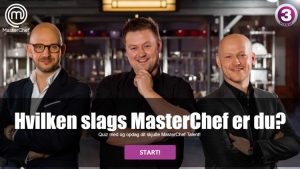 Series of multiple-choice questions, where each answer option points to a specific personality type. On completion, the user is presented with the personality that was chosen most times.
MasterChef Denmark created this fun quiz to do a bit of buzz about the upcoming season of the popular reality show, and to encourage potential contestants to sign up for their casting call. Click here to experience
The Educational Quiz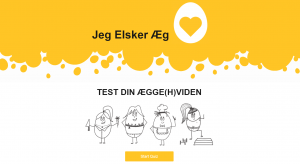 This is like the classic knowledge test, but gives the user feedback after each question.
Landbrug Og Fødevare (Danish Agriculture and Food Organization) used this quiz to educate the Danish population about the health benefits of adding more eggs to their diet. Click here to experience
The Video Quiz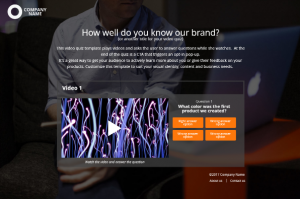 The user watches a video and answers questions – great for tutorials and other educational forms of content.
This sample video quiz illustrates how you can ask questions while watching a video. Click here to experience
The 'What Happens Next' Quiz
A fun experience where the video stops and asks the user to guess what happens next.
See how Benefit Cosmetics repurposed one of their short videos into this 'what happens next' quiz contest. Click here to experience
Quiz Contests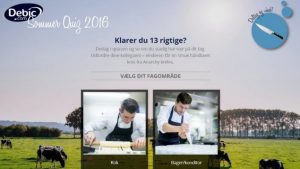 Another excellent way for marketers to boost those newsletters opt-in rates is by offering prizes or giveaways to those who take the quiz.
Example: Debic – a global B2B dairy product brand – used this quiz to connect with their target audience (chefs and bakers) and to grow their email subscriber list. Click here to experience
Product / Solution suggesting test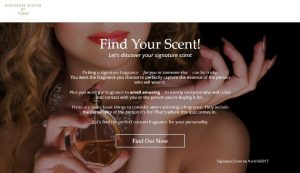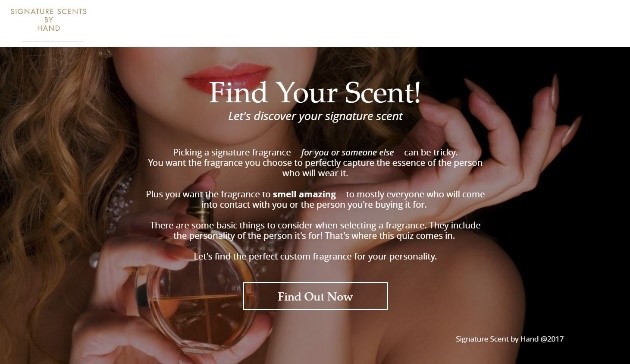 The user answers a series of multiple-choice questions, where each answer option points to a specific personality type. On completion, the user is presented with products or solutions that match her personality type.
Signature Scents by Hand help their customers discover the right scent notes for their personality and then encourages them to order from their webshop. Click here to experience
Assessment Test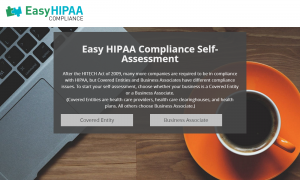 Ask your audience to rate themselves on a Likert Scale for each question, and score their results with customized feedback.
Example: This assessment helps businesses find out to what degree they are compliant with HIPAA regulations and laws. It also scores their results and offers advice. Click here to experience!
Conclusion
People love to test themselves – whether it's to evaluate their knowledge, benchmark their professional work, or just for a bit of entertainment. That's why interactive formats like quizzes and assessments work. There's value in giving people custom evaluations, scores, feedback, or advice – and marketers can strategically leverage this to generate leads.
I hope you found some inspiration in the 'idea catalogs' for leads quizzes and assessments listed in this post. I hope that you can employ some of the many lead-gen tactics to feed your marketing engine. I'd love to hear your feedback, thoughts, ideas, and questions – just leave us a comment below!
Subscribe to our blog!
---