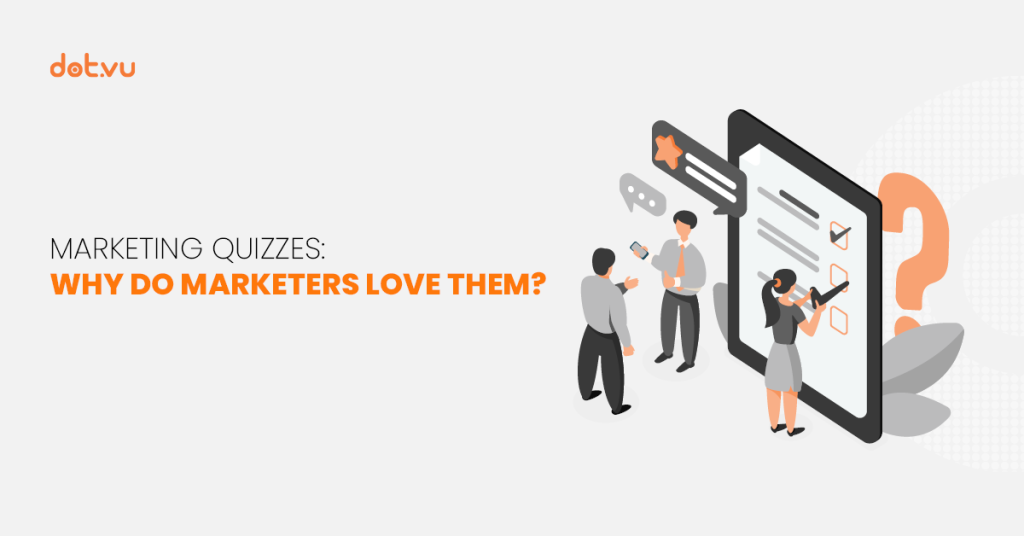 Your content does not get enough clicks? You're not alone! A whopping 60% of marketers struggle to create engaging content that brings in results.
Which is why marketers would try various digital marketing strategies. Quiz marketing is a powerful marketing tool and a go-to favorite among marketers.
In this blog post, we will explain the concept of quiz marketing and how you can use it in your marketing strategy to achieve better results. We will also go through the most popular types of marketing quizzes you can use.
Table of contents:
What is quiz marketing?
Quiz marketing is a concept of integrating Interactive Quizzes into your content to achieve specific marketing objectives. An Interactive Quiz is an online quiz with a series of questions that prompts the user to interact by answering the questions.
Adding quizzes into your digital marketing strategy can help to improve brand image, suggest products according to the customer's needs, collect customer feedback, and even generate lead opportunities. More on this later on.
Related: What is an Interactive Quiz?
Before we move on, try this Drag and Drop quiz! Doesn't this give you a nice little break from reading plain text?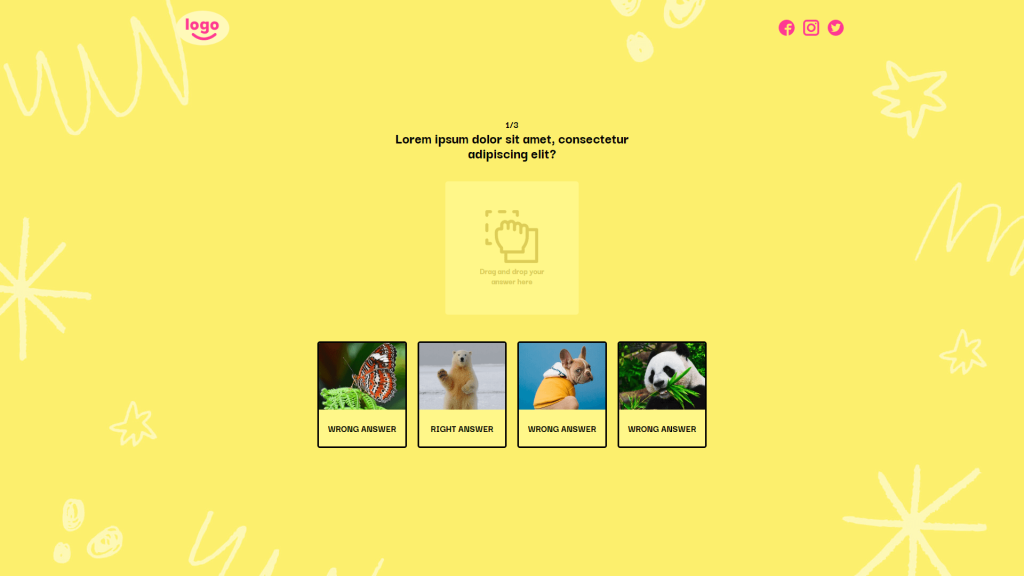 The psychology behind quizzes
According to Psychology Today, people use quizzes to learn something about themselves, to relate to others, and to feel like they belong. While taking a quiz, consumers would be able to relate more to your brand. Best-case scenario, they've already started picturing themselves using your product or service!
For instance, using a Personality Test would appeal to most people as they would be answering questions about themselves.
Since quizzes are something that people are already inclined towards, adding this to their digital experience can reap many benefits for your business.
Why use quizzes in marketing?
Quizzes are a great form of Interactive Content that can grab the audience's attention. Studies show that interactive content is able to effectively generate conversions at least 70% of the time.
Potential clients take feedback and recommendations seriously when choosing between companies to purchase products and services from. Therefore, creating quizzes and surveys for your business is something you shouldn't ignore.
Related: What is Interactive Content?
Here are the top benefits of quizzes for marketing:
1. Effective lead generators & customer info
Quiz marketing appeals to your audience's natural curiosity. This gives them a fun way to connect with your brand, while in the process helping you gather valuable customer insights. By asking the right questions, you can learn more about the different customer segments you serve. Use this to create personalized marketing strategies and sales campaigns.
Moreover, quizzes for marketing are one of the best ways to generate leads for your business. You can gate your quiz with a lead form. Either gate the entire quiz or just the results – that's entirely up to you. However, we have noticed that the possibility of users filling in the form increases when only the results are gated. If people find the quiz interesting, they would be more likely to fill in their details like name and email address.
Check out the example below. This Quiz with Gated Results is ideal for educating and engaging your audience while generating leads.
2. Get more engagement and social media shares
People love quizzes! Well-targeted and well-crafted quizzes will be able to capture almost anyone's attention. When people find out their results, they might wonder what the results of others would be; and proceed by sharing to their social page.
Marketing quizzes should be targeted to reach the right audience – your target market. Quizzes and their results are often shared within their social or professional networks. As a result, your quiz is more likely to reach the type of audience you want it to reach.
3. Build brand awareness
The more people that share your quiz on social media, the higher the chances of it reaching people that might not have heard of your brand. And, if the quiz that you've designed is captivating enough, it could lead to new potential customers.
This saves your time and effort in getting new customers. They would either actively seek out your brand after the quiz, or if you contact them later on, they might be able to already relate to your brand – compared to having heard your brand for the first time.
This Interactive Video template combines two things your audience will love: a video and a quiz. You can showcase your products to build brand awareness.
4. Give customers a personalized and awesome shopping experience
You can strategically direct your customers to the right product recommendations based on the answers they provide on the quiz. This way, they get exactly what they want and need, thus keeping them engaged and interested.
For example, Sephora uses this to their benefit by creating dedicated quizzes and buying guides page, which helps to direct consumers to the correct products – leading to an awesome customer experience!
The example below is a Personality Test that consults and advices your customers based on their answers.
5. Drive more web traffic
Traffic is crucial for any business website. The more visitors it receives, the higher the sales potential. Using quizzes for marketing is a great way to boost website traffic. As quizzes are easily sharable, they have the potential to become popular, therefore increasing traffic to your website.
Because quizzes are interactive and interesting, they also have the potential to boost your website's SEO. Plus, it makes your brand more memorable. Providing an Interactive Experience keeps your customers engaged on your site longer, decreasing bounce rates.
Marketers' favorite marketing quizzes of all time
Mix and match different types of marketing quizzes to keep it fun and interesting for your audience! Knowing the difference between these types will help you in determining which ones you should use. Use them in a variety of scenarios to achieve specific objectives and to see which one works best for your target audience.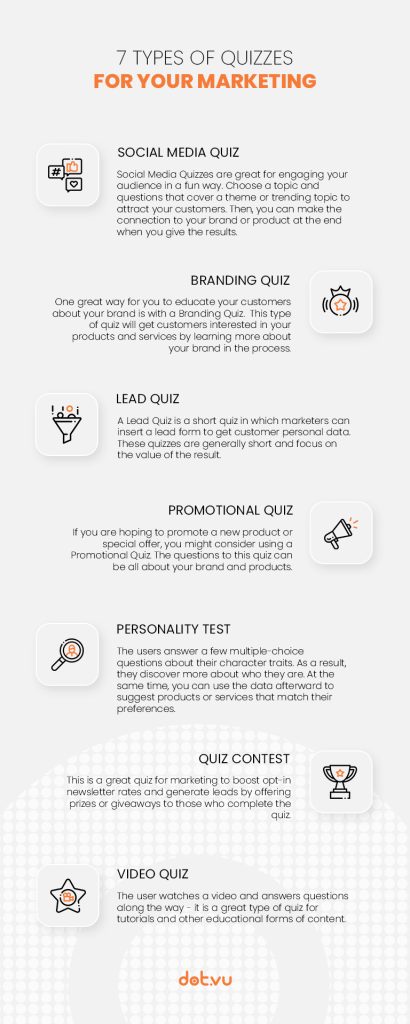 1. Social Media Quiz
Create a fun and engaging experience for your audience with this quiz! Choose a topic that is currently trending to attract more people to participate. Make the connection to your brand at the end in the results section. By allowing customers to share their results on social media, you'll be able to extend your campaign reach to new potential customers.
2. Branding Quiz
Branding Quizzes are a great way for you to educate your customers about your brand. Customers will be able to learn more about your brand and develop interest in your products and services. Create an irresistible offer at the end to seal the deal and get that new sale!
3. Lead Quiz
A short quiz with a lead form at the end to gather customer data. The quiz is generally short and engaging, focusing on the value of the result.
4. Promotional Quiz
This quiz is useful to promote a new product or special offer. Design questions about your brand and products that would require customers to go to your website and search for answers. You can also use this quiz like a contest – offer gifts and incentives to get customers excited and eager to complete the quiz.
5. Personality Test
As mentioned earlier in the psychology behind quizzes, people LOVE tests; especially Personality Tests! The customer will be given a set of questions that will determine their personality type based on the answers given.
6. Quiz Contest
Add a contest to any type of quiz. It doubles the fun, knowing there's a prize at the end! By doing this, you can boost your newsletter opt-in rate and generate new leads.
7. Video Quiz
This is an Interactive Experience where the user watches a video and answers questions after. It's great for tutorials and other educational forms of content.
Tips on crafting perfect marketing quizzes
Just creating a quiz without proper planning might not get you the results you desire. Here's some tips on crafting a well-designed quiz:
Keep it simple
The key is to keep your quiz short and to the point. Questions should be easy to understand so that they encourage the audience to answer. Avoid vague questions. This way, the audience will be more engaged and more likely to complete the quiz.
Make it relevant
Ensure your quiz is relevant to specific needs that you can provide the solution to. This will not only get more clicks from the right audience, but it will also make sure that the audience remembers your quiz (and brand!) when they're ready to buy.
Make it interactive
Quizzes should be fun and interactive, not long and boring. Add images, videos, and graphics to make the quiz more visually appealing. Elements like progress bars and timers help keep the audience engaged.
Look at the example below where the quiz has progress bars that keeps users engaged.
Start using marketing quizzes today!
To sum it up, marketing quizzes are the perfect way to engage your audience! It also gets them excited about learning more about your brand – making them one of the most popular ways to generate leads.
Quizzes are great to incorporate into your marketing strategy. They can help you capture leads, nurture relationships with potential customers, and educate your audience about your products and services.
Crafting your own quiz need not be a complicated process. Visit Dot.vu and create your free account. Easily craft your own interactive marketing quizzes with customizable templates and join the happy ranks of marketers that have effortlessly benefited from it!
---