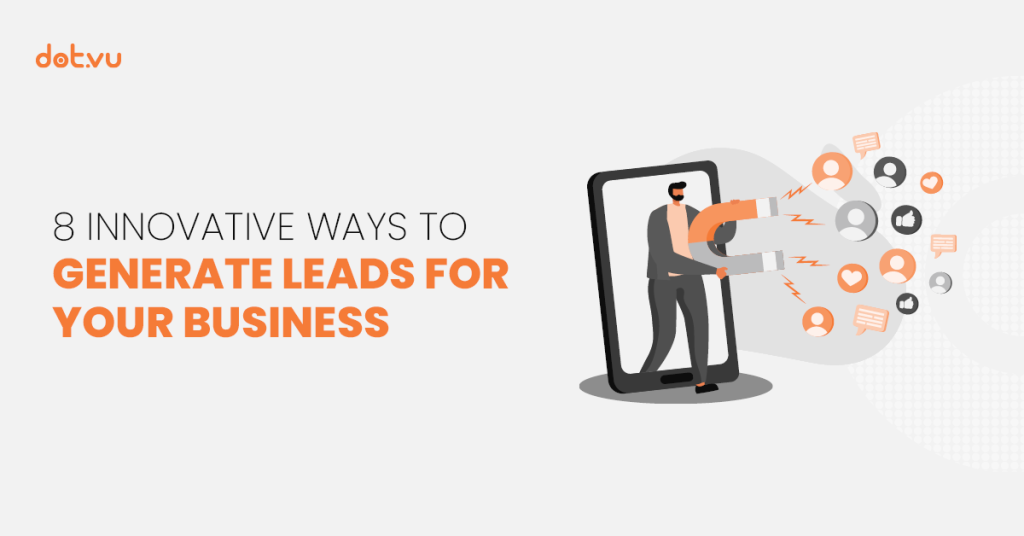 Are you looking for effective ways to generate leads for your business? Indeed, one of the biggest challenges digital marketers face nowadays is converting visitors into leads. The traditional methods to attract new users into the lead generation funnel are e-Books and whitepapers. However, creating those takes a lot of time and effort, and the results are not what they used to be ten years ago. Nowadays, marketers are looking at Interactive Content for lead generation and high customer engagement.
People have become very selective about information and expect it to be quick and easy to consume. Consumers no longer sign up for content that doesn't provide them real value right away. To make matters worse, there are countless e-books and whitepapers online, offering your clients numerous alternatives to your company.
Here's where Interactive Content comes in.
Interactive Content offers an improved way to interact with your clients. It changes the way you communicate from a monologue, where the viewer consumes passively, to dialogue, where your customer actively participates in the process.
This blog post covers the following topics:

What is Interactive Content?
Most traditional forms of content like blog posts, infographics, or videos are about observing, reading, watching, or listening. On the other hand, Interactive Content engages people through active participation. The common thread for all Interactive Content formats is that they offer people to participate in the experience actively instead of passively observing.
People interact by answering questions, choosing preferences, guessing, voting, navigating, or playing. Specifically, popular formats include Quizzes, Assessments, Interactive Videos, Guided Selling experiences, Interactive Calculators, Online Advent Calendars, Interactive Flipbooks, Marketing Games.
Related: What is Interactive Content?
Using Interactive Content for lead generation
While Interactive Content is extremely engaging for the users, it is also amazing for marketers because it allows them to capture valuable Zero & First-Party data about their audience.
Interactive Content encourages the consumer to interact with the entire Interactive Experience. Thus, you can track every action. Because it is quick and easy to consume and provides real-time personalized results, people are more likely to engage with it and read, watch, or listen to the end.
For example, a personality test such as a Test and Consultation Booking template asks five questions and provides the participant with a real-time, personalized result based on the replies.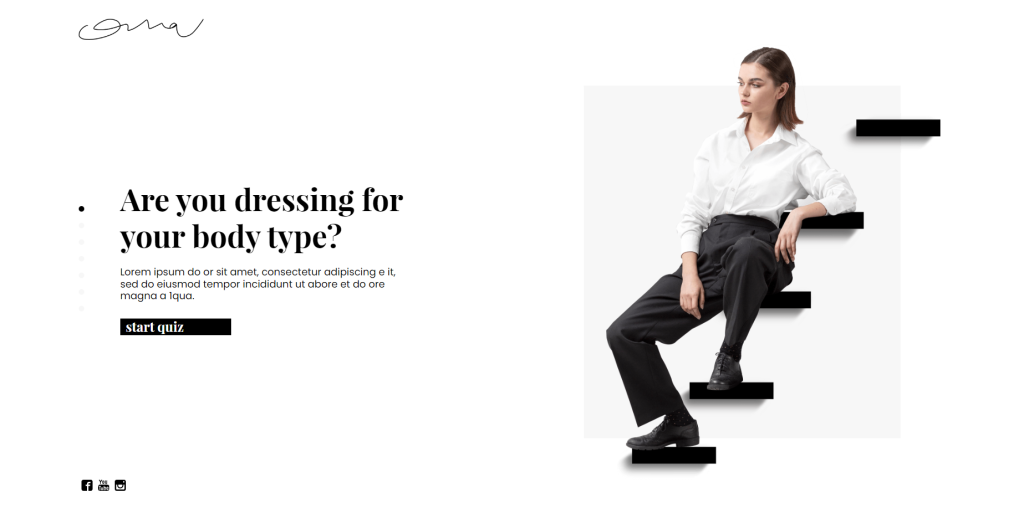 The only piece of information the participant gives away is a name and e-mail address through a simple booking form. The rest of the data will stem from the questions in the personality test. Consequently, this results in a better customer experience where customers willingly give away information throughout the quiz in return for personalized feedback, which holds high value to them.
Interactive Content allows marketers to ask questions that capture in-depth marketing data and use a shorter input form that helps them generate leads.
Now, let's dive into the most popular types of Interactive Content for lead generation.
10 Types of Interactive Content for lead generation
Every click, answer, navigation, and choice will aid in drawing a clearer image of each lead. Over time, you can use different Interactive Content formats to develop rich lead profiles with in-depth insights.
With Interactive Content, the sky is the limit. There are multiple types of Interactive Content you can use to generate qualified leads.
1. Quiz
Quizzes are experiences that challenge, entertain, and engage people. Moreover, they provide results based on replies. In addition, the quiz is the ultimate form of snackable content, great for social media and growing your email subscriber lists.
Quizzes are an easy way to get B2C leads or even B2B depending on the type of marketing quiz you want to promote. One of the best ways to generate leads for your business from quizzes is to gate the results with a lead form. Remember that quizzes are entertaining and easy to complete. Therefore, lots of people end up engaging with them. In other words, Quizzes are great for gathering a large volume of leads. However, keep in mind that this type of Interactive Content might not deliver the most qualified leads.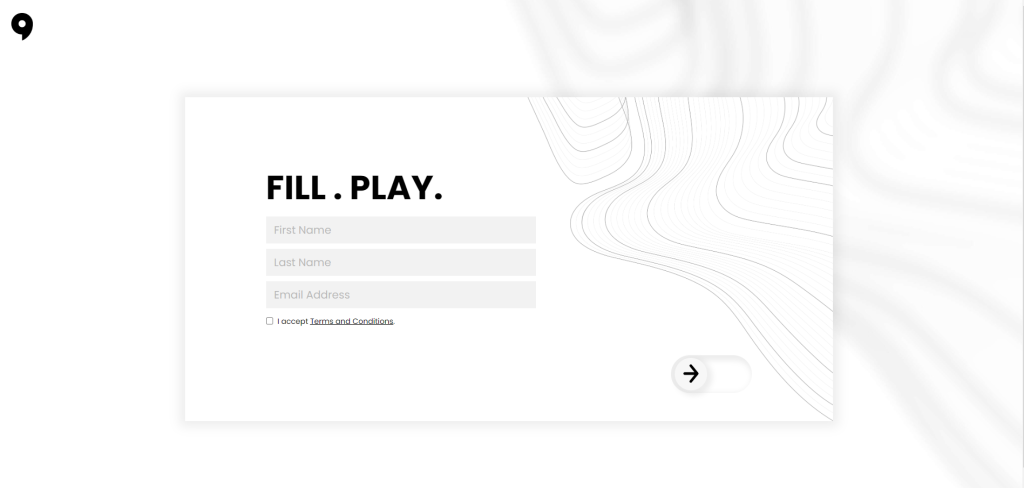 2. Interactive Assessment
An Interactive Assessment is typically longer than a quiz and offers the user more detailed personalized feedback or advice. Marketers can use it to test their audience's domain knowledge, expertise, or skills. In a B2B context, it can also be used in the form of industry benchmark tests, best practices assessments, risk assessments, compliance assessments, or technology readiness tests.
Interactive Assessments are particularly useful to generate B2B leads. Furthermore, as assessments provide high value to your users, they will be more willing to share their information in exchange for personalized advice. Therefore, the leads you will generate will be of high importance. You can either gate the answer or ask the participants for their emails to send them the results, along with some additional valuable materials.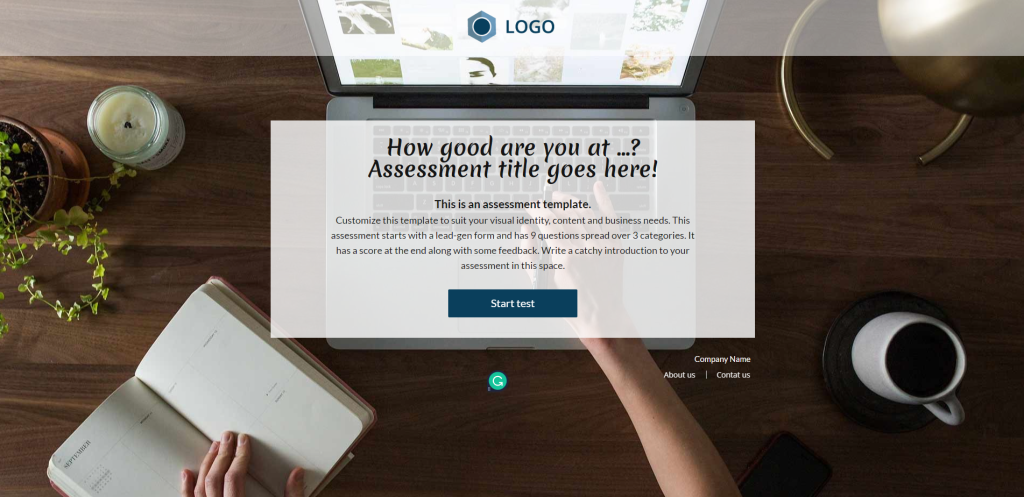 3. Product Recommender
A Product Recommender suggests products based on your customers' needs. It resembles a virtual shopping assistant where the user answers a few questions and receives a customized product recommendation. Therefore, a Product Recommender works best for retailers or web shops.
Once your visitors have reviewed their suggestions, you can offer a discount on the recommended products. You generate leads by releasing the discounts upon completing a lead form. If your Product Recommender is B2C, you will get a large volume of leads who might not be highly qualified. On the other hand, a B2B Product Recommender, like the example below, will help you generate B2B leads of high importance.
4. Interactive Video
An Interactive Video allows the user to engage in the story through clickable touchpoints that determine the course of action. The viewers participate actively by reviewing additional information, answering questions, or purchasing a product. Furthermore, Interactive Videos can include lead forms that totally or partially gate the video.
When viewers interact with a video, their attention stays on the content, resulting in a 591% increase in user activity. The more engaging your video, the more visitors will gladly fill out your lead form.
5. Interactive Calculator
Interactive Calculators offer real utility to the user, as a tool to facilitate buying decisions, business plans, budgets, and more. Marketers can create calculators with their own formula for calculating savings, ROI, and risk exposure, among other things.
Interactive Calculators are great to both generate B2B leads and B2C leads. You can convert your visitors into leads by including a lead form before or after the users receive the results. If your calculator provides value to your audiences, they will happily share their information with you.
6. Online Advent Calendar
An Online Advent Calendars creates a buzz leading up to an upcoming event. It's great for Christmas, Black Friday, or even company anniversaries, special events, seasonal sales, and festivals. The idea is to "unlock" a special surprise (premium content or giveaway) every single day or hour leading up to an event. If you add a lead form for reclaiming the prizes, you will collect a large volume of leads with the advent calendar.
7. Interactive E-book
An Interactive Ebook is multi-device-friendly, and you can enrich e-books by embedding assessments, interactive charts, videos, and more into them. Your audiences don't even have to download the Interactive eBook, they just read them on their phones, tablets, or computers.
Gating parts or the entire Interactive eBook enables you to get more leads. The more interaction and valuable information you provide, the more readers will choose to unlock the gated sections of your eBook.
Related: What is an Interactive eBook?
8. Interactive Virtual Tour
An Interactive Virtual Tour is a highly engaging experience. Companies use it to invite their audiences into an authentic virtual environment. You can add as many interactive elements to your virtual tour as you want. As a result, you will create the most engaging Interactive Experience your customers have ever seen.
You can collect leads through an Interactive Virtual Tour by adding an Interactive Experience with a lead form. For example, you can enrich your tour with a quiz where visitors need to provide their personal information.
Related: How to create a virtual tour?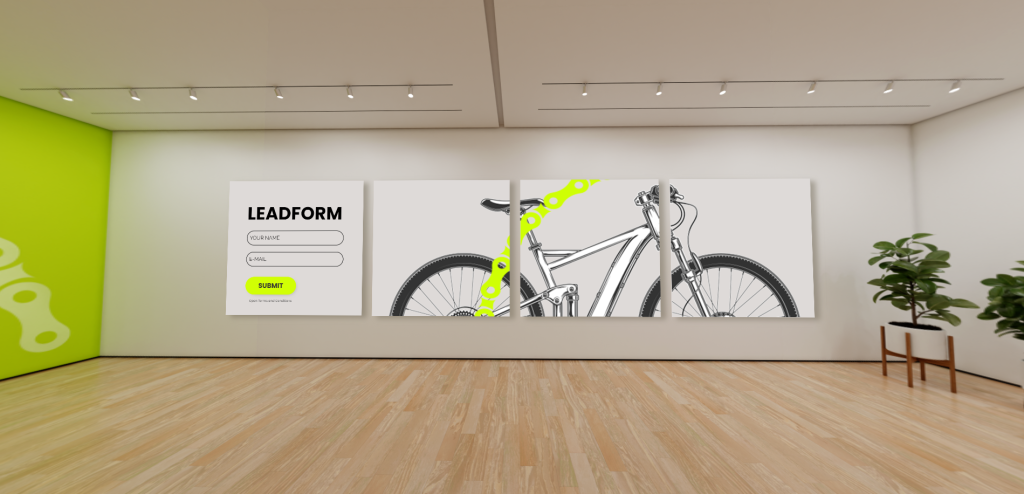 9. Marketing Games
What can be a better way to hold people's attention than to use the ultimate procrastinator? Games. By using memory card games, spot-the-mistake games, or what-happens-next games, marketers have so much to choose from. In fact, the revenue generated by Marketing Games has increased over the last few years. 
Generating leads with Marketing Games is simple. Once your visitors win the game and receive a reward, you can ask them for their information in exchange for unlocking the discount code.
10. Solution Builder
The Solution Builder works like assessments; the only difference is that it provides the user with detailed feedback for every answer. They provide in-depth advice for the user's specific needs and challenges and are great for educating your audience.
A Solution Builder is great content for lead generation because you can easily gate the results. As this experience provides a personalized and valuable advice, you visitors will be more likely to provide you with their information.
Related: What is a solution builder?
You already know which Interactive Content formats to use for your lead generation strategy! That's great!
Now, let's move on to the most innovative ways to generate leads for your business using gated Interactive Content.
8 Effective ways to generate leads for your business with Interactive Content
You must be reasonable when it comes to asking for information. First, have a look at what you are asking your client to do and what you are offering in return. Then, make sure there is a balance between the value of your offering and what the client gives up in return.
For example, you shouldn't start it with a long lead-gen form if you're using a Product Recommender that is a promotional content piece. On the other hand, if you're handing the user an educational and valuable assessment that gives them custom business advice, you might want to use a lead form before they see their results.
1. High-gate at the start
To begin with, place your lead-gen form with a maximum of 5-6 input fields at the very start. This needs to be done before your users begin consuming your Interactive Content.
Placing a lead form in the beginning is only a good idea when you have a solid base of loyal customers. Otherwise, you are risking scaring away a large number of your visitors. Furthermore, your Interactive Content must be a highly valuable source of information to avoid bounce rates.
This gating tactic is suitable for Interactive Assessments, Interactive Videos, Interactive Calculators, Solution Builders, and Interactive eBooks. Moreover, gating your content at the start guarantees you more qualified leads, as only the interested customers would fill out a lead form straight away.
2. Low-gate at the start
Low-gate at the start is similar to the first option, but it contains fewer input fields – from 2 to 4. Just like with high-gate at the start, we recommend you use this tactic only when you know with certainty that many visitors will complete the lead form.
This gating tactic is suitable for Interactive Assessments, Interactive Videos, Interactive Calculators, Solution Builders, and Interactive eBooks. Moreover, gating your content at the start guarantees you more qualified leads, as only the interested customers would fill out a lead form straight away.
The example below is an Interactive Assessment that contains a short lead form at the start. As the assessment reveals high-valuable customer advice for the respondents' specific situation, there will be more people willing to fill it out.
3. Gate the results
This works for Quizzes, Interactive Assessments, Interactive Calculators, or Solution Builders. Keep your questionnaire open – let people answer all the questions without requiring them to fill out anything – but gate the results.
This tactic helps you generate leads because your visitors have already spent time on answering the questions, they will be more eager to view the results.
4. Unlock full analysis' gate
You only show the most basic part of the result and require the user to fill in their details to 'unlock' the full analysis. This tactic can be useful for Interactive Assessments. Look at the example below. You reveal the main result. However, the respondents need to share their names, emails, and company names to receive detailed explanation.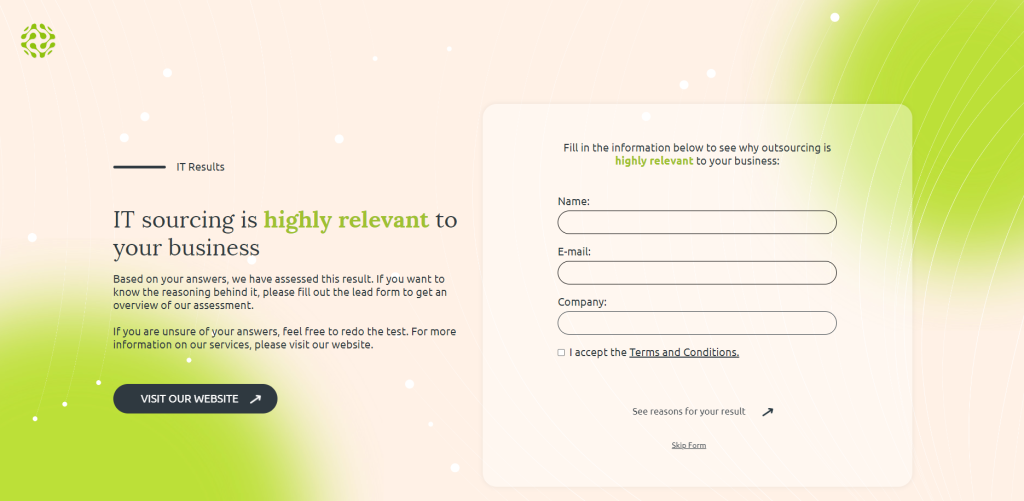 5. Opt-in before results
With this tactic, you're not making it mandatory to fill out any form but suggesting it before the results are revealed to the user. Here, you point out the value of subscribing to your newsletter/blog and encourage people to fill it with a highlighted CTA – and make the 'skip this' button less attractive. You can also provide an incitement for people to provide their information with a chance to win a prize.
Depending on your goals, an opt-in before results can be a suitable gating tactic for Interactive Quizzes, Interactive Assessments, Interactive Calculators, and Solution Builders.
6. Opt-in along with results
This is a less intrusive experience for the user, where you place an opt-in form just below or to the side of the results. If your Interactive Experience is engaging enough, more visitors will choose to fill out your lead form. The example here illustrates an opt-in form below the results.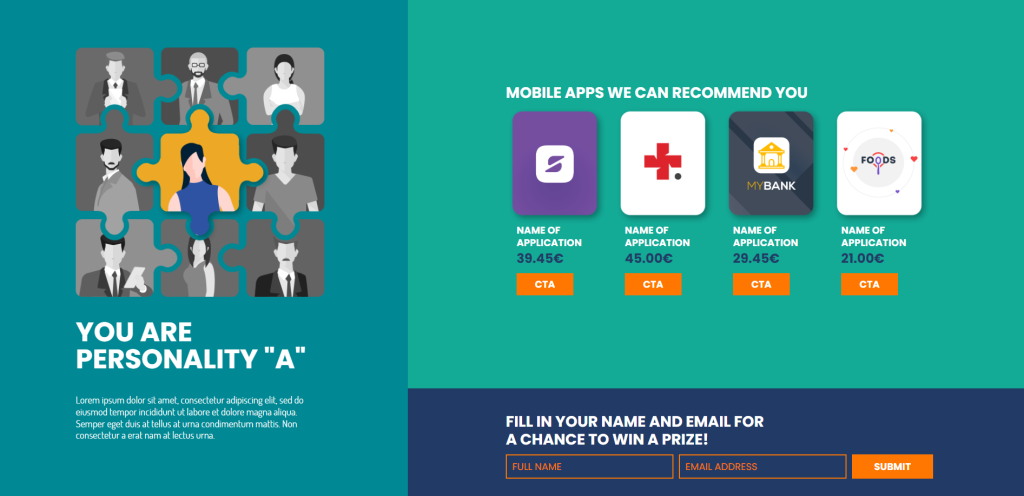 7. Partially gated content
This works well for Interactive Videos or e-books. Here, you allow the user to view or read a certain amount of the content and gate the rest with a lead-gen form. Partially gated content is suitable for any type of Interactive Book, such as Interactive eBook, Interactive Flipbook, product catalogs, and interactive magazines. You need to place your lead form strategically. Let your readers explore your content just enough to spark their interest, and ask them to share their information at the right moment.
8. Gated discounts
Turn your Interactive Quizzes, Online Advent Calendars, or Product Recommenders into lead generation machines. Use the allure of a great prize to get people to fill out a short lead form to claim their discounts.
This tactic is particularly useful for your Product Recommenders. As you provide accurate product recommendations, your visitors might find exactly what they are looking for. Therefore, they will be more likely to claim their discounts sharing their information.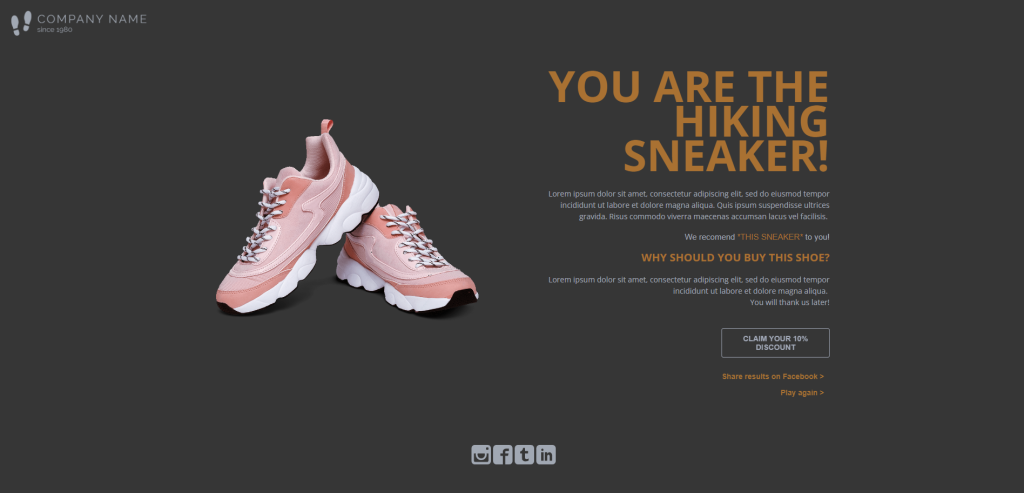 Gated content best practices
If you want your leads to be more qualified, follow these simple 5 gated content best practices:
1. Define your target group
The first crucial step is to define your target group. You will choose your gated content format according to your customer's needs.
2. Identify your customers' needs
Identifying your customers' needs will help you craft the most suitable content for your lead generation. Conducting keyword research or directly asking your customers are the easiest ways to discover hot topics in your field.
3. Identify the right gated content format
Your customers go through different steps before purchasing your products. First, they are in the awareness stage. Then, they evaluate alternatives during the consideration stage. Lastly, they choose a product in the decision stage. When identifying buyer's journey content, you need to understand your customers' requirements during each individual stage.
4. Bring value to your audience
Your customers will only exchange their information for highly valuable content. Therefore, you must entertain, educate, and engage your audience. You can leverage the power of Interactive Content in order to create value.
5. Track your performance
Tracking your performance will show you your strengths and weaknesses. As a result, you will be able to improve your content and gated forms in the future.
Do you need to use more Interactive Content to boost your lead generation strategy?
Not sure if Interactive Content is for you? We created this Interactive Assessment for you with 2 things in mind:
Experience the magic of Interactive Content yourself, answering 5 simple questions and receiving valuable feedback.
Find out if you need to incorporate more Interactive Content into your marketing efforts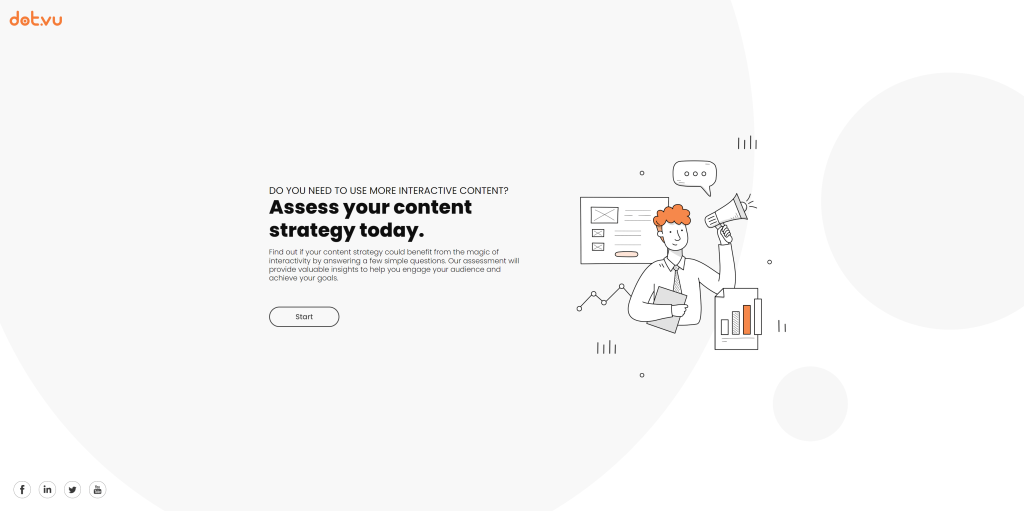 Implement these innovative ways to generate leads for your business today!
Interactive Content entertains your customers and makes you stand out in the crowd that is continuously pushing out e-books and whitepapers. It adds value to your content by offering your client real-time personalized results. On top of that, you can repurpose old content into Interactive Experiences to save time in content production.
All of this is great, and it doesn't even include the best part of Interactive Content for lead generation: you collect customer information in a non-intrusive way! With some Interactive Experiences, you are also more certain of the quality of your leads, because they chose to share their names and emails in exchange for a valuable source of information.
Dot.vu is an Interactive Content platform with a large variety of templates you can use for effective lead generation. Create an account and customize a template yourself. Happy lead generation!
---