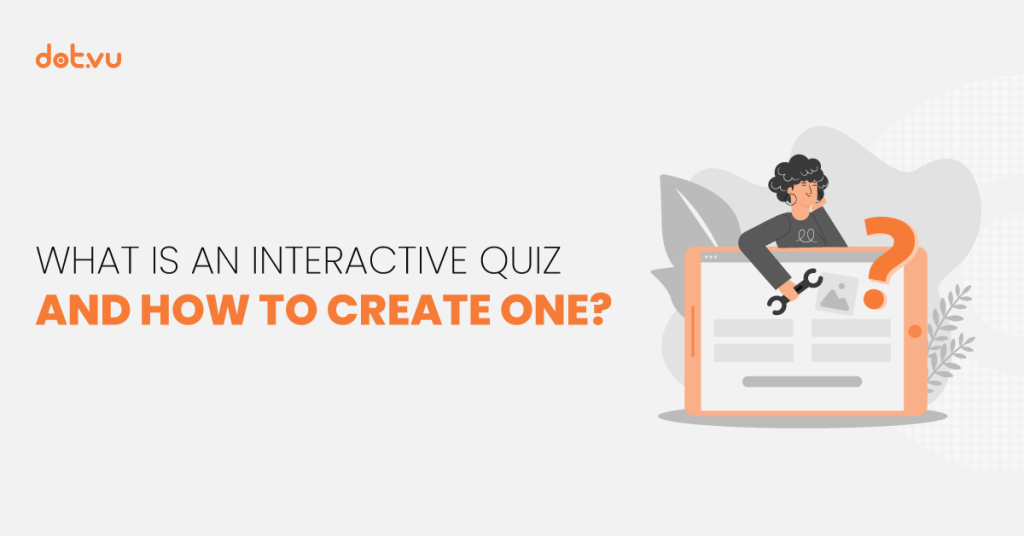 It is no secret that the average person's attention span has shrunk over the past few years. Also, due to the influx of digital information, it is harder to process everything that fascinates us. This means that marketers need to do a better job at grasping the interests of customers quickly. That's where an Interactive Quiz can help. In fact, 81% of marketers agree that Interactive Content grabs attention more effectively than static content. Since Interactive Quizzes are one of the most engaging types of Interactive Content, we can confidently assume that they are amazing at catching people's attention and boosting information retention.
Online quizzes have gained in popularity over the years with creative quizzes that people share on social media. There are many intriguing topics from "Are you a true "Friends" fan?" to "How well do you know Harry Potter – the boy who lived"?
However, today quizzes aren't only used to entertain web browsers, many companies use Interactive Quizzes to gather data and educate their customers about their products. This blog post explains how you can use an online quiz to boost your marketing efforts.
Table of contents:
What is an Interactive Quiz?
An Interactive Quiz is an online quiz where users answer a series of questions to test their knowledge and skills on a specific topic or on random facts. In the end, a calculated result can be attributed depending on the type of quiz.
A quiz is an interactive format per definition, as people interact with the content by answering the questions. However, online quizzes for marketing go beyond the traditional concept of answering questions. Today, there are endless possibilities for building an extraordinary quiz with additional gamified elements. Later in this blog post, you will find various examples that you can explore.
Benefits of using an Interactive Quiz
Using an Interactive Quiz has many benefits for your visitors. Just like any type of Interactive Content, customers can experience your brand in an engaging way that enhances their overall journey on your platform. However, what are the benefits for your company?
Extend your reach on social media
When using an Interactive Quiz, you can encourage participants to share their results with others on social media. This will not only get your customers more attached to your brand, but it will also extend your reach to new potential buyers on social media. Shared media is great for companies because it is free, and word-of-mouth marketing often means more to people when making buying decisions about products.
Grow your email lists
You can gate your quiz with an opt-in form. This form will allow you to add participants to your email newsletter list. Strategically place the form at the end of the experience before you give the results for maximum generation and watch your contact list grow.
Pro tip: Follow the gated content best practices for optimal results.
Capture qualified leads
Interactive Quizzes can help you generate leads for your business. The average quiz has a 31.6% lead capture rate. Give your company the benefit of many new leads by targeting customers on all sales funnel stages.
Create questions that help reveal insights about your audience and gain valuable insights into their personal preferences and pains. By doing this, the leads you capture will be of high quality.
Personalize your email marketing
With the collected data from your quiz, you can create more targeted email campaigns that give your customers what they need. Target the right customers with the right products and offer value within each email.
The benefits of sending personalized emails are higher open rates, lower unsubscribe rates, better customer relationships, and higher conversion rates. You can get the most out of this method if you follow the email personalization best practices.
Types of Interactive Quizzes
There are many types of quizzes out there. Traditional quizzes have been used to test people's knowledge on a specific topic, but nowadays, online quizzes can be just as much about fun as they are about education.
Social Media Quiz
Social Media Quizzes are great for engaging your audience in a fun way. Choose a topic and questions that cover a theme or trending topic to attract your customers. Then, you can make the connection to your brand or product at the end when you give the results. Allowing customers to share their results on social media helps you extend your campaign reach to new customers.
Branding Quiz
One great way for you to educate your customers about your brand is with a Branding Quiz. These marketing quizzes will get customers interested in your products and services by learning more about your brand in the process. You can take the fun up a notch by adding various discounts at the end of the quiz for those who received a higher score. It is a win-win situation that can really create some interest in your brand.
Lead Quiz
Lead Quizzes are short quizzes for lead generation in which marketers can insert a lead form to get customer personal data. These quizzes are generally short and focus on the value of the result. Customers are interested in the quizzes because of the value they associate with the feedback expected. They will be more engaged to the end of the experience and generate more of a connection to your brand for giving them the information they seek.
Promotional Quiz
If you are hoping to promote a new product or special offer, you might consider using a Promotional Quiz. The questions to this quiz can be all about your brand and products. Customers will have to spend a lot of time on your website to find the answers, which will help them gain more knowledge about your brand.
If you use this quiz like a contest, you can offer an incentive to get participants excited and engaged with your interactive content to the very end of the experience.
Personality Test
Some people classify Interactive Personality Tests as a type of quiz. However, there is no right or wrong answer here. Therefore, a Personality Test can be a type of Interactive Content on its own. As the name of the concept suggests, the users answer a few multiple-choice questions about their character traits. As a result, they discover more about who they are. At the same time, you can use the data afterward to suggest products or services that match their preferences.
Personality Tests attract visitors because they tap into our curiosity gene. Furthermore, the more people that share their results on social media, the better visibility for your brand.
How to create online quizzes?
Making an Interactive Quiz doesn't require knowledge of coding. If you want to have one on your website in a relatively short time, you can pick among several quiz maker tools on the internet.
There are many companies that focus on quizzes only. However, Interactive Content platforms like Dot.vu allow you to be more flexible and customize many different templates to match your brand guidelines. Furthermore, our platform has various types of Interactive Content, such as Marketing Games, Interactive Flipbooks, and Interactive Videos. Therefore, you can combine Interactive Experiences to boost customer engagement even more. For example, you can add a Branding Quiz to a video where you talk about your company. Moreover, you can collect data through your quizzes and use that to personalize the other types of Interactive Content you might be interested in doing later on.
To make your own Interactive Quiz, you can head straight to our marketplace and select a template. Then, you can create a free account and customize your template right away. Our platform is intuitive and easy to use.
If you like your quiz, you can buy the template and embed it directly on your website for your customers to enjoy.
Interactive Quiz examples
It is time to explore some examples of online Interactive Quizzes that look different but have the same purpose – engaging your website visitors.
Online Quizzes
Simple Quiz with text answers
This is a very user-friendly quiz with text input answers.
Quiz with gated results
This template consists of four questions and requires visitors to fill out a lead form to start the quiz. You provide participants with hints and short explanations after every question.
Simple trivia quiz
You can add trivia facts to every question of your quiz to educate and challenge your audience. The template is simple to edit on our platform.
Elegant minimalistic quiz
This quiz contains five questions with four options each.
Simple quiz
This is a very quick and easy-to-customize template with five questions.
Visual quiz
This is an interesting quiz template where participants answer questions by choosing the right images.
Long quiz
This template consists of ten questions.
Games with quizzes
Guessing game
This challenging guessing game gives your customers a chance to win a prize if they answer more questions correctly.
Drag-and-drop quiz
This quiz with a twist is perfect for engaging your audience. Instead of clicking on the right answer, your visitors drag-and-drop the answers.
Quiz with leaderboard
This quiz taps into the competitive nature of people. After the participants answer all questions or the time runs out, a leaderboard features people who performed best.
Elegant short quiz contest
This is a short quiz with three questions that activates online users actively with a prize for the lucky winners.
Spin and quiz
This fun spin-the-wheel game contains questions in each category. This template can educate your audience about your company, products, or industry.
Tic tac toe quiz
This is a challenging game where your visitors have to place three correct answers in a horizontal, vertical, or diagonal line in less than 90 seconds.
Level up quiz
This is a 12-question quiz with three different prize levels. Once players unlock a prize level, they earn a scratch card to win an instant prize.
Educational quiz contest
This template allows your visitors to enter a contest after finishing the quiz.
Single question quiz contest
As the name suggests, the quiz has one question only.
Quizzes for seasonal campaigns
Valentine's quiz
This template is perfect for Valentine's Day campaigns.
24-day advent calendar with quiz
This advent calendar with a quiz is a great Christmas marketing idea that will set you apart from the competitors.
Christmas daily quiz
This is a great tool to reward active customers who visit your website to answer the questions daily. Moreover, sharing this experience on social media would make a great Christmas interactive post.
Are you ready to bring excitement to your customers with an Interactive Quiz?
As you can see, Interactive Quizzes have many benefits for both the company and the customer. They are great tools for your next marketing campaign! Try it out with a new product launch, big sale, or seasonal marketing campaign! See how engaging customers in a fun, memorable experience can get them coming back for more interaction with your brand.
What are you waiting for? Start planning your Interactive Quiz today!
Visit Dot.vu to see the many templates for Interactive Quizzes and get inspired. Also, you can get a peek at what other companies have done with online quizzes by looking at the customer examples on Dot.vu.
Did you know that you can build an Interactive Quiz in no time, without writing a single line of code. Why not try now? Create a free account and try working with a template!
---