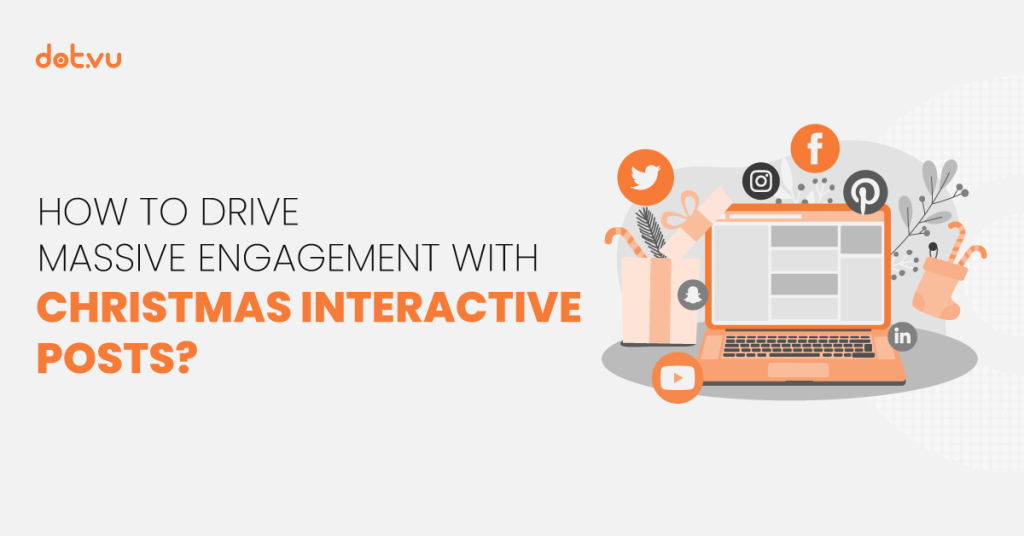 Creating engaging Christmas interactive posts can help you build long-term relationships with your followers and customers. From a marketing perspective, this will strengthen brand loyalty.
But how exactly can you use social media to drive massive engagement on Christmas? With interactivity! Encouraging your followers to interact with your brand and share with their friends is a brilliant way to evoke positive emotions and build loyalty.
In this blog post, we'll share ideas and creative ways to create interactive Christmas posts that can dramatically boost engagement during the holiday season.
What are interactive social media posts?
Interactive posts for social media are posts that focus on interaction and engagement. These posts encourage your followers to respond, click, and share your content. In other words, you encourage two-way communication instead of posting overly promotional or static content.
Implementing interactivity in your social media strategy has many benefits, such as boosting engagement, enhancing brand recognition, and capturing zero & first-party data.
Christmas is the season that brings people together. Therefore, the focus of your Christmas social media campaign should be triggering interaction, socializing, and sharing.

How to write the perfect Christmas interactive post?
Here are some tips for creating impeccable interactive Christmas posts for Facebook, LinkedIn, and Twitter:  
Set your goals.
Before starting on a post, you should determine what would you like to achieve. You can set different goals for each post so that you'll achieve a specific objective for each one.
For example, if you set "lead generation" as your goal, choose Interactive Content that is gated so that the user will be prompted to fill in their details before proceeding with the content.
Read more: What is Interactive Content?
Here are some goals you can set for Christmas interactive posts:
Drive engagement
Increase social media followers
Increase web traffic
Enhance loyalty and brand recognition
Generate leads
Focus on encouraging interaction. 
No matter which objective you set, your content should always be engaging! Using the same example as the previous point, your lead generation post will not be successful if it's not interesting or engaging enough. Only if it's engaging, then your audience won't mind filling in their details to proceed and find out more.
When you create your copy and graphics, think about different ways to trigger action among your audience. Some examples include asking questions, announcing giveaways, starting a conversation, or giving people a reason to share the post.  
Add a dash of Christmas spirit! 
Share the joy of the holiday season by incorporating traditional Christmas elements into your graphics, such as Santa Claus, Christmas trees, reindeers, stockings, ornaments, garlands, snowballs, nutcrackers, advent calendars, and Christmas food. 
Use the right hashtags. 
Increase your reach and help social media users find your fun Christmas interactive posts. Search for hashtags that are trending and related to your post.
Respond to comments. 
Driving engagement should be your top priority. Therefore, you should always quickly respond to comments and write appropriate responses to show appreciation. As a result, you will boost engagement even more!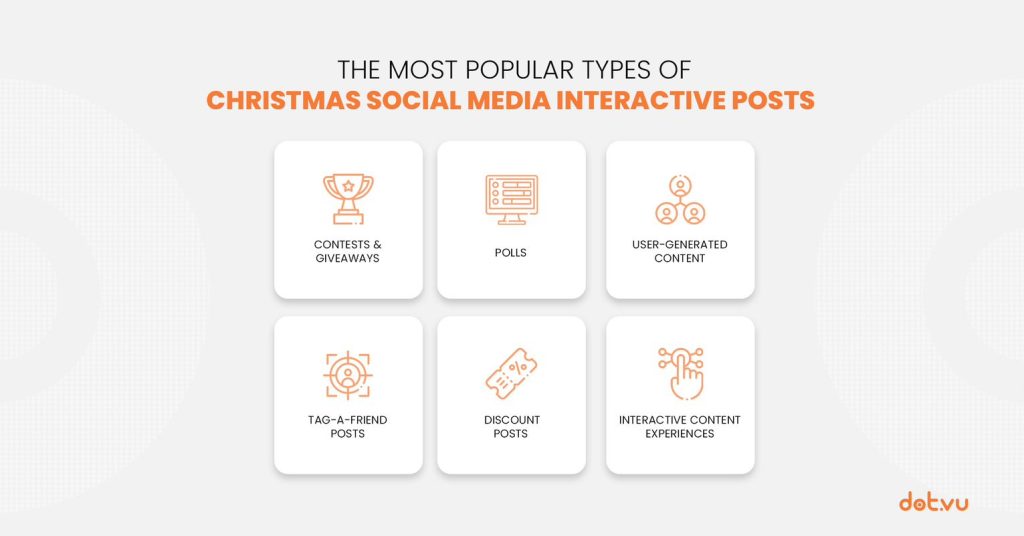 7 Christmas interactive posts to drive engagement in 2023
Let's get those ideas flowing! Here are 6 Christmas interactive post examples to inspire you.  
1. Contests and giveaways
If your objective is to boost sales, generate leads, and increase social media shares, this type of post will be perfect!
Christmas is a time of generosity and sharing! Not only do social media contests delight your customers, but they can also be of great benefit to your business. Depending on how to design your contest, you can significantly grow your follower base. As a result, you will also build brand awareness (it's all linked!).
You can choose any of your products to be the prize of your contest or giveaway. However, we recommend giving away items that would make a good Christmas present, such as cosmetics, toys, board games, home accessories, electronics, and gift bags.
Here is an example of a Christmas contest: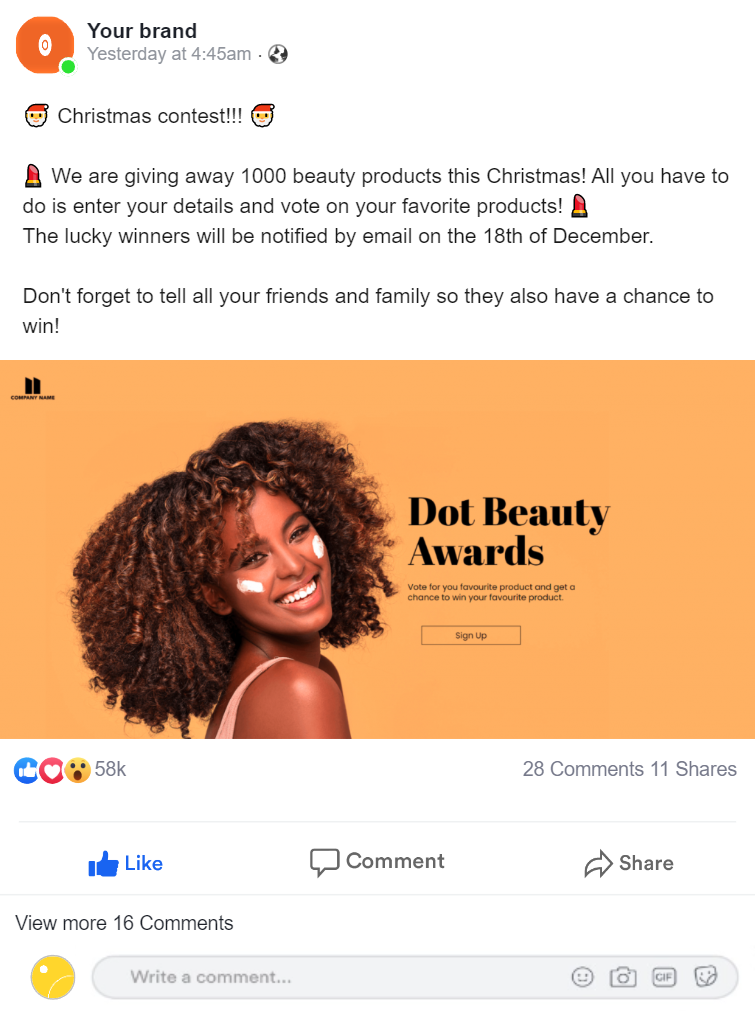 2. Polls
To boost engagement, post with polls can be very effective. Everyone has an opinion to share! And asking questions is a great way to engage with your followers. Moreover, you can create a poll directly on your social media accounts.
When it comes to Christmas polls, there are so many questions you can ask to boost engagement. Here are some ideas for you:
What is your favorite thing about Christmas?  
Do you own an ugly Christmas sweater?  
When should you start decorating?  
When do you put up the Christmas tree?  
What is your favorite Christmas movie? 
What is your favorite Christmas song?  
What do you want to get for Christmas?  
Do you know any low-waste gift-wrapping methods?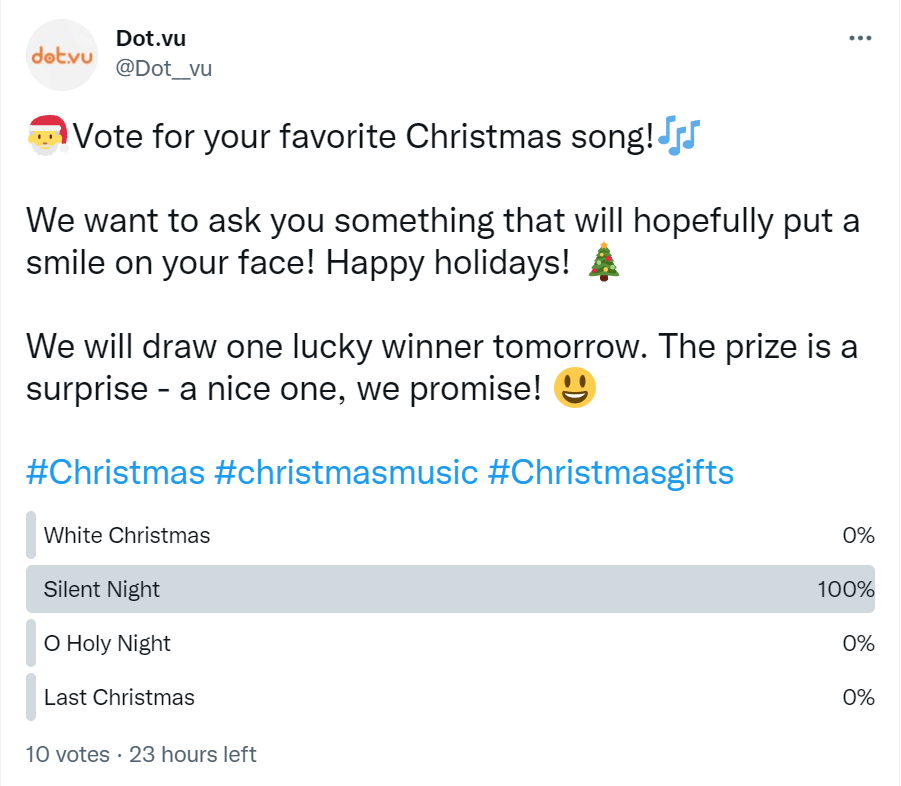 3. User-generated content
Is your objective to increase followers? Creating a campaign to encourage user-generated content can be a creative way to achieve this objective. User-generated content is content posted by users on social media. Instead of you writing a post, your followers share photos and videos related to your brand.  
Christmas is the perfect time to grow your community with user-generated content. You can ask your customers to share selfies or photos of their favorite products from your Christmas offerings. Or you can encourage people to share their best Christmas photos!
User-generated content is a brilliant addition to your Christmas marketing campaign in general because it takes authenticity and word-of-mouth to the next level. What could be better than customers promoting your brand through their organic posts?
For example, Starbucks' #RedCupArt campaign is an excellent example of a successful user-generated campaign. Customers were invited to use the Starbucks cups as a canvas, create their own unique designs, snap a photo, and share through Instagram or Twitter. The campaign became viral on social media feeds all around the world!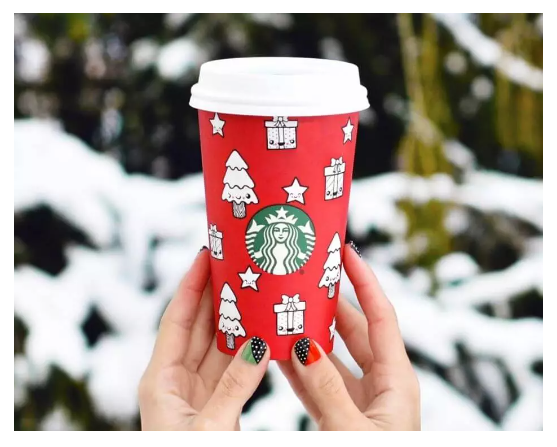 4. Tag-a-friend posts
A simple yet effective method to boost engagement during the Christmas holidays are Tag-a-friend posts.
Here is an example: "Tag the person you want to spend Christmas with. "
The more people comment on your post, the higher the reach.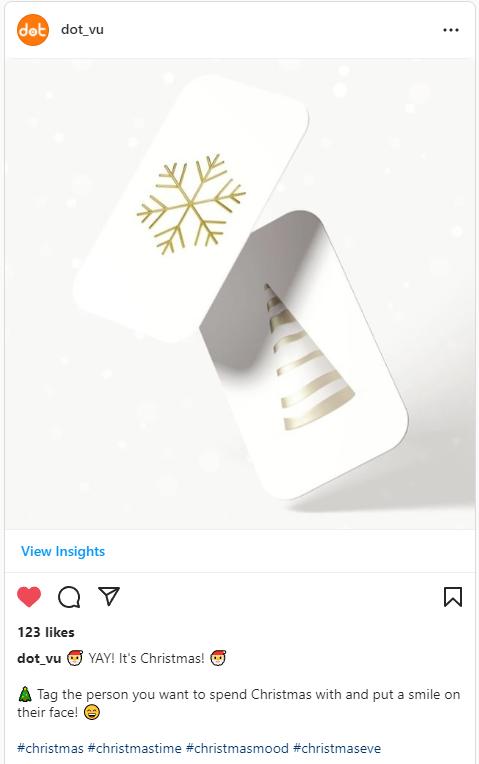 5. Discount posts
Discount posts can work wonders to increase your reach through shares and also boost engagement. For example, you can reward the first 30 people who comment on your post with a discount on specific products. As a result, you boost both engagement and sales and the same time.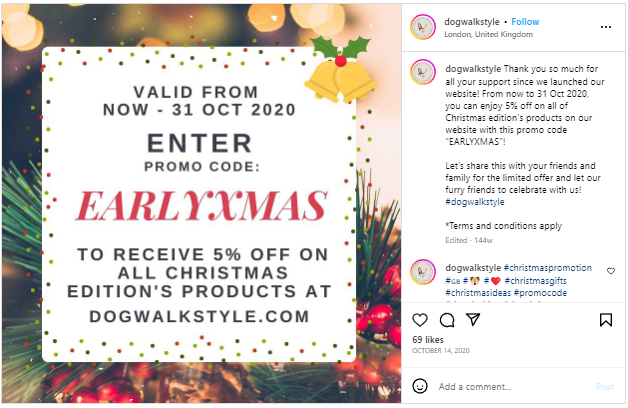 6. Product Recommender posts
More than 60% of consumers in the US prefer to buy holiday gifts online. Therefore, promoting your products online can attract many customers. You can help indecisive shoppers with a Product Recommender. This is an Interactive Experience you can use to suggest products and help your audience. After you create your recommendation tool, you can share it on social media to spread awareness.  
7. Sharing your Interactive Content Experiences
Creating posts with Interactive Content is by far the best way to engage online customers. The various types of Interactive Content include Online Advent Calendars, Marketing Games, Guided Selling, Interactive Videos, Interactive Flipbooks, Quizzes, and much more.    
Christmas is the perfect time to entertain your followers and turn them into buyers. However, the interaction does not necessarily have to happen on the social media platform itself. You can, instead, invite them to visit your website and perform certain actions there.  
Let's say you create a branded game with a Christmas theme. Naturally, you want to share it with your target audience. Social media is the best way to reach more people.  
Here is an example of a Christmas Marketing Game – the Christmas Slot Machine! You can share this game on your social media page and link it to your website. Your audience can come back every day throughout December to try their luck and get the chance to win prizes. That's definitely going to boost your daily web traffic in December!
Rock your social media with Christmas interactive posts this year!
In 2023, you have endless possibilities to increase social media engagement quickly. From simple polls to more complex Interactive Experiences, you can create anything you want for your followers.
A well-executed Christmas social media campaign will turn your visitors into advocates and loyal buyers. But don't forget to promote your Interactive Content on all your Social Media channels to boost results.
We encourage you to focus on cheerfulness and interactivity and avoid text-heavy posts.
Dot.vu is an Interactive Content platform that can help you create that "Christmassy" joy for your audience and boost your social media posts while you're at it. Whether you want to share a game, a quiz, or a product recommendation experience, we are here to support you.
Create a free account and be spoilt for choice with more than 300 of our attractive and eye-catching interactive templates! Each one has a list of its purpose. This is because each template is designed to help you achieve specific goals.
---
This blog was updated by Cathryn Kok on 24th July 2023
Other articles you might be interested in: