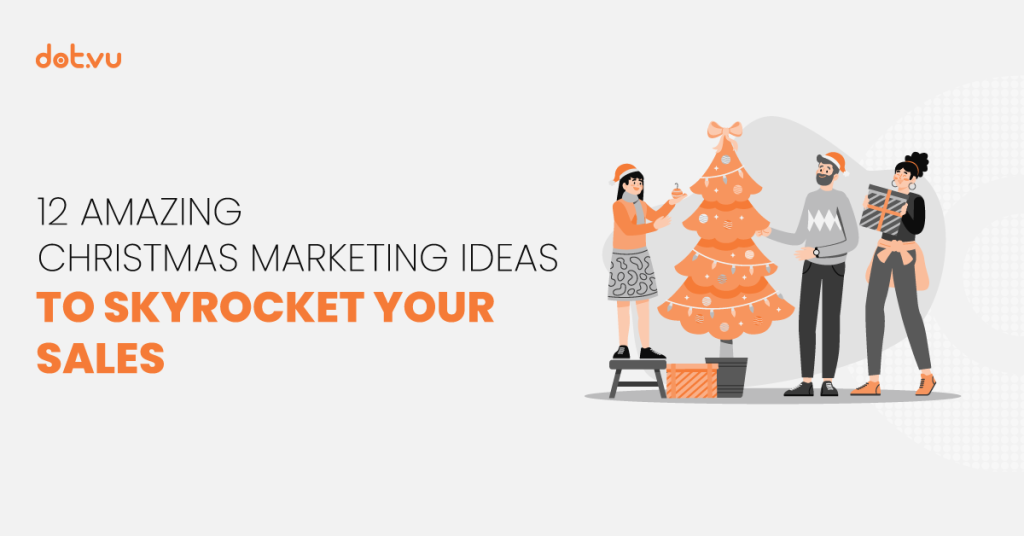 Are you ready for Christmas? Looking for exciting Christmas marketing ideas? Planning your Christmas marketing strategy on time helps you capitalize on this hectic shopping season. When we say on time, we mean at least two months in advance. The reason: holiday shopping begins as early as mid-October!
According to Adobe Analytics, consumers spent $211.7 billion online over the 2022 holiday season (from November 1 to December 31), growing 3.5% year over year. This impressive growth highlights the increasing importance of online shopping during the holiday season. It also underscores the need for businesses to establish a strong digital presence and optimize their online marketing strategies.
The time of crazy discounts, great deals, and tempting limited offers means higher revenue for most retailers. However, to stand out from the crowd, you need to create unique and memorable customer experiences.
We have made a list of 12 amazing Christmas marketing ideas that will surprise your customers. All experiences in this blog post encourage visitors to interact actively with your brand.
In this article, you will learn more about:
So, let's get started!
Why is interactivity so good for your Christmas Marketing?
Using different types of Interactive Content is a proven method to increase engagement, improve user experience and enhance your brand image. Unlike static content such as product descriptions, catalogs, or linear videos, Interactive Content transforms visitors into active participants. By clicking on images, answering questions, or influencing storylines, they become integral to the experience.
Creating tailored Christmas marketing campaigns is significant for your business as this holiday is one of the busiest times of the year. With people purchasing for themselves, friends, spouses, and family, it is a great seasonal marketing opportunity for you to build awareness around your brand, boost your sales, and enhance your brand image. However, many companies still rely on traditional holiday promotions to attract new buyers. By harnessing the power of Interactive Content, you can set your Christmas marketing efforts apart and achieve unparalleled success.
Related: What is Interactive Content
So, let's explore the best Interactive Experiences for running a successful Christmas marketing campaign!

12 Nifty Christmas marketing ideas to boost sales!
1. Online Advent Calendar
We all know what an advent calendar is. You can now digitalize this ever-present part of the Christmas season to reach your online customers. An Online Advent Calendar is a digital calendar with 24 doors, and behind each door, a prize awaits your clients. It can be a discount on your product, giveaways, or free samples. You can even include quizzes and other fun Interactive Experiences to boost engagement.
This experience invites your visitors to return to your website every day during December to unlock their surprises. Therefore, you will keep visitors longer on your page.
Time for an example! This 24-day Advent Calendar will engage your customers to return daily to claim their reward.
An Online Advent Calendar is perfect for:
Promoting your products
Boosting sales
Increasing customer engagement
Expanding brand awareness
You can use the calendar to promote your best products during December. What you need to do is reward your audience with discounts and limited offers on the items you want to sell during the holidays.   
While you're at it, why not spread the holiday cheer to your employees too? Use this Corporate Advent Calendar to boost employee engagement and create a fun work environment. It combines the thrill of winning prizes with a sense of appreciation.
Related: 4 amazing ways to use an Online Advent Calendar

2. Marketing Games
Christmas is a time to unwind, connect with loved ones, and enjoy some light-hearted moments. One effective way to express genuine appreciation to your customers is through games and entertainment. Creating gamified experiences for your customers will highly pay off. This is because your audience becomes more emotionally attached to your brand. Whether you choose to digitalize a classic game or build Christmas-themed interactive games from scratch, the possibilities are endless.
Providing your customers with online games will entertain them. Make sure to include your logo and traditional colors. As a result, people will associate the game with your brand and positive emotions.
There are many different fun Marketing Games, such as games of chance, knowledge games, platform games, tapping games, puzzles, hidden objects, and strategy games. You can convert any of these into dazzling Christmas interactive games where your customers will actively engage with your brand.
Pro tip: Remember to make your game mobile-friendly, as more and more people prefer using their mobile devices instead of computers.
Marketing Games are perfect for:
Increasing customer engagement
Expanding brand awareness
Attracting new visitors
Example is better than precept! Check out Dot.vu's Christmas Marketing Games (or maybe all of them)! You will find out immediately why gamified experiences are among our top Christmas marketing ideas.
May we interest you in a tapping game? This challenging Christmas tapping game is a perfect way to engage your customers in December.
The fun is not over! Here we have another game that will make your customers return to your website to win a prize. Are they lucky enough? You will find out over time!
3. Interactive Quiz
Kick off the Christmas entertainment with a festive quiz. You can create a one-time holiday-themed quiz or a daily quiz to increase website traffic. A few rounds of testing your customers' knowledge can drive massive engagement. However, you might ask yourself – why would people spend their time answering some questions on your website during their holidays? The answer is easy: discounts!
You can reward participants with free samples or discounts on your bestselling Christmas products. Both sides win – you sell more while your customers have fun and win prizes.
Interactive Quizzes are perfect for:
Increasing customer engagement
Expanding brand awareness
Attracting new visitors
Related: What is an Interactive Quiz?
Have a look at this Christmas Daily Quiz which will keep your customers engaged during December.
4. Hourly Surprises
Hourly Surprises is an astounding Interactive Experience that runs for a day and releases limited hourly offers when people click on a box. Each hourly offer can include 1-4 items on sale.
This campaign serves as a valuable addition to your Christmas marketing strategy by instilling a sense of FOMO (Fear of Missing Out). Hence, it adds an extra layer of positive pressure on your customers, compelling them to act swiftly. As a result, potential buyers will feel that they must decide quickly, and there is no time to rethink the offer or browse for a better one. If your deal is tempting enough, they will simply go through with the purchase. Moreover, your prospects will engage with your brand throughout the day, waiting to unlock the different offers.
Let me give you an idea of how you can apply this to your Christmas Marketing. With an Hourly Surprises campaign, you can take advantage of the situation of those buyers that could not decide what they should buy. For this reason, launching a campaign 1-2 days before Christmas Eve can help these prospects to get inspiration. Yet, time is ticking for them, they got to get these last gifts, and the urgency that this Interactive Experience causes will push them to decide quickly. Ultimately, if your offer proves enticing enough, they will not hesitate to act. The outcome will be a joyous Christmas for everyone involved, including you and your business!
Related: 10 FOMO marketing examples
Hourly Surprises are great for:
Increasing website traffic
Promoting products
Boosting sales
Attracting new visitors
5. Interactive Flipbook
An Interactive Flipbook is an innovative Interactive Experience that replaces old and boring PDFs. You can say goodbye to mind-numbing static content and replace it with interactivity. Moreover, you can add as many interactive elements as you want. Viewers can turn the pages as if it was a book and interact with the various experiences. They can do that by clicking on hotspots, collecting points in a game, or answering questions in a quiz.
An excellent idea could be to create an Interactive Magazine as a form of Interactive Flipbook in which you can share Christmas recipes, decoration ideas, winter fashion trends, and gift ideas. This approach offers a wonderful opportunity to provide your visitors with both inspiration and education. By doing so, you will significantly enhance your brand recognition.
Use an Interactive Flipbook when you want to:
Increase brand awareness
Boost customer satisfaction
Increase time-on-page
Related: The ultimate Interactive Flipbook guide
The example below is a flipbook where your customers can keep their favorite items and create their own wishlist. Not only do they flip through the pages as if it were a real magazine, but they can also find the right product for their needs after answering a few questions in the end of the experience.
6. Interactive Video
This type of Interactive Experience can replace monotonous, one-way videos. So instead of watching a standard video, your customers actively interact with it through clickable points. This way, it will be much more enjoyable.
An idea for this year's Christmas marketing is to showcase products for Christmas through an Interactive Video. It will help your customers discover which products best match their needs. Using the clickable points, also known as 'hotspots,' your customers can interact with the specifics of the video. In fact, it will help them to get a better perspective on your products. This way, you really take it one step further and help buyers find what suits their needs.
Here is a ready-to-steal idea for your Interactive Video: an educational quiz element emerges, presenting viewers with thought-provoking questions related to a product or service. As the quiz progresses, viewers can select their answers, and the video provides immediate feedback, revealing the correct answers and offering interesting facts or explanations. This Interactive Quiz within the video aims to engage and educate viewers, fostering their curiosity and expanding their knowledge in an entertaining and interactive manner.
Creating an Interactive Video is amazing for:
Enhancing brand awareness
Boosting social shareability
Increasing time-on-page
Promoting your brand
Related: What is an Interactive Video?
7. Interactive Catalog
Turn your Christmas products catalog into a stunning Interactive Product Catalog that will allow your potential buyers to become part of the journey. An Interactive Catalog is a type of Interactive Flipbook that allows you to showcase your special Yuletide offers in an innovative way.
An Interactive Catalog is suitable for:
Promoting your products
Improving user experience
Boosting sales
Imagine flipping through the pages of this digital catalog, each turn revealing a delightful surprise, captivating visuals, and detailed descriptions of your Christmas products. But it doesn't stop there; your potential buyers can actively participate in the experience. They can click on specific items to view additional images, access product specifications, and even watch engaging videos that showcase the products in action. So, why settle for an ordinary catalog when you can create an extraordinary Interactive Experience that leaves a lasting impression on your potential buyers?
8. Gift Finder
From year to year, thousands of people struggle with finding the right gifts for their beloved ones. It causes them stress and frustration, running errands last minute and trying to pick the perfect presents.
By using a Gift Finder, you can say goodbye to frustrated customers. By incorporating this Interactive Experience, you can effortlessly guide your customers in finding the perfect gifts. Through a series of carefully crafted questions, your buyers will embark on a journey that effectively narrows down their search. Following this, you can present them with tailored product recommendations, or even multiple options, that align with their preferences. Use a Gift Finder in your Christmas marketing strategy to suggest products that will become lovely presents!
Pro tip: cater to last-minute shoppers by offering fast delivery for the products they pick.
A Product Recommender is a perfect Interactive Experience for:
Promoting your products
Boosting sales
Now it is time to show you an example. This Gift Finder is a straightforward questionnaire designed to steer your visitors toward finding the ideal gift for their loved ones. Although this Gift Finder suggests cosmetics as the end result, rest assured that you can customize the experience to align with your unique product offerings.
Related: 9 Outstanding interactive holiday gift guide examples.
9. Christmas Wishlist
Let customers create their own Christmas Wishlist. It makes it so much easier for those shopping for gifts, and the recipient gets exactly what they want. Plus, it reduces the number of returned gifts which means less hassle for you. That's a triple-win situation!
Use a Christmas Wishlist template to enable this amazing feature. You can display your products with images, prices, and clickable buttons. Users can browse and add their preferred products to the wishlist. Then, customers can share their wishlists to friends and family by signing up and creating a unique link.
Creating a Christmas Wishlist page is good for:   
Increasing customer engagement  
Sets your brand apart   
Increasing time-on-page
Increasing sales
10. Shoppable Video
Another super exciting Interactive Experience that you can use during your Christmas marketing strategy is a Shoppable Video, also known as clickable or touchable video. A Shoppable Video allows customers to click on a product to learn more about its specifics. Also, viewers can add products to their baskets directly from your video.
The versatility of the Shoppable Video makes it an exceptional tool for various purposes within your marketing endeavors. Whether you're aiming to promote specific products or provide engaging store walkthroughs, this Interactive Experience has you covered. With a Shoppable Video, you can seamlessly blend captivating visuals with interactive elements, offering a dynamic and immersive shopping experience for your customers.
Pro tip: Most people consider holiday shopping a stressful activity. Keeping your Shoppable Video simple and easy will provide a pleasant experience.
Creating a Shoppable Video is a great for:
Improving the user experience
Promoting your products
Boosting sales
You might also find interesting: 5 Interactive Experiences for Spring Marketing Campaigns.
11. Social Interactive Content
Social Interactive Content is a new way of tapping into the social nature of your audience. With Social Interactive Content, your customers become active participants in building and spreading the word about your brand. They do that by customizing and sharing Social Interactive Content Experiences with their friends and family. For example, they could invite their friends to join a game, or create gift cards for their beloved ones. Adding a contest to this type of campaign is often done to reward and incentivize participation.
For inspiration, I am going to pitch you an idea of how you could use this experience in your Christmas marketing. You can create an Online Contest campaign where you ask your customers to share a picture/selfie, or a personalized message with the people who they cannot spend Christmas with. This will not only generate user-generated content but also create a buzz around your brand during the festive period.
To make the Selfie Contest even more enticing, offer exciting incentives and rewards. Consider providing a small discount or an exclusive deal to every participant as a token of appreciation. This will add an extra layer of excitement and create memorable experiences for your customers, ensuring they associate your brand with the joy and spirit of Christmas.
You can also join the December festivities by creating your unique cheerful Christmas Interactive Posts, such as discount posts, contests, giveaways, polls, and tag-a-friend posts.
Related: How to run an Online Contest in 2023
Social Interactive Content is great for:
Attracting new customers
Getting customer feedback
Building customer loyalty
12. Christmas Countdown with special offers
Countdowns are highly effective in creating urgency and scarcity. Having special one-day-only offers encourages customers to make an immediate purchasing decision. Additionally, it can increase conversions, drive sales, and enhance user experience.
Excite customers with special offers 9 Days to Christmas. During this countdown, a new sticker will be unlocked daily. Customers will need to return every day to collect stickers and earn points to unlock special offers. This will increase your daily web traffic. Additionally, customers that do not want to miss out on this have the option to fill a pre-sign up form to get reminders. It earns them extra points, and earns you extra email subscribers!
9 Days to Christmas countdown is good for:
Building email subscription list
Gaining leads
Increasing daily web traffic
Improving customer engagement
Incredibly useful Christmas marketing tips
We want to help you to nail your Christmas marketing campaign. That's why we also want to share a few tips with you:
Embrace variety: Don't limit yourself to one experience! You can combine some of the 12 nifty Christmas marketing ideas to create a seamless and exciting customer journey.
Maximize your Interactive Experience: Make the most out of your cheerful Interactive Experiences. Gate some of your content so that you can grow your email list. For instance, you can ask your visitors to share their names and email addresses in exchange for discounts. When you have enough audience insights, you can start sending remarketing emails. If you do it right, gating your content will deliver exceptional results.   
Mobile-friendly is key: Smartphone usage is on the rise. People spend an incredible amount of time on their phones. Therefore, it is crucial to build mobile-friendly Interactive Experiences. 
It is time to spice up your sales with these Christmas marketing ideas!
Don't make the costly mistake of relying on outdated methods to attract customers during the holiday season. Increase your chances of a high-sales season and stay ahead of the competitors with Interactive Content this year!
Dot.vu is an Interactive Content platform that can take your Christmas marketing to the next level! Why not try one of the examples featured in this blog post? Our marketplace offers a range of customizable templates tailored for the season. The best part? You can sign up for a free account and try any experience that catches your eye!
Don't miss out on the opportunity to captivate your audience with engaging Interactive Content. Take your Christmas marketing to the next level by creating a free account and exploring the endless possibilities that Dot.vu has to offer!
---
This blog post was updated by Felicia Rozario on July 14th, 2023.
---
Other articles you might be interested in: