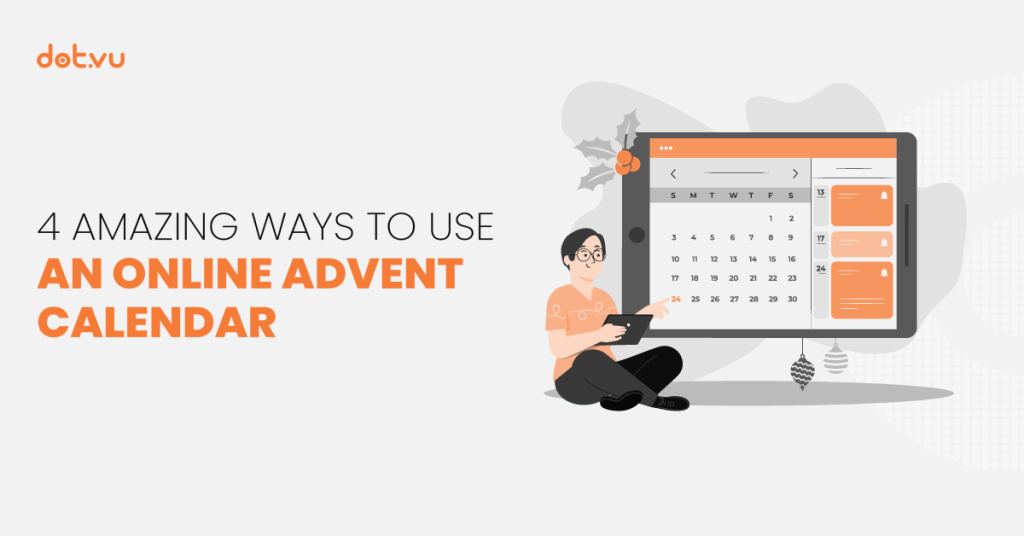 Have you heard of Online Advent Calendars but don't know how to use them yet? Don't worry; we are here to help you.
Advent Calendars are among the most popular Christmas traditions. The tradition can be traced back to the 19th century, when families colored a chalk line on their doors or hung little pictures on the wall every day in December. Times have changed, and the calendar is now a part of the digital world. Businesses can build their own Branded Virtual Experiences where visitors would open the doors by clicking with a mouse or tapping with their fingers.
By creating a countdown to Christmas for your website, you generate ever-growing anticipation amongst your customers. Plus, it's your chance to make the most of the holiday spirit and enhance your seasonal marketing strategy. It is also a great tool to improve your brand image and engage with your customers. If you give exciting rewards, your clients will return every day until Christmas to see what's behind each door. Therefore, you will get your customer's undivided attention for 24 days.
There are many benefits of investing in an Online Advent Calendar: driving website traffic, boosting customer engagement, generating new leads, promoting your products, increasing sales, and capturing key marketing insights. Moreover, you can use virtual calendars in different departments for various purposes.
This blog post explores four Online Advent Calendar ideas to boost results next December:

How to use an Advent Calendar virtually? 4 Online Advent Calendar ideas
Increase awareness and engagement on social media
Sharing your Online Advent Calendar on social media is one of the best ways to deliver exceptional results on Christmas. By posting about your branded Online Advent Calendar, you create excitement among your followers. That's because your customers will look forward to seeing what gifts, discounts, or Gamified Experiences, you will offer daily. It also means you will have content for the next 24 days planned in one campaign.
You can even double the use of your content by having daily contests and announcing the winner(s) every day on social media. You can also tag the winners to increase your reach. This gives your company's profiles a more personal touch. Plus, it drives more engagement and traffic to your website when your customers visit to check out the surprise daily.
Creating organic advent social media posts announcing the details of your campaign will make your followers a part of the journey. To take your marketing effort to the next level, you can boost the post announcing the first day of your Advent Calendar countdown.
Fabienne Vossen, Digital Media Associate at Mainland Europe, launched a successful campaign for Benefit San Fransico, which increased their engagement.
"We launched our branded online advent calendar in 11 countries across Europe, with fun interactive activations each day. Our followers enjoyed it, and we got over half a million hits and over 75K participants. All in all, it was a very successful campaign for us!"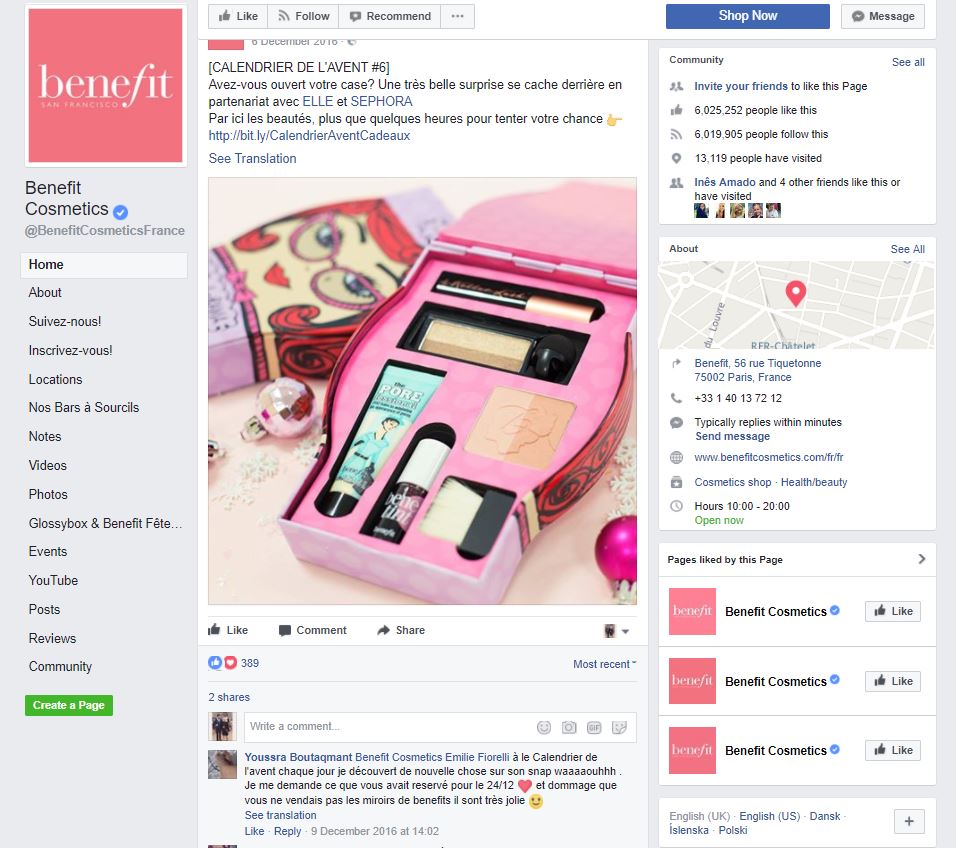 Pro Tip: remember to share the winners every day on social media to boost your Advent Calendar marketing.
Drive more sales with discounts
This is one of the most profitable Virtual Advent Calendar ideas. Online Advent Calendars are fantastic tools for promoting your products. You can insert different discount codes and limited offers behind every door. This is a brilliant opportunity to encourage purchases of specific products you want to sell on Christmas. As a result, you will drive more sales.
When designing a calendar with Dot.vu, you have enormous flexibility. Our platform allows you to add many interactive elements to boost engagement. For instance, you can place Marketing Games behind each door to challenge people to win their prizes. Another option is to create short daily quizzes to reward the ones who give correct answers. In general, we advise marketers to use gamification as it is a proven method to keep visitors engaged. So, the more gamified your Online Advent Calendar is, the longer people will interact with it.
In addition, gating your prizes will help you generate qualified leads. You can ask participants to fill out a short lead form with their names and email addresses to claim the discount. You could also insert a single signup form before the campaign starts.

Pro Tip: Don't ask people for too much information on the signup form. Focus on offering tempting prizes that people would love to earn!
Here is an example of a perfect Online Advent Calendar for boosting sales. You can place exciting discounts or limited offers behind every door. As a result, your audience will return to discover the surprises you have for them!
Use an Advent Calendar to improve your brand image
If your goal is to turn your company into a well-known brand, you can use a branded Online Advent Calendar filled with engaging Interactive Experiences. You can add games, videos, and quizzes to educate and entertain your audience. This idea goes beyond promotional purposes and embraces the power of Interactive Content to make your customers happy. Here are a few entertaining Virtual Advent Calendar ideas to boost your brand image:
Advent Calendar with Marketing Games
December is the time of family gatherings and fun games. Imagine how cool it would be if your target group associated the Christmas holidays with your brand. You can easily achieve this by designing an Online Advent Calendar that contains various challenging and memorable Marketing Games.
Here is an example of an Advent Calendar with Scratch Cards behind every door. So, your visitors will return 25 days in a row to play a game and earn discounts or gifts.
Advent Calendar with Quizzes
Adding quizzes to your Online Advent Calendar educates and entertains your visitors. You can include questions covering holidays, Christmas, movies, songs, and traditions. To increase your reach, you can encourage people to share their scores on social media and challenge their friends to participate.
You also have the chance to enhance your company's image by asking questions about your environmental-friendly policy, sustainability policy, charity work, or any positive change your company promotes. You get these precious minutes with your customer; use them right, and you build a good customer relationship.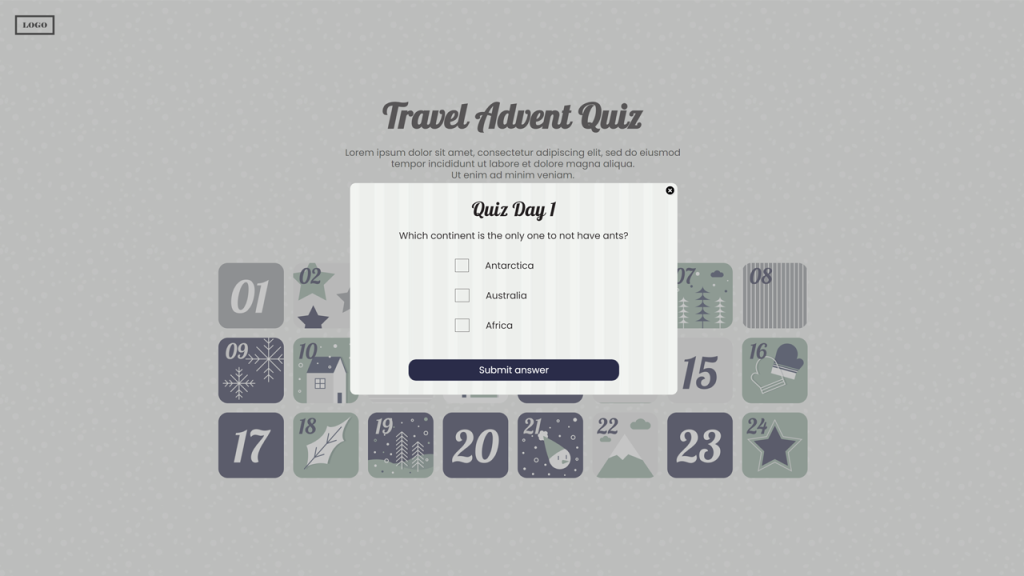 Mina O. Semali, Marketing Manager at Nordics & Baltics, Barry Callebaut, used the Online Advent Calendar to educate her clients about their products.
"It helps us attract loads of new followers and over 80% of visitors return every single day to participate and engage with our brand. We used each of the 24 days strategically to educate our audience about our products and to ask relevant questions that help us understand them better."

Pro Tip: Use your product as the prize and ask people questions about your product so participants go to your website and learn more about it!
Increase employee satisfaction with Online Advent Calendars
Last but not least, one of the most innovative Online Advent Calendar ideas of all: using it as an HR magic tool.
A Virtual Advent Calendar is not only a tool for marketers. HR representatives can also leverage this Interactive Experience to increase employee satisfaction. Replacing traditional Christmas gifts with unique Online Advent Calendars will boost engagement and morale.
Ask your employees to log in with their work emails, and let the fun begin! You can create a 12 or 24-day calendar where staff will play games or complete quizzes to earn their prizes.
Online Advent Calendars enable you to go beyond traditional methods of making employees happy. As you add gamification elements, people are more engaged in the experience. If you want to implement Interactive Content in your HR department, explore the best HR practices that will differentiate you as an excellent employer.
Have a look at the example below. This 12 Day Advent Calendar with daily quizzes is an engaging experience full of surprises. You can customize and adapt it to your brand guidelines and send it out to your employees next Christmas.

Pro tip: Be strategic about the questions you ask: keep the questions easy to answer and the experience fun to play.
Ready to implement one (or more) of these Online Advent Calendar ideas?
You can use Advent Calendars in many ways. However, you do not need to restrict yourself to one of the ideas in this blog post. On the contrary, combining one or more methods will help you make the most out of your Christmas marketing campaign. For instance, you can promote your products and share your Online Advent Calendar on social media. You could also create two separate calendars – one for the marketing and one for the HR department.
Whatever your goal, Dot.vu offers you great flexibility. Our intuitive Interactive Content tool enables you to build a fantastic Online Advent Calendar with various embedded experiences. Moreover, you don't need to use a single line of code. Isn't that just great?  
Explore our marketplace to find diverse Advent Calendar templates. Once you create a free account, you can pick an experience and customize it to fit your brand.
---
Other articles you might be interested in:
---