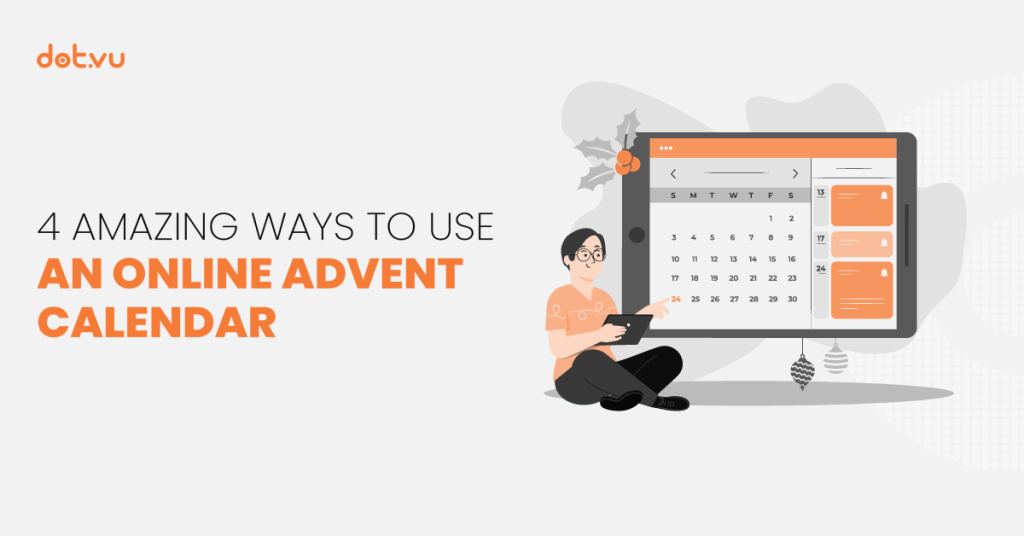 Advent Calendars is among the most popular Christmas traditions. Picture this: back in the 19th century, families would excitedly await December by decorating their doors with chalk lines or adorning their walls with delightful little pictures daily.
Fast forward to the digital age, and the magic of Advent Calendars has evolved like never before! Say hello to branded Interactive Experiences, where businesses have unlocked a world of creativity. Imagine opening the doors with a mouse click or a tap of your fingers—pure joy at your fingertips! 
Advantages of Online Advent Calendars
By creating a countdown to Christmas for your website, you generate ever-growing anticipation amongst your customers. It's not just a festive feature; it's a golden opportunity to infuse your seasonal marketing strategy with the holiday spirit. But that's not all—this Online Advent Calendar can work wonders for your brand image and customer engagement too!
Imagine the thrill of giving away exciting rewards each day behind those virtual doors. Your audience won't be able to resist returning every single day until Christmas arrives, eagerly anticipating the surprise that awaits. That's 24 days of undivided attention from your valued customers!
There are many benefits of investing in an Online Advent Calendar:
Driving website traffic
Boosting customer engagement
Generating new leads
Promoting your products
Increasing sales
Capturing key marketing insights
Moreover, you can use virtual calendars in different departments for various purposes.
This blog post explores four Online Advent Calendar ideas to boost results next December:

How to use an Advent Calendar virtually?
Using an Advent Calendar virtually is a breeze. It offers a fantastic way to engage your audience and spread holiday cheer online. With the advancement of Interactive Content platforms, you can easily create and customize your Online Advent Calendar. These platforms often provide a range of templates, allowing you to tailor the calendar to suit your brand's style and theme.
For example, Dot.vu stands out with its user-friendly interface and various customizable templates. Whether you want to promote products, share daily rewards, or entertain your audience, Dot.vu has got you covered. Explore the customizable templates and inspiration sources on Dot.vu to create a captivating countdown to Christmas that will leave a lasting impression on your customers.
Get ready to spread joy, increase brand loyalty, and boost your holiday marketing efforts with an online Advent Calendar that your audience won't resist.
Let's dive into four incredible online Advent Calendar ideas that will take your seasonal marketing strategy to the next level!
4 Online Advent Calendar ideas
1. Increase awareness and engagement on social media
Sharing your Online Advent Calendar on social media is one of the best ways to deliver exceptional results on Christmas. By posting about your branded Online Advent Calendar, you create excitement among your followers. Promoting your branded Online Advent Calendar on various platforms ignites excitement and anticipation among your followers. They'll eagerly look forward to discovering the daily gifts, discounts, or gamified experiences you have in store for them.
The beauty of this approach lies in its efficiency; you can effectively plan content for the entire 24-day campaign with just one post.
You can even double the use of your content by having daily contests and announcing the winner(s) every day on social media. You can also tag the winners to increase your reach. This gives your company's profiles a more personal touch. Plus, it drives more engagement and traffic to your website when your customers visit to check out the surprise daily.
Creating organic advent social media posts announcing the details of your campaign is a fantastic way to involve your followers in the journey. To take your marketing effort to the next level, boost the post announcing the first day of your Advent Calendar countdown.
Fabienne Vossen, Digital Media Associate at Mainland Europe, launched a successful campaign for Benefit San Fransico, significantly increasing engagement.
"We launched our branded online advent calendar in 11 countries across Europe, with fun interactive activations each day. Our followers enjoyed it, and we got over half a million hits and over 75K participants. All in all, it was a very successful campaign for us!"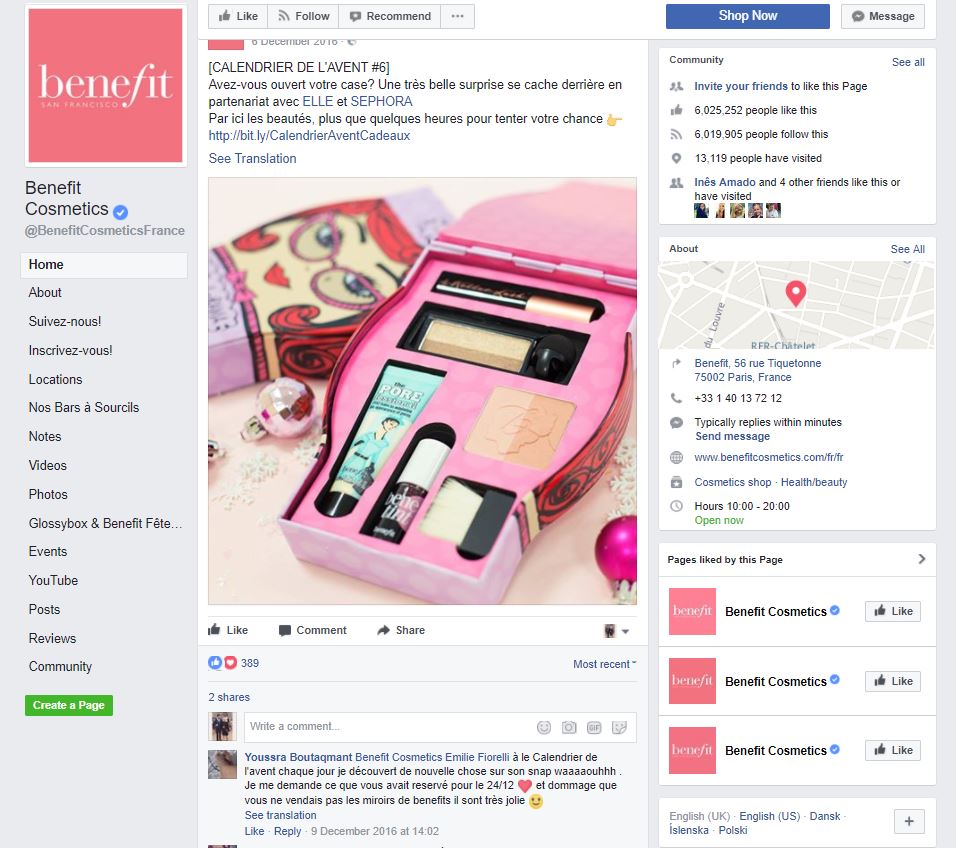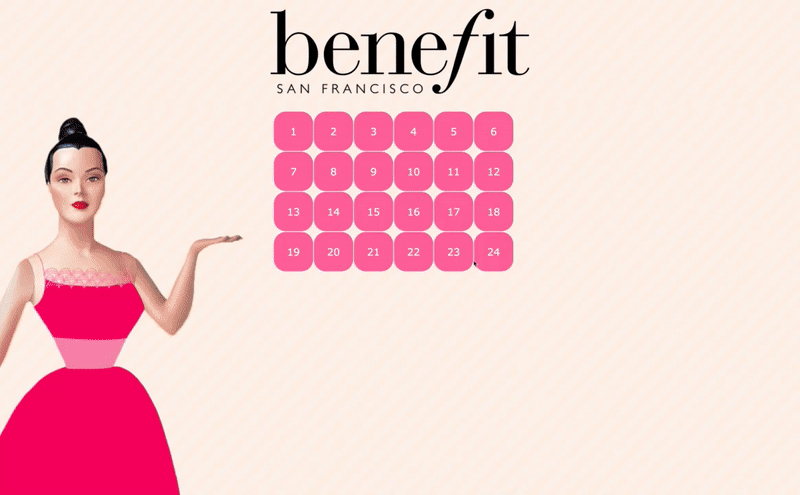 Pro Tip: remember to share the winners daily on social media to boost your Advent Calendar marketing.
2. Drive more sales with discounts
This is one of the most profitable Online Advent Calendar ideas. Online Advent Calendars are fantastic tools for promoting your products. You can incorporate different discount codes and limited offers behind every door. This is a brilliant opportunity to encourage purchases of specific products you want to sell on Christmas. As a result, you will drive more sales.
When designing a calendar with Dot.vu, you have enormous flexibility. Our platform empowers you to add interactive elements that elevate engagement to new heights.
For instance, you can place Marketing Games behind each door, challenging participants to win exciting prizes. Another option is to create short daily quizzes to reward the ones who give correct answers. Embracing gamification has proven to be a highly effective method for keeping visitors engaged, ensuring prolonged interaction with your Online Advent Calendar.
In addition, gating your prizes will help you generate qualified leads. You can prompt participants to fill out a short lead form, providing their names and email addresses to claim discounts. You could also insert a single signup form before the campaign starts to streamline the process.

Pro Tip: Don't ask people for too much information on the signup form. Focus on offering tempting prizes that people would love to earn!
Here is an example of a perfect Online Advent Calendar for boosting sales. You can place exciting discounts or limited offers behind every door. As a result, your audience will return to discover the daily surprises you have for them!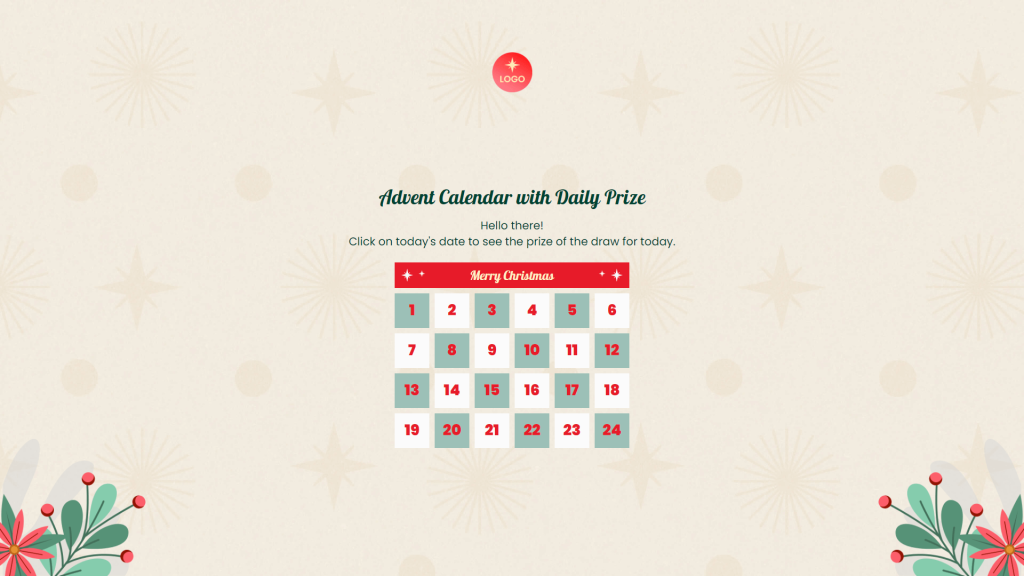 3. Use an Advent Calendar to improve your brand image
If your ultimate goal is to establish your company as a renowned brand, a branded Online Advent Calendar enriched with captivating Interactive Experiences is the way to go. You can add games, videos, and quizzes to educate and entertain your audience. Another option is integrating Online Advent Calendars into Interactive Flipbooks, providing customers with a diverse and captivating experience.
This idea goes beyond promotional purposes and embraces the power of Interactive Content to make your customers happy. Here are a few entertaining Virtual Advent Calendar ideas to boost your brand image:
Interactive Flipbook with Advent Calendar
Imagine combining the joy and anticipation of an Advent Calendar with the immersive experience of an Interactive Flipbook. This innovative concept brings your audience a whole new level of engagement and entertainment. Through each flip of the digital pages, you can create a memorable and engaging experience that entertains and beautifully displays your products throughout the festive season. It's a fantastic way to have your customers eagerly come back each day, unlocking the wonders of the Advent Calendar.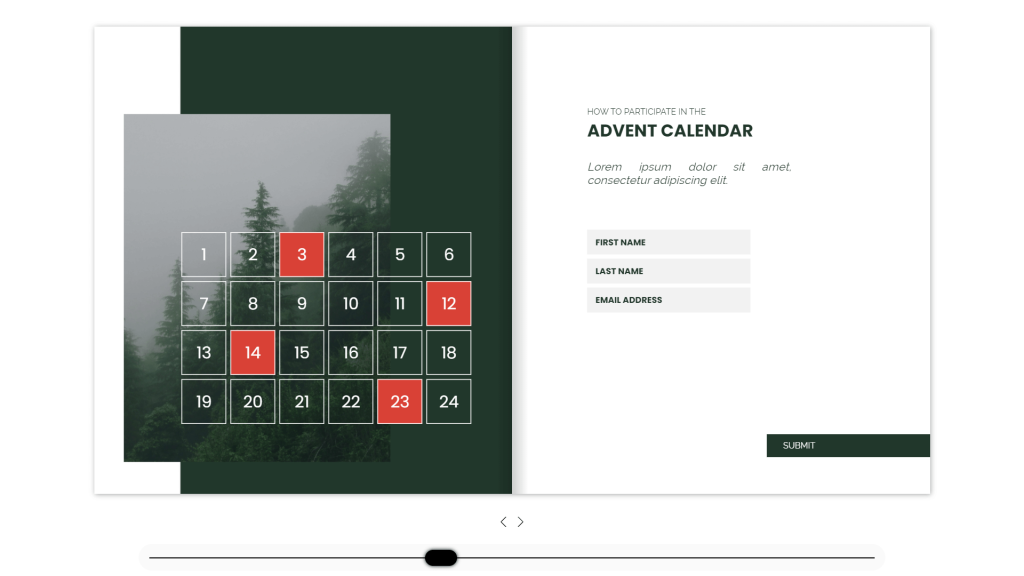 Advent Calendar with Marketing Games
December is the time of family gatherings and fun games. Imagine how cool it would be if your target group associated the Christmas holidays with your brand. You can quickly achieve this by designing an Online Advent Calendar that contains various challenging and memorable Marketing Games.
Here is an example of an Advent Calendar with Scratch Cards behind every door. So, your visitors will return 25 days in a row to play a game and earn discounts or gifts.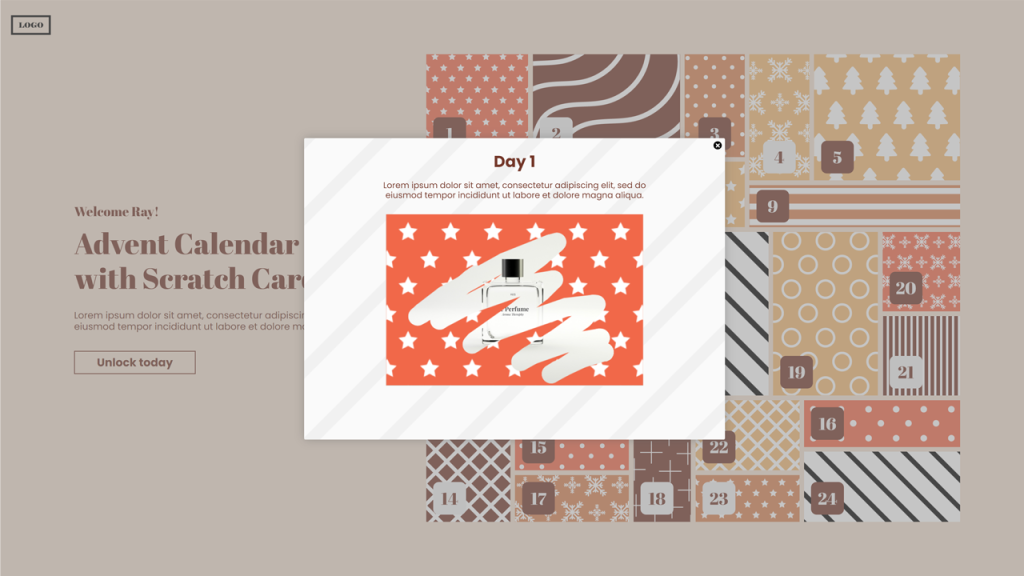 Advent Calendar with Quizzes
Adding quizzes to your Online Advent Calendar offers the dual benefit of educating and entertaining visitors. You can include questions covering holidays, Christmas, movies, songs, and traditions. To increase your reach, you can encourage people to share their scores on social media and challenge their friends to participate.
Furthermore, these quizzes provide a unique opportunity to enhance your company's image and values. By including questions related to your environmental-friendly policies, sustainability efforts, charity work, or any positive initiatives your company promotes, you can showcase your commitment to making a positive impact.
These moments of interaction with your customers are precious; use them wisely, and you can establish and strengthen a meaningful and positive customer relationship.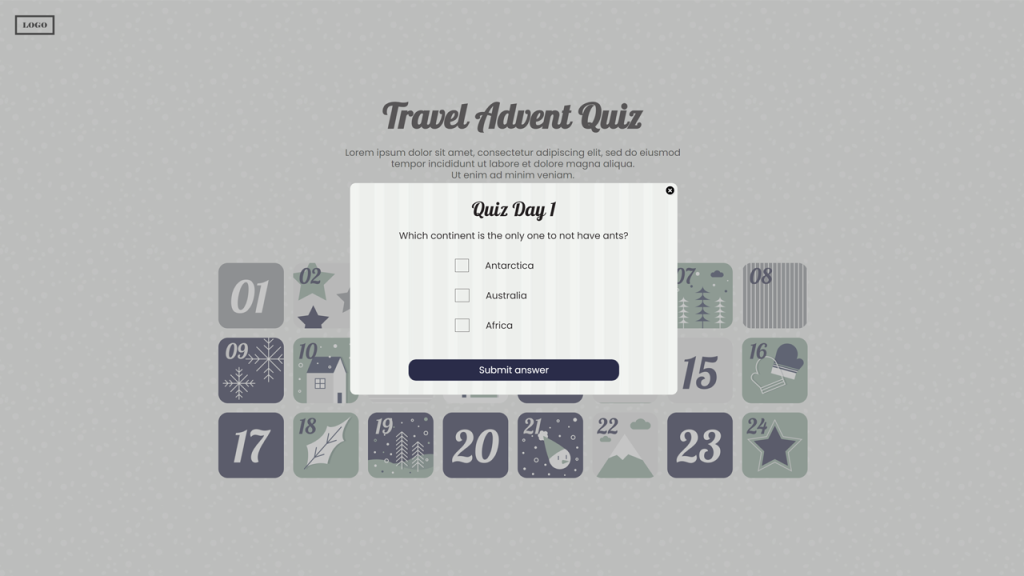 Pro Tip: Use your product as the prize and ask people questions about your product so participants go to your website and learn more about it!
Hannah Park, a marketing professional at Color Street, used the Online Advent Calendar to engage with their customers while entertaining them and generating leads.
"Creating the Advent Calendar was a seamless process. We used one of the ready-to-be-customized templates, so almost half of the work was already done for us."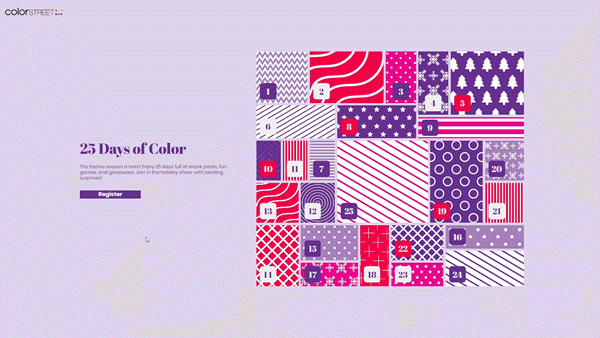 4. Increase employee satisfaction with Online Advent Calendars
Last but not least, one of the most innovative Online Advent Calendar ideas of all: using it as an HR magic tool.
An Online Advent Calendar is not only a tool for marketers. HR representatives can also leverage this Interactive Experience to increase employee satisfaction. Replacing traditional Christmas gifts with unique Online Advent Calendars will boost engagement and morale.
Invite your employees to log in with their work emails and let the festive fun begin! Craft a 12 or 24-day calendar where your team members can play games or complete quizzes to earn delightful prizes.
Online Advent Calendars enable you to go beyond traditional methods of making employees happy. As you add gamification elements, people are more engaged in the experience. If you want to implement Interactive Content in your HR department, explore the best HR practices that will differentiate you as an excellent employer.
Related: The ultimate guide to Gamification in recruitment
Take a glimpse at the following example — an enticing 12-Day Advent Calendar with daily quizzes filled with surprises. Customize and adapt it to align with your brand guidelines and share this engaging experience with your employees next Christmas.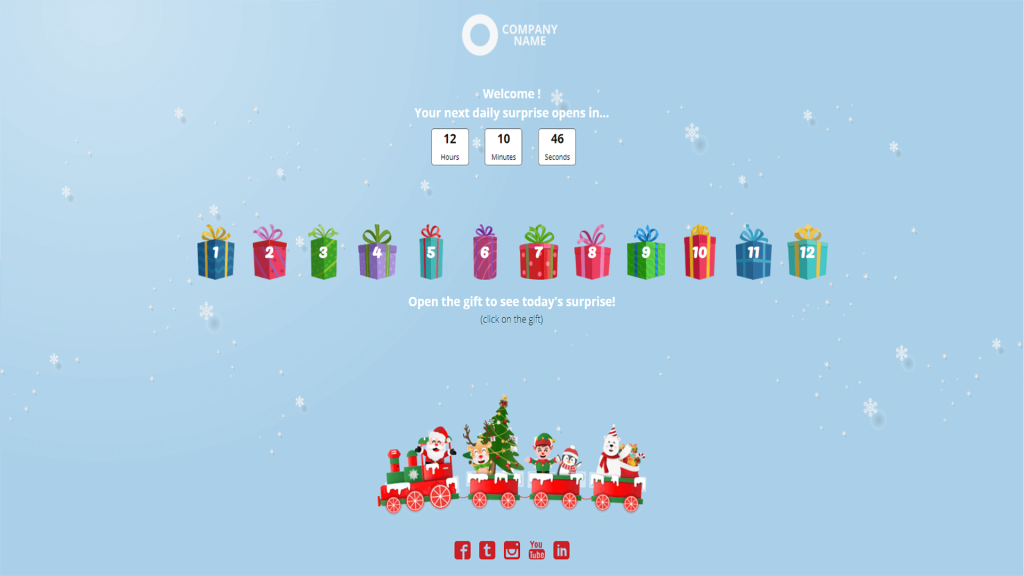 Pro tip: Be strategic about the questions you ask: keep the questions easy to answer and the experience fun to play.
Ready to implement one (or more) of these digital Advent Calendar ideas?
Don't limit yourself to just one idea from this blog post; instead, consider combining multiple methods to maximize the impact of your Christmas marketing campaign. For example, why not promote your products while sharing your Online Advent Calendar on social media? You could even go the extra mile and create two separate calendars—one for marketing and another for your HR department. 
No matter your goal, Dot.vu offers you great flexibility. Our intuitive Interactive Content tool empowers you to create a fantastic Online Advent Calendar with a wide array of embedded experiences without needing a single line of code. Isn't that just great? 
Explore our marketplace to find diverse Advent Calendar templates. Sign up for a free account, choose an experience, and effortlessly customize it to align with your brand perfectly. 
---
This blogpost was updated by Felicia Rozario on July 18th, 2023.
---
Other articles you might be interested in:
---