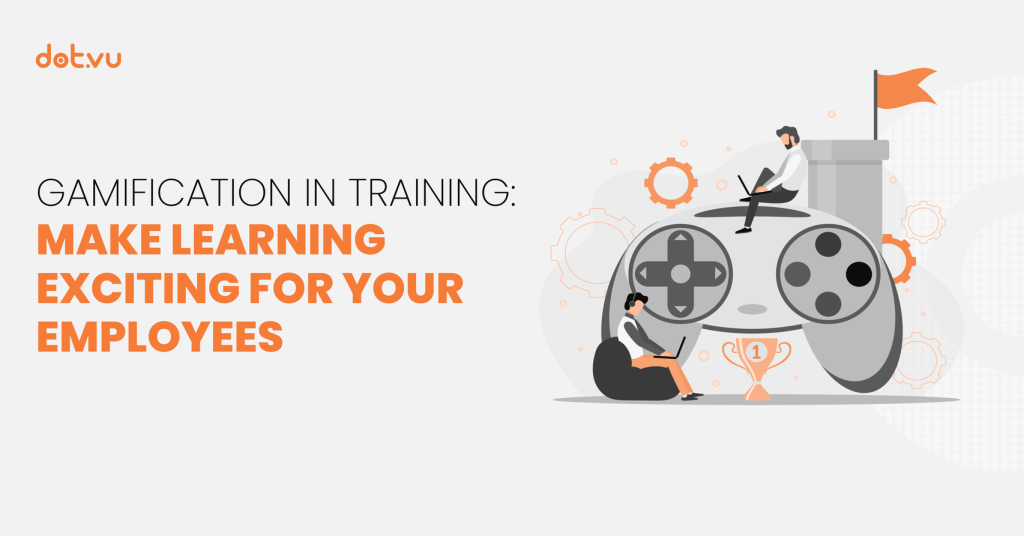 Gamification in training is, in the eyes of many, an excellent method to boost employee learning experience. What is it all about, though? How does it work, and what results does it yield?
We clearly understand that training and onboarding employees in relevant skills can be difficult. Even if your staff members are motivated initially, they get discouraged along the way. The shrinking human attention span makes it more difficult for people to read long texts and retain information.
A strong learning culture can help you increase retention rates by up to 50%. Therefore, overcoming the challenges related to employee training is crucial. In this blog post, we will guide you through one of the most effective ways to set your company up for success: gamification in training.
Table of contents:

What is gamification in training?
Training gamification is the addition of gamified elements to your employee training materials. In other words, it is the act of replacing static learning formats with Interactive Experiences where people can have fun while learning.
Corporations nowadays tend to use traditional methods for educating their employees. Examples include PowerPoint presentations, PDF or Word documents, live events, and group discussions. While these are still better than no training at all, they do not engage employees fully. On the other hand, gamification turns learning activities into fun and exciting experiences.
Think of the last time you onboarded new employees using a static PDF of, let's say, 80 pages. Did you notice them getting bored, distracted, or discouraged after a while? That's completely normal. Naturally, forcing themselves to remember everything they read can be exhausting. Now, imagine the following situation: you add a few gamified elements to your PDF. After reading the first two pages, your employees can watch an Interactive Video Quiz where they test their knowledge by answering questions. If they answer correctly, they earn a point. Then, after another two pages, they play a game with instant rewards for the top performers. You can get inspired with more examples later in this article.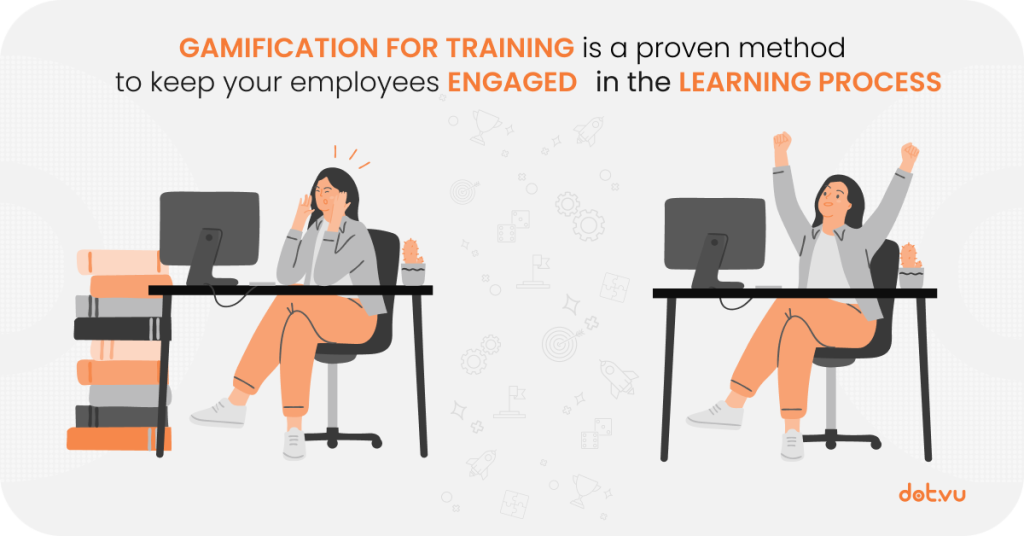 Why is gamification important in training?
Employee training is an essential policy in any organization. Educating your staff members boosts productivity and contributes to thriving work culture. Gamification for training is a proven method to take training to the next level by keeping your employees engaged in the learning process. In fact, people report a 60% engagement increase thanks to a gamified training experience. Furthermore, a whopping 89% become more productive (and happier!).
The more your employees interact with the educational materials, the more they learn. Therefore, they will contribute to the growth of your company.
Related: What is gamification in marketing?
How do you implement gamification in training?
You can implement gamification in training using the following elements: point systems, leaderboards, badges, levels, and instant rewards. The mere idea of competing against other people, or earning prizes, will motivate your employees to learn more.
There are many ways to gamify corporate training. Nonetheless, it would be best if you remembered to stick to your learning objectives. Taking gamification too far is not a good idea because too many games might distract your employees. We recommend you review all existing training materials. Then, you can add gamification elements wherever it makes sense. Here are some ideas to repurpose traditional training components into compelling gamified experiences:
Instead of providing your employees with long, boring texts, try to take them on a journey using storytelling.
Instead of using a static testing tool where your employees would check the correct answers themselves, use an Interactive Quiz where they would get instant answers and feedback.
Remember to give instant rewards to your employees to encourage their learning process.
Incorporate continuous goals for your staff members to complete. For instance, you can implement a level system where every completed section of your training material would count as a new level.
Add leaderboards and generate friendly competition among your employees.
Related: The ultimate guide to gamification in recruitment
Benefits of gamification in training and development
Training and development gamification, just like the rest of the best HR practices, has a plethora of benefits for your employees and the success of your company.
Gamification benefits for employees
Employees feel more motivated to complete all educational materials.
Engagement levels rise. As a result, people feel happier.
Healthy competition enhances internal communication and social interaction.
The benefits for your company
You boost information retention. As a result, your team will contribute to the company with their fresh knowledge.
Happier employees are more productive and creative.
An organization with strong training culture boosts its employer branding.
With some platforms, you can update and modify your gamified elements regularly. Therefore, you will keep your content fresh and up to date.
Examples of gamification for employee engagement
We got to the most exciting part of this blog post: actual playable examples. You might be tired from reading, too: so click on any image to engage in an Interactive Experience and relax!
1. Incentive games to motivate employees
The most obvious example of gamification in training and development is using incentive games to motivate employees. However, as this is a broad term, we will give you playable examples of interactive games that will boost your educational programs.
Research shows that adult learners prefer the following gamification strategies: progressing to different levels, getting points, receiving real-time performance feedback, and competing with others.
Tapping Game with Leaderboard
You can use this fun game to give your employees a rest. Moreover, it has a leaderboard that creates friendly competition.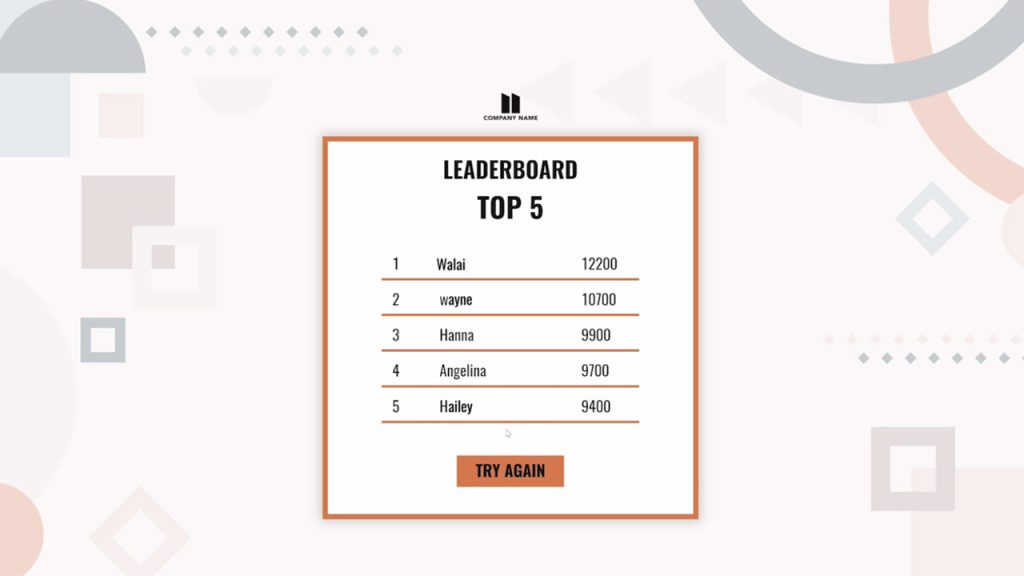 Pro tip: Give everyone an equal chance to win! Reset your games and leaderboards on a weekly or monthly bases.
Quiz with Leaderboard
You can easily tap into the competitive nature of your employees with this game. The reason is the leaderboard that motivates participants to perform better.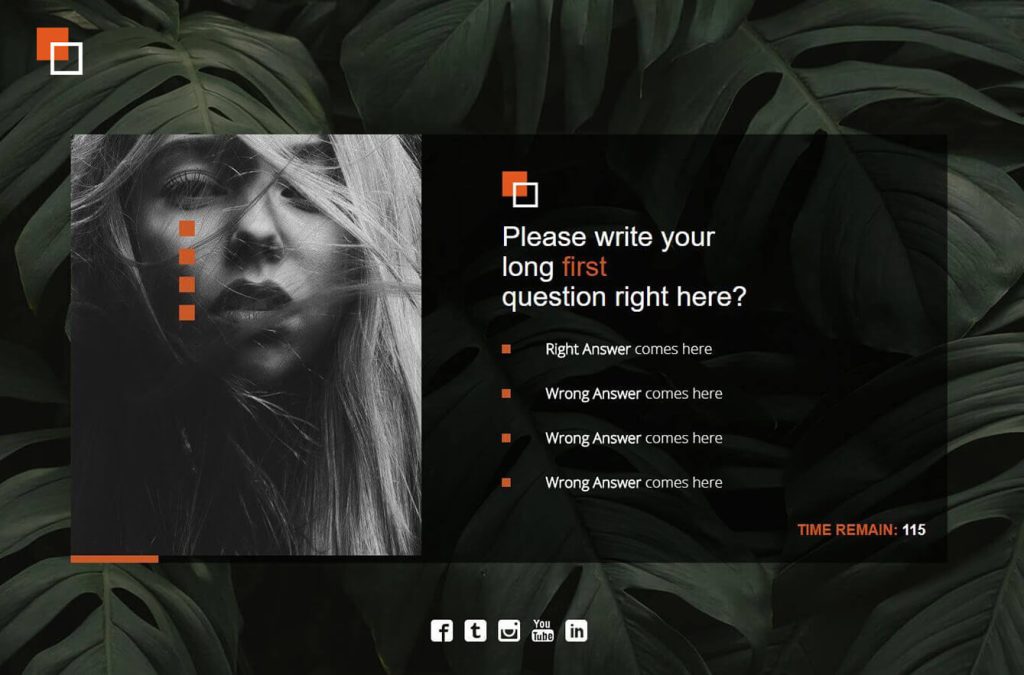 Spin and Quiz
This is an educational and fun game. You can invite your employees to spin the wheel. When it stops on a certain category, they need to answer a question.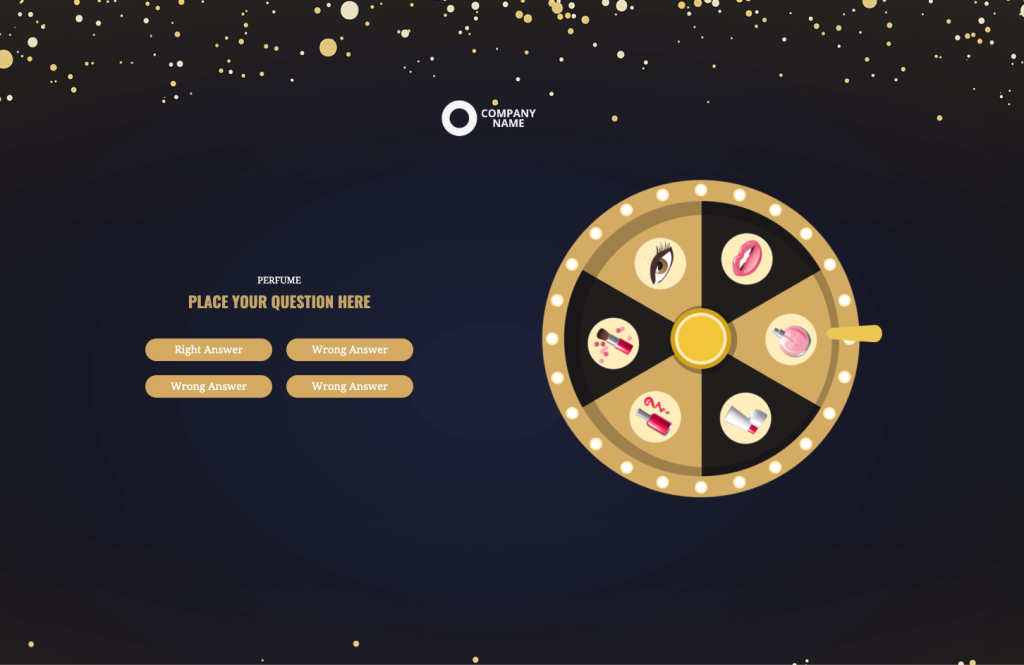 Level up Quiz
This is a 12-question quiz with 3 different levels. You can use it to test the knowledge of your employees. Furthermore, You can reward the ones with the highest scores to boost employee morale.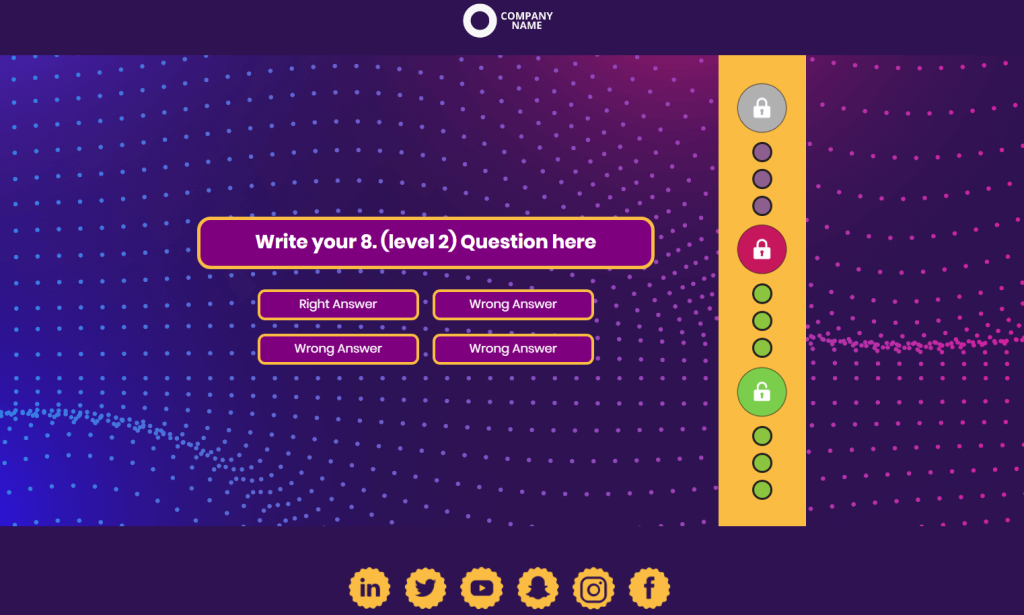 2. Gamification in sales training
In every business organization, the sales department has a great impact on generating revenue. Therefore, getting new salespeople up to speed quickly should be at the top of your priorities list.  
Educating your new sales representatives can be time-consuming as it requires extensive training. Moreover, as previously mentioned, static learning materials can exhaust your employees. You can combine all your resources and turn them into a digestible format using an Interactive Flipbook like the one shown in the example below. An online book with a realistic page flip effect, the Sales Training Flipbook contains various gamified elements, such as an Assessment, a Quiz and Memory Games.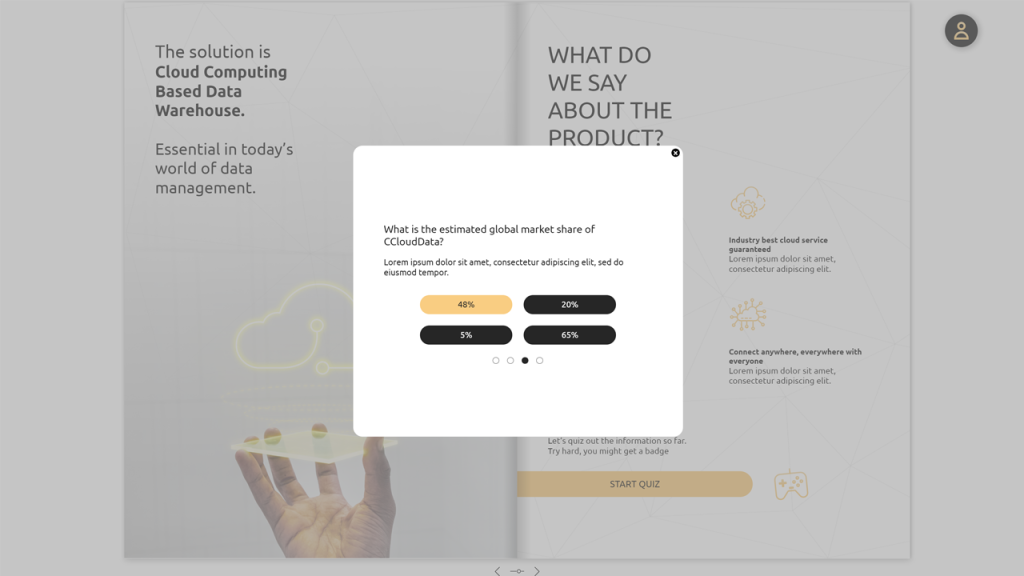 Another flipbook example is the Internal Educational Flipbook. You can place videos, quizzes, and games in the tool. For instance, if you go through the template, you will discover a section where you need to scratch three images to reveal the text. The act of using the mouse and interacting with the flipbook will help your employees to take a moment away from reading heavy text. Plus, because they need to reveal the text, they will be more engaged, hence more ready to digest the information they get.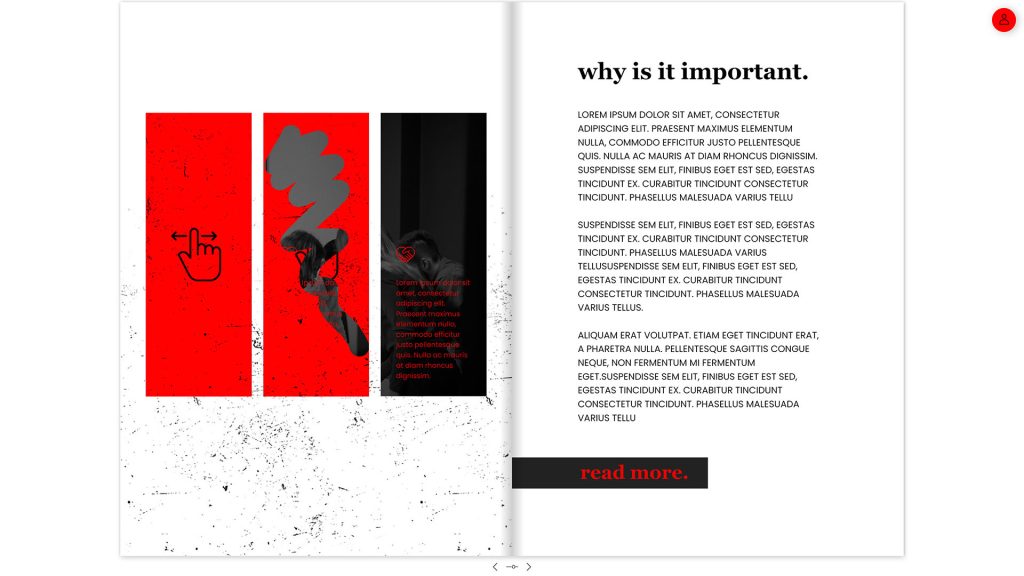 3. Training in diversity and inclusion
Commitment to diversity and inclusion is more important than ever. Indeed, diverse and inclusive corporations are 35% more likely to outperform competitors. That's why training around this topic is crucial to creating a more harmonious workplace.
Let's have a look at how one of our clients gamified their inclusion training within an Interactive Flipbook. HAVI, a global supply chain leader, combined all the necessary resources to create an engaging learning experience. Among other things, they encouraged employees to play monthly games and earn instant rewards.
Gamify corporate training with Dot.vu!
Gamification in business training is the ultimate way to boost the creativity, productivity, and engagement levels of your new or tenured employees. Luckily for you, the implementation of this strategy is quick.
If you are looking for a user-friendly gamification platform, look no further. Dot.vu is an Interactive Content platform with many different gamification templates. You can find them on our marketplace under "Marketing Games". However, if you have a bigger project in mind, you can explore our educational flipbook templates with plenty of gamification for training elements.  
Get inspired on our marketplace and create a free account to unfold your creativity!
---