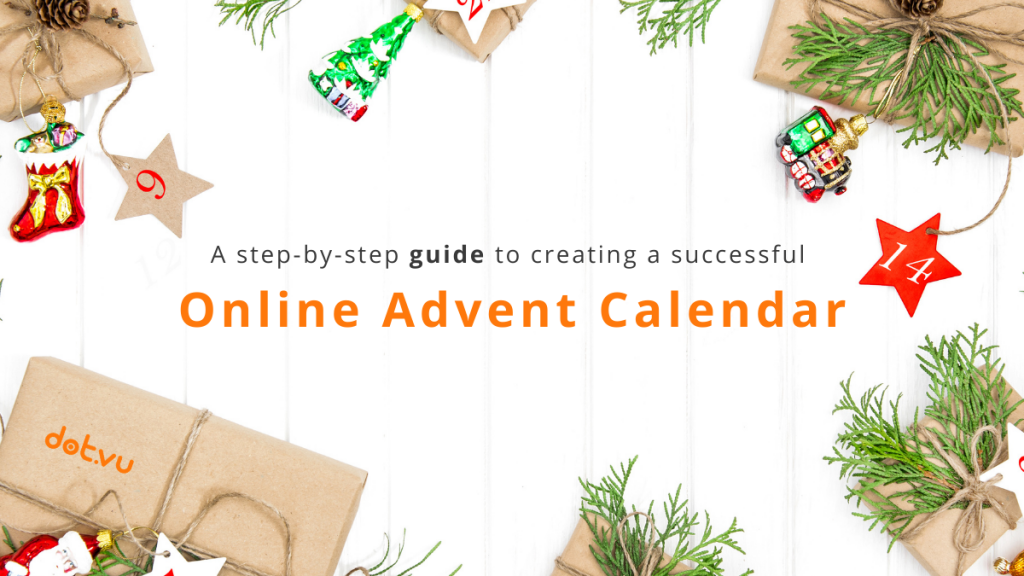 Online Advent Calendars are a great example of timeless products. But, to be timeless, products have to be adapted to the latest technological advancements. Advent Calendars have come a long way since it was invented more than a 100 years ago. Now, you can find online advent calendars. Amazing, isn't it?
Let's just go back a little in the history of the Advent Calendar. The idea came early 19th century in Germany. There, protestants would mark the days to Christmas by burning a candle every day. Later on, the practice of hanging a religious picture instead became a trend. About 10 years later, the first printed advent calendars appeared. Another 10 years later, Gerhard Land's got the genius idea to add small doors to the calendars. In 1950, chocolates started to appear in Advent Calendars, and the product began to be popular in other countries than Germany. In 2015, Dot.vu was one of the first companies to create online advent calendars. During the following years, we perfectionated the way we create interactive and online advent calendars.
In this blog post, you are going to read about our famous recipe: How to create successful online advent calendars. But first, let me explain what they are and why they are essential for you in 2020.
What is an Online Advent Calendar?
An online advent calendar is a type of Interactive Content where visitors can come back to your website every day in December to unlock new games or surprises. So, instead of having a physical advent calendar, your users will have access to their advent calendar online on your website. Consequently, they'll go on your website to a new door every day and discover their daily surprises.
Because an image is worth a thousand words, take a look at the embedded example below.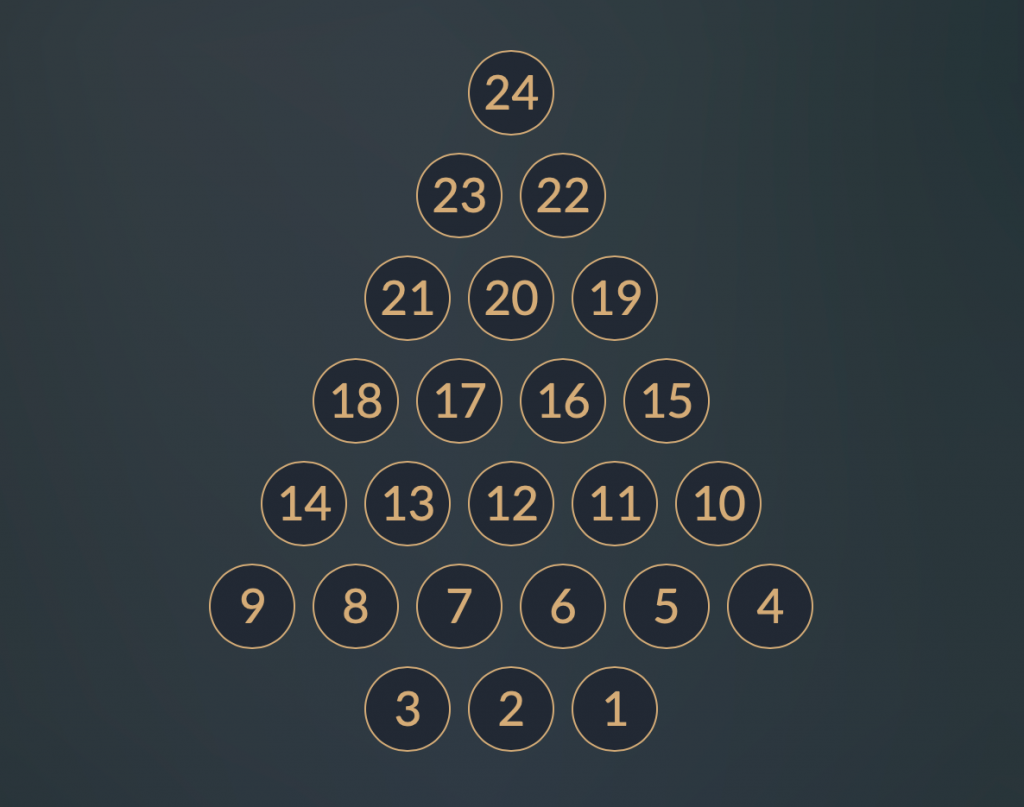 Why Should you Make an Online Advent Calendar?
There are many reasons why online Advent Calendars are a great addition to your holiday marketing campaigns. But let's discuss 5 of the most important reasons.
Increase Brand Awareness
We have seen it many times; consumers love Online Advent Calendars. It might be because it brings them good childhood memories. Or, because it plays on their holiday spirits. Maybe, it's simply because they get loads of deals, discounts, or prizes in the interactive experience. In any case, many Online Advent Calendars that were created on Dot.vu got an incredible success. Companies that decided to create them saw their website visits increased significantly during December. A very possible explanation for that is that participants would share the interactive experience with their friends and family if they liked it enough. Thus, increasing your Brand Awareness. And, who doesn't like Advent Calendars?
Increase Engagement Rate
Again, because Online Advent Calendars are popular amongst consumers, and because they are still relatively new in the online world, consumers generally want to interact with them. They will want to play the daily games or unlock discounts. That's why Online Advent Calendars are one of the best interactive experiences to boost your engagement rate.
Positively Influence your Brand Image
By associating yourself with such a magical and gamified concept, you will positively impact how your customer sees you. They'll remember you participated in making their holiday spirit high this Christmas.
Boost Christmas Sales
An Online Advent Calendar is a great way to boost your Christmas sales. Every day, participants will go back to your website to unlock their daily surprises. You can use that to your advantage by promoting your best products or services.
Grow your Email List
Make sure to gate your Advent Calendar with a lead form so that to participate, users have no other choices than share their emails with you. You can also collect specific data points that are associated with each user. With these insights, you can create personalized interactive experiences or offers for them later on.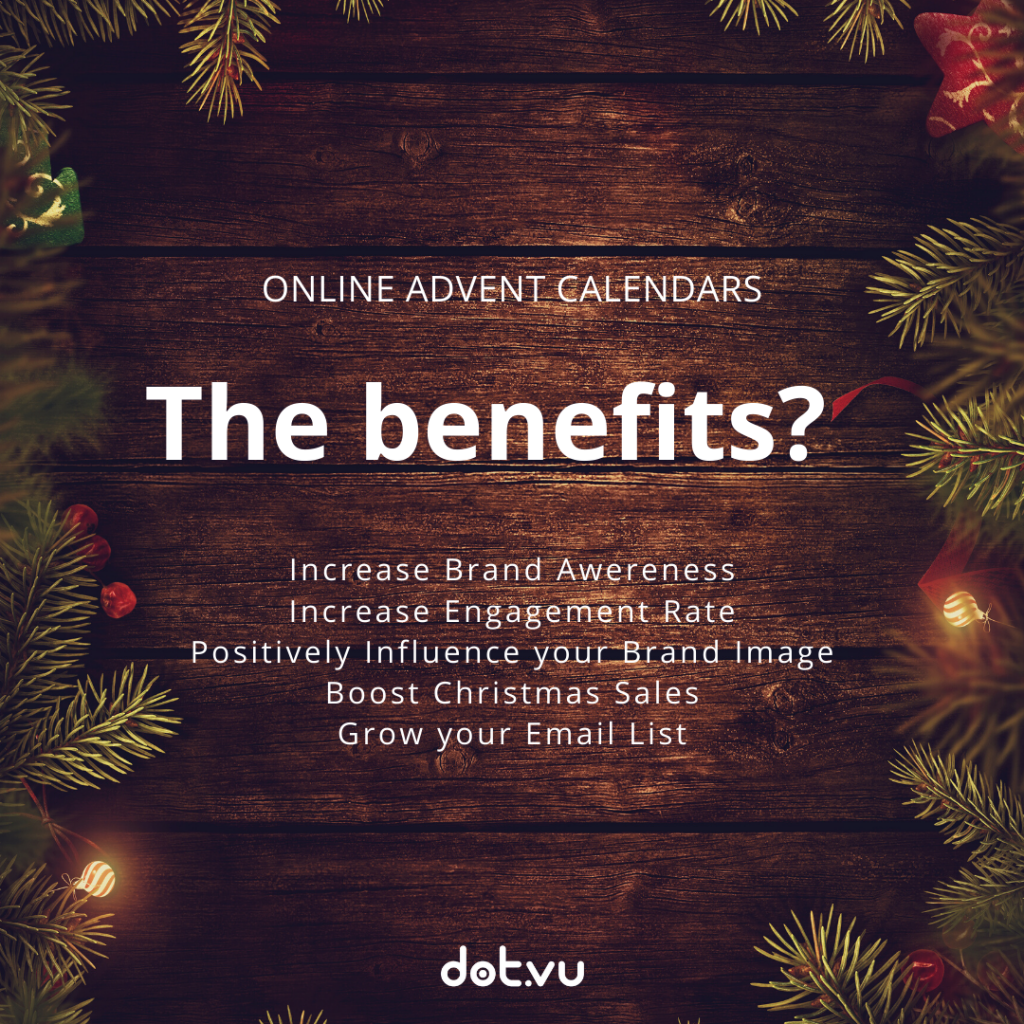 How to create successful Online Advent Calendars?   
Since 2015, we have helped many clients to design successful online advent calendars. We gained lots of insights on what should be considered, what should be added, and what's the most critical aspects. These insights will be synthetized in this blog post to help you create awesome online advent calendars.
1. Main goal
Firstly, as with any other interactive experience, you'll want to identify your main goal. Take a look at the precedent section. Normally, your main goal is one of the 5 most important reasons why to create an Online Advent Calendar:
Increase Brand Awareness
Increate Engagement Rate
Positively Influence your Brand Image
Boost Christmas Sales
Grow your Email List
Identifying your main goal will help you choose the main direction when designing your interactive experience. 
2. Overall Design
The first crucial step when creating an Online Advent Calendar is to focus on the general design before you dig in and become more specific. That way, you'll make sure you are designing an experience that is consequent with your main goal.
How many days do you want to include in your Online Advent Calendar? 
Do you have to have a door (box) for every day from December 1st to December 24th? Do you also want a door on December 25th? Would you rather have only 4 doors, one per week? 
Remember, depending on how unique you want each one to be, it might be a lot of work to have 24 different doors. Of course, you can also have the same experience in every door, for example, a Wheel of fortune with a chance to win a discount. Then, having 7 or 24 doors is basically the same work behind the scene. 
What should be the main idea behind the design of the cover image?
Similar to a traditional chocolate advent calendar, an Online Advent Calendar generally contains one cover image on which you'll have your daily or weekly doors. The Christmas spirit should inspire the cover image. That's why you'll often see a picture of Santa Claus, a snowman, or a reindeer. But, keep in mind that you are designing an Online Advent Calendar for marketing purposes, so you also must make sure the calendar somewhat follows your brand guidelines. It's also a good idea to add your logo somewhere in there.
Where should you insert your lead form? 
There are two places where you can insert a lead form: before visitors can open the daily door of your Online Advent Calendar, or at the end of the daily experience. 
If your main goal is to increase your email list, then it's a no brainer. You'll want to add a gated lead form before participants can open a daily door. But, make sure not to add the lead form before they can access the Advent Calendar. That will significantly reduce your success. You want to hook your audience by letting them see your magical advent calendar. Then, they'll be more inclined to give you their contact details to open the daily door. 
If increasing your email list is not your main goal, you might want to add your lead form at the end of the experience after participants have opened the daily door and uncovered the surprise. This way, you'll make sure you don't leave any potential participants behind because they didn't want to share their contact details. But, if you choose this option, you need to think about how you can incentivize participants to share their contact details. For example, you could tell participants they get an extra 5% discount if they give you their details. You could also ask participants to subscribe to get daily reminders to go unlock the doors.
How and where will you highlight your product(s)?
Finally, when deciding on your interactive experience's overall design, you'll want to think about how and where you'll highlight your products (or services, of course). Will you add product ads in your Advent Calendar? If so, you need to discuss where you would like to add your ads: to the bottom of each daily experience, or the right side?  
Or, maybe you prefer to keep your Online Advent Calendar free of any product placements. In that case, you can also use your email list to send promotional emails to your Advent Calendar's participants.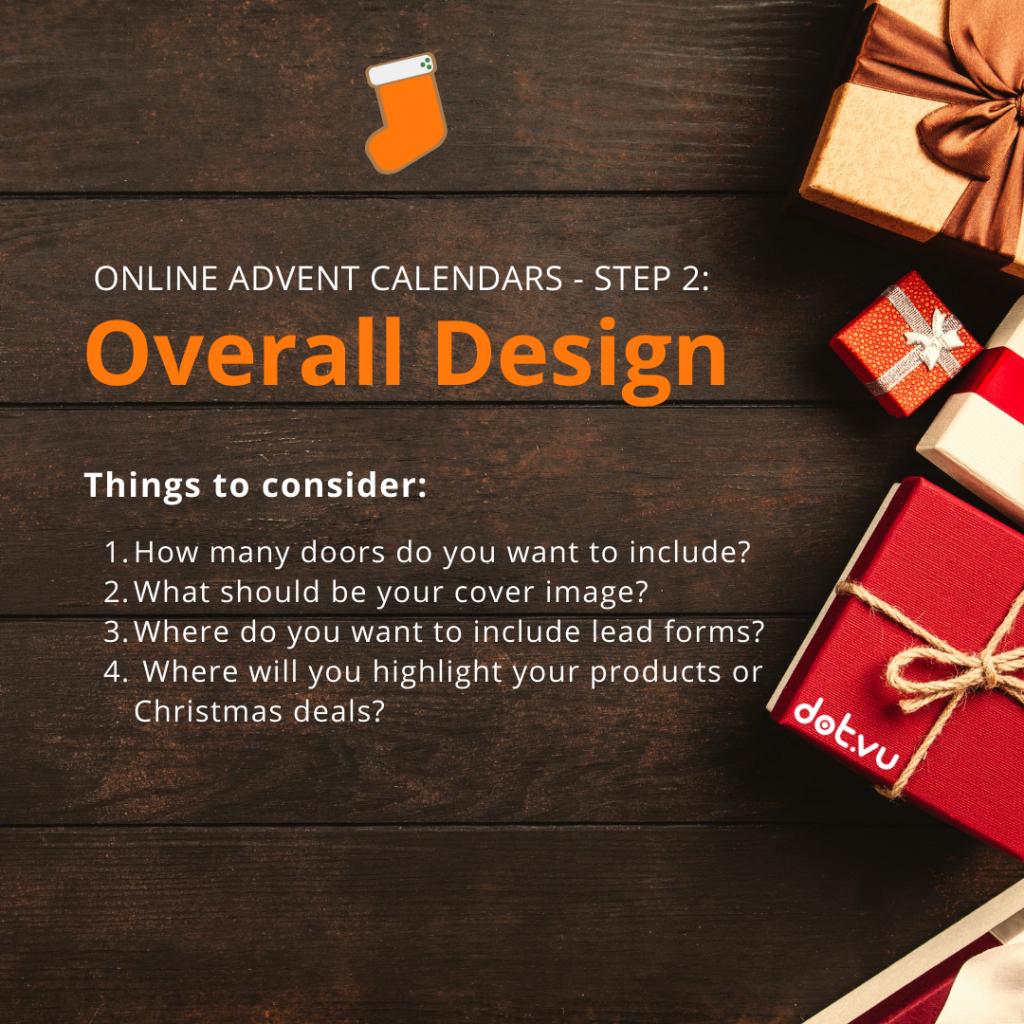 3. Behind the doors
Now that you are settled with the overall design of your Online Advent Calendar, the fun can begin. It's time to decide what will appear below each door. Again, you could choose to have the exact same experience every day, or you could go with a couple of interactive experiences that are rotating. You could also go bold and have a different interactive experience for each door.
You can choose from many different interactive experiences when designing your doors — some with a higher level of involvement than others.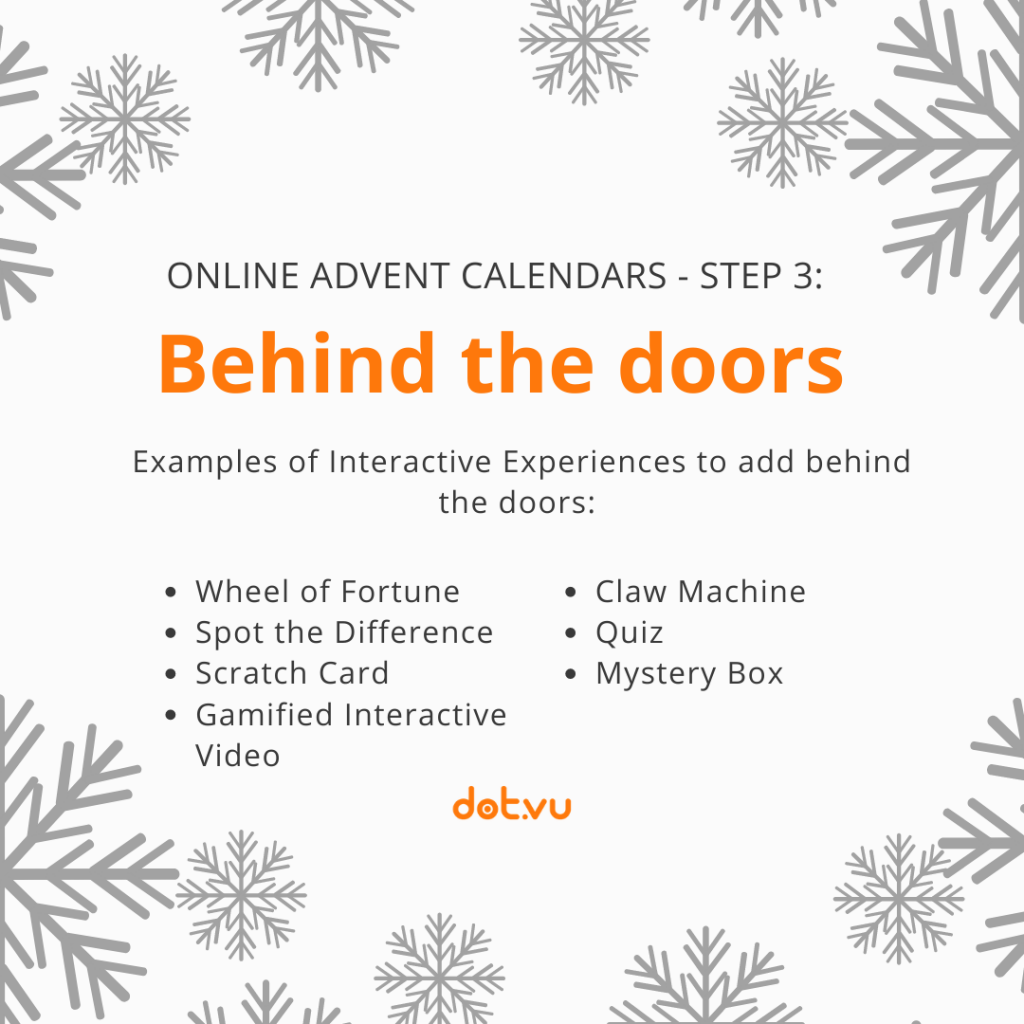 4. Contest(s)
Once you have decided which interactive experiences you want to add to your Online Advent Calendar, you need to consider the different contest(s) you want to include, if any.
1. Choose the type of contests
You could have one big contest where people can increase their chance of winning every time they unlock a new door. Or, you can also have different smaller contests for every door with different prizes. If you really want to incentivize participation, consider adding instant-win contests.
2. Decide on the details
It would be best if you also considered how many participants can win. For example, is it only one winner, or 100 a day? Do you also want to limit the number of participants every day to create a sense of urgency?
3. Choose the prize(s)
Finally, you need to agree on the prize(s). The prize(s) should be attractive for your target audience and somewhat related to your product offering. If you decide to go with one big contest where users need to fill in their information to participate, make sure the prize is attractive enough to them. On the other hand, if you go with instant-win prizes, you can have smaller rewards like discounts, small items, etc.
Learn more about how to run a successful online contest here.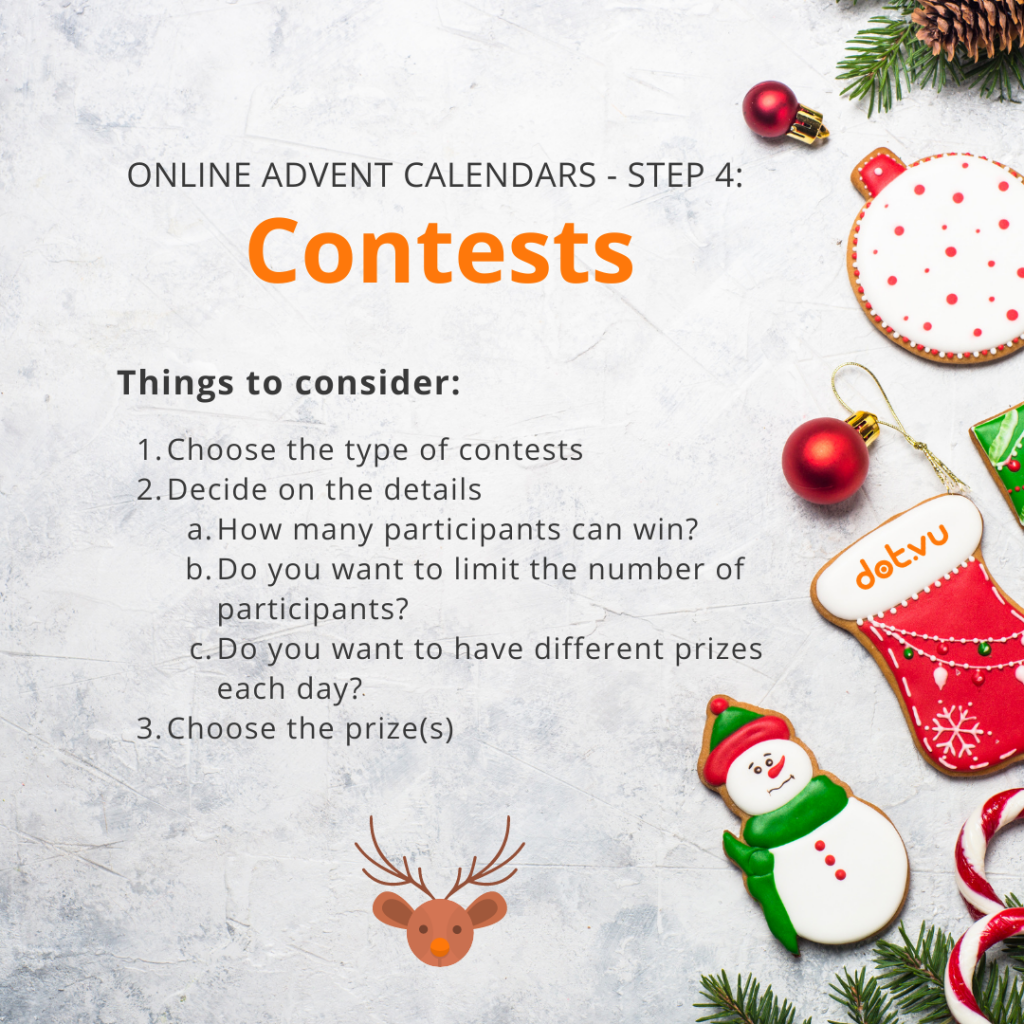 5. Mock-up
Once you have reflected on your Online Advent Calendar, thought about the overall design and all the small details, it's time to design a mock-up. You'll generally leave that part to your designer. But, the more precise you are when explaining what you want to your designer, the more he'll come up with a design that fits what you have in mind. That's why you shouldn't skip any steps along the way.  
If you need some inspirations for the mock-up, take a look at our marketplace and search for Advent Calendar on the left menu.
6. Implementation
Now that your designer has done it's magic, it's time to implement your Online Advent Calendar. You can always ask your IT department to help out, but the thing is, depending on the complexity of your calendar and the experience of your IT department with this type of content, they might take a long time to implement it. They will have to implement the overall design, each interactive experience behind each door, and the contest(s) practicalities.
That's why, most of the time, it's more beneficial to use an Interactive Content Platform to implement Online Advent Calendars. At Dot.vu, we have been designing and building Online Advent Calendars for many years. By choosing us to implement your Online Advent Calendar, you'll be sure to be satisfied. And, it would be way cheaper and faster than asking your IT department.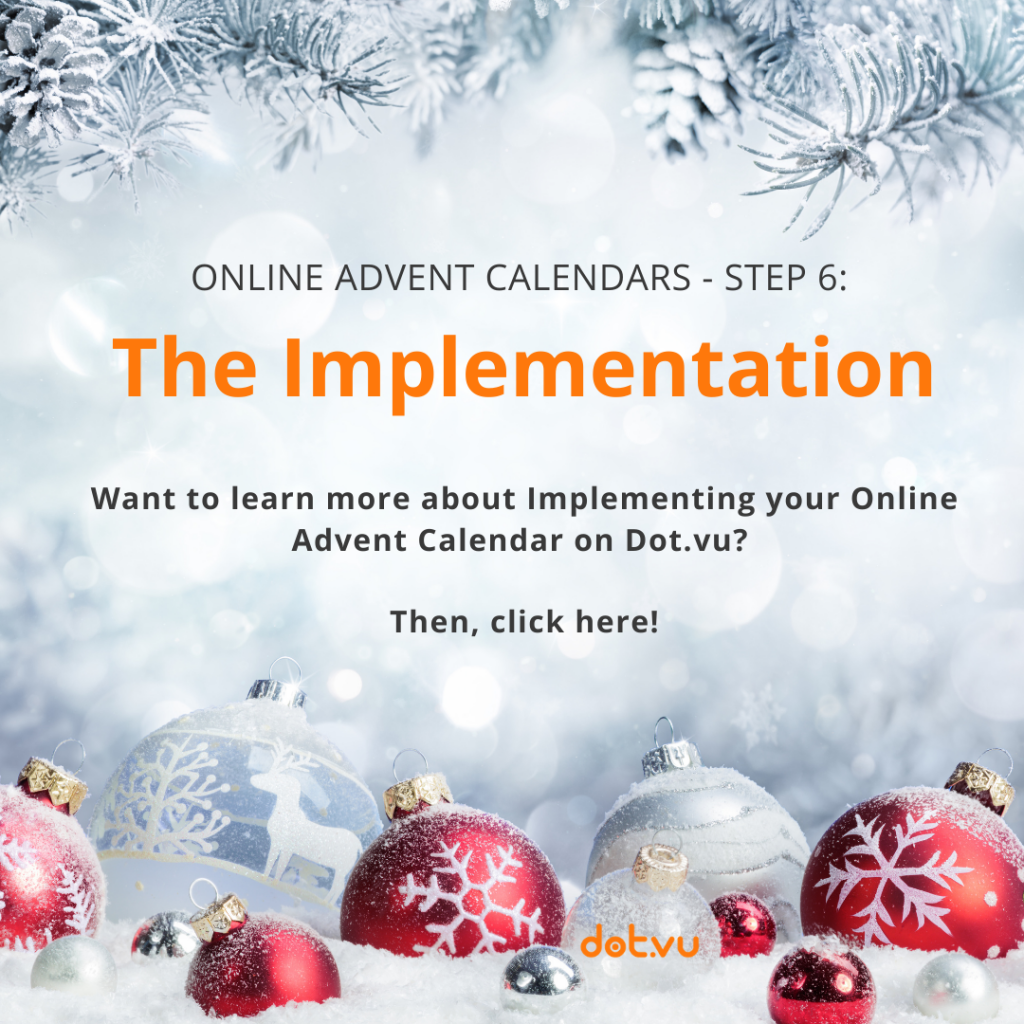 7. Promotion
Once your Online Advent Calendar is ready and looks amazing, you might think your job is done, but it isn't. Like with any other type of interactive content, you need to promote it both before and during December.
Before December
Before December, you should create a fuzz about your Online Advent Calendar by promoting it on your Social Media platform and by email. Encourage your audience to pre-sign up to your calendar to be the first to know when it goes live. Make sure to incentivize the pre-sign-up form with a contest or another interactive experience.
During December
Don't forget to keep promoting your Online Advent Calendar on your Social Media and by email the whole December month. For example, you can name the daily winners on your Social Media accounts. Of course, you should also send daily reminders (by emails or notifications) to participants to go unlock the daily door.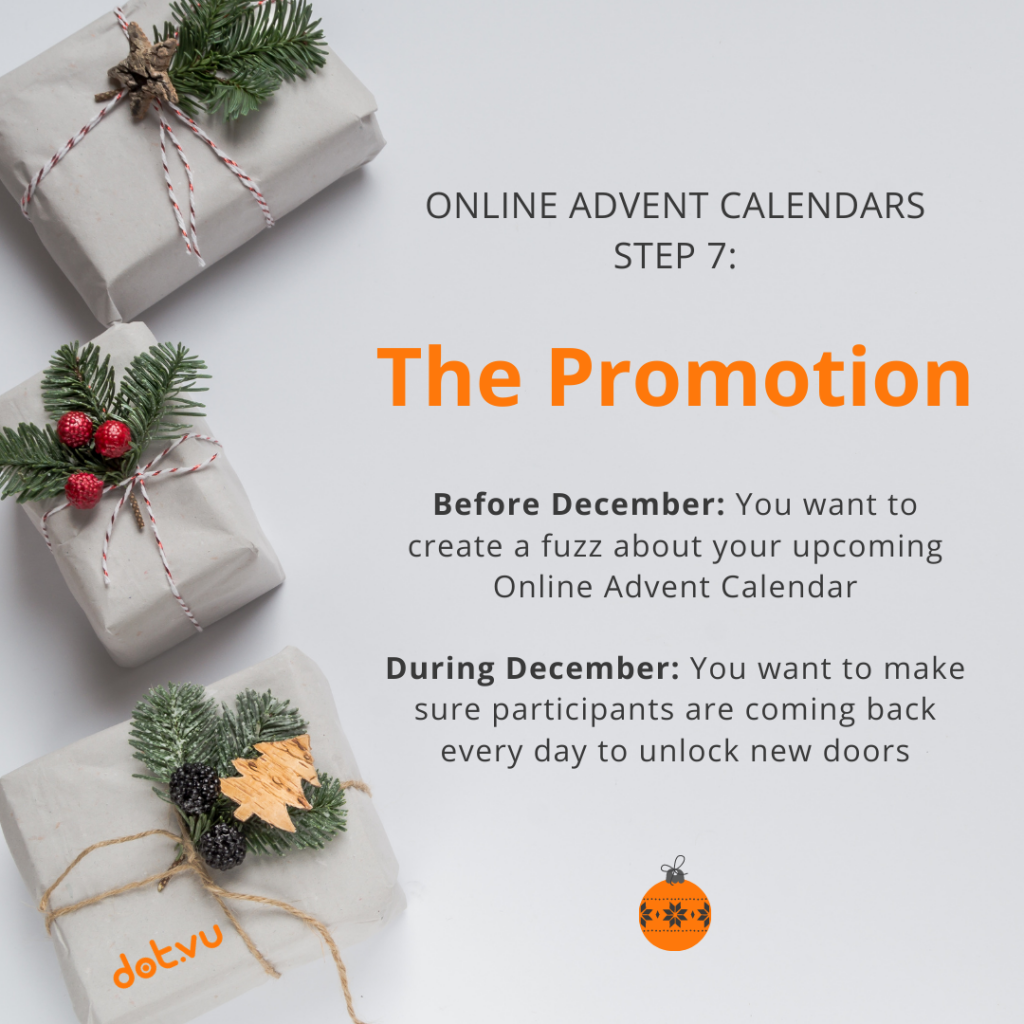 ---
As you probably figured by now, designing a successful Online Advent Calendar can be quite tricky. There are many things to be considered. That's why it's essential to follow the steps in this blog post.
If you need any help, don't hesitate to contact us. At Dot.vu, we know marketers can be extremely busy, even more, the weeks preceding Christmas. So, if you want an Online Advent Calendar, but you don't think you have the time for it, no worries, we can take care of all of it for you. Just book a demo, and we can discuss your idea together.
Subscribe to our blog!
---