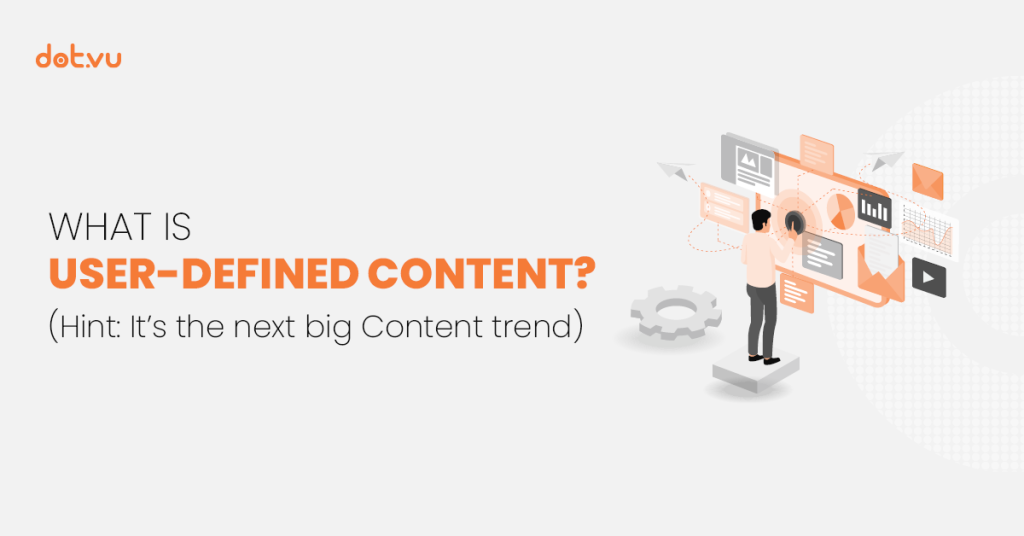 Before we dig into what User-Defined Content is, let's start by setting the groundwork and reviewing the past big Content Marketing trends.
User-Defined Content and the history of Content Marketing
Since Bill Gates said "Content is King" in 1996, the importance of Content within Digital Marketing as always been sky high. But, that was not the beginning of Content Marketing! Way before that, companies such as Jell-o and John Deere gave valuable and educational content to their customers to boost their sales. For example, in 1904, Jell-O salesmen went door-to-door to distribute a free cookbook, which resulted in a rise in sales of over 1 million dollars. Even before that, in 1895, John Deere launched a magazine called "The Furrow" to help farmers grow their farms and become more profitable.
So, when Brian Halligan and Dharmesh Shah founded Hubspot in 2006 and commercialized the Inbound Marketing strategy, they didn't reinvent the wheel in the sense that companies have already been using content to boost sales for a long time. Yet, the idea that was revolutionary here was to create content that was tailored to your target audience and that was part of an extensive Content Marketing strategy. A Content Strategy that would be used to attract, engage, and delight.
Doing Inbound Marketing or more precisely Content Marketing was so popular that most companies (B2C and B2B alike) went on board. Everyone started doing blog posts, podcasts, Youtube Videos, and so on. As a result, it has become extremely hard to differentiate yourself from competitors. That's when companies decided to improve their content by personalizing it. While Personalization is a great idea theoretically, marketers quickly realized that it was not as magical as we thought it would be. This is where User-Defined Content steps in!
In this article, you can learn about the following:

What is User-Defined Content?
When you create Marketing Content, you are always asking yourself: Is this too broad? Too specific? Does it reach my target group efficiently? User-Defined Content can help you answer positively these questions.
User-Defined Content is Interactive Content that adapts depending on active choices visitors are taking. In other words, you ask website visitors important questions that can help you immediately personalize your content to their needs and personal characteristics.
For example, if you write a blog post on "What is Interactive Content?" with 12 general examples for each content type, you are probably quite broad. Meaning that you have examples for different industries to try to reach different target groups in the same blog post. By having a User-Defined blog post, you could start by asking readers what industry they work in. Then, all the 12 examples shown in your blog post could be specific to that industry instead of general examples.
In other words, you are offering content that changes depending on the needs and characteristics of each visitor. So, if a visitor works in the hospitality industry, they won't have to see content tailored to the retail industry or the SaaS industry. They would only see content tailored to the hospitality industry. So, with User-Defined content, you succeed in being specific enough and efficiently targeting all your target groups!
The difference between User-Defined Content and User-Generated Content
User-Defined Content and User-Generated content should not be associated as they are two completely different ideas. User-Defined Content is content created by companies to attract, engage and delight their customers. The main difference with regular types of content is that it changes depending on the choices made by the visitors.
User-Generated Content, on the other hand, is content made by users about your brand. It is most often shared on Social Media platforms, but can also be shared through other channels. It is a type of Interactive Social Media post.
The difference between User-Defined Content and Dynamic Content
Dynamic Content, similarly to User-Defined Content, is a feature used by marketers to personalize their content. However, instead of being based on active choices from users, it is based on data such as in-session behavior, user data, and user characteristics.
As we mentioned, User-Defined Content is content that changes on the spot depending on active choices. So, it doesn't require 10 different integrations, hours of coding, magical wishes, unicorn hair, and so on to work well. You simply ask each user a couple of questions and you present them content that is tailored for their answers.
Why is User-Defined Content Important?
User-Defined Content is important because it's the closest to true personalization you can get.
Why?
Because, as Peter Weinberg and Jon Lombardo said in their article on personalization, true personalization is unachievable due to poor quality data. When companies try to sell you one-on-one personalization, they are trying to make you believe that Third-Party Data is reliable enough, but it isn't. Only Zero & First-Party data can help you to offer true personalization. In other words, if you want to offer a truly tailored marketing experience to your audience, you need to rely on the data you collected yourself. Interactive Content is the best way to collect that data.  
However, you can achieve true personalization with User-defined content without even collecting data in advance! When you rely on data, you are extrapolating, you are assuming based on past preferences, past purchases, and so on. But, what if the last time a visitor was on your website, he was looking for a gift for his mom? Now, he is looking for himself! Presenting him with ideas based on past purchases wouldn't help him at all. However, by having a Guided Selling experience where you ask him a couple of questions about his needs, you can present the best products for his current purchase intentions. That's why User-Defined Content is important! Because it's not based on the past, it's based on the present. Plus, it's not based on assumptions, but on actual facts.
6 Benefits of User-Defined Content
There are many different benefits of using User-Defined Content to improve your marketing efforts. In the next section, we will present 6 of them.
1. Increase Engagement
User-Defined Content is amazing to increase engagement because right from the beginning of the Interactive Experiences, you are asking users to actively participate in the experience by letting you know exactly what they would like to read, watch, or listen to.
2. Improve User Experience
Intrinsically, User-Defined Content is the best way to improve user experience because the Interactive Experience you provide users is tailored to their choices. In other words, it's a personalized experience that fits exactly what they are interested in.
3. Educate Potential Customers
User-Defined Content often takes the form of tutorials. Therefore, it's often used to educate potential customers on the products that best fit their needs, on the best way to use your products depending on their current situation, and so on.
4. Collect valuable customer data
Of course, you'd still want to collect valuable data from your User-Defined Content. So, every time a user answers questions to get their User-Defined content, you register their answers. That way, you can improve your personalization tactics, learn more about your customers, and optimize your product offerings.
5. Enhance Brand Loyalty
By offering content that is personalized to each user, and increasing the User Experience, you will succeed in enhancing Brand Loyalty. For example, if you use User-Defined Content to teach a teenager how to use your Daily Cream depending on her skin type, her acne, her physical activities, and so on, she won't choose a competitor's cream after that. She'll keep using your Daily Cream because she knows exactly how to use it depending on her own situation.
6. Save Resources (Time & Money)
Finally, User-Defined Content can help you save time and resources because it will help you reduce the amount of content you create. For example, instead of creating 8 different articles on how to use your Daily Cream, you can create one and change a couple of sentences, options, examples, and pictures for each profile of your User-Defined questionnaire.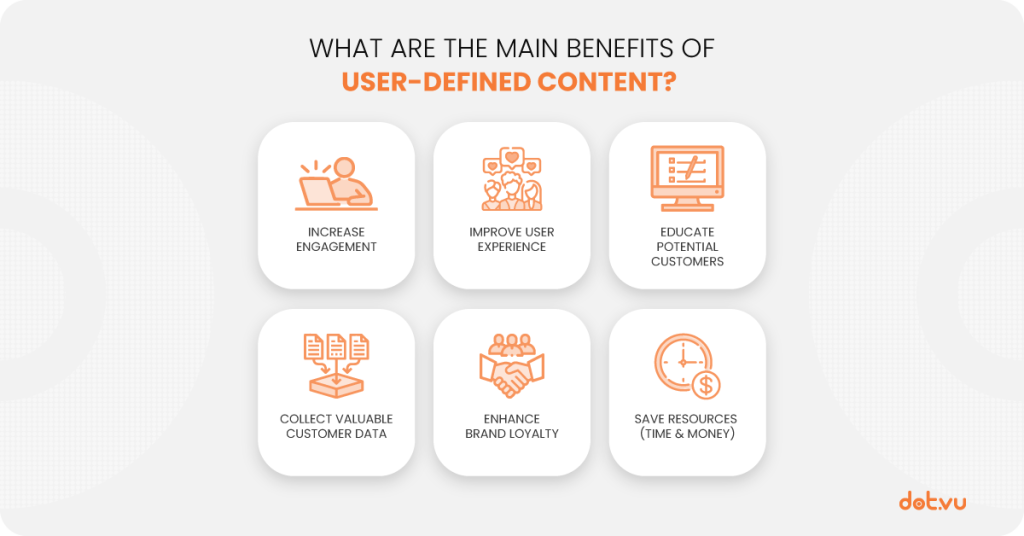 5 types of User-Defined Content
Because User-Defined Content is content that changes depending on the answers of users, there could be many many types of User-Defined Content. But, let's review 5 important ones.
1. User-Defined Blog Posts
Blog posts are the best friends of any Content Marketer. They are great for SEO, amazing to generate awareness, and cost-effective. However, have you ever realized that sometimes you write more and more of the same? You could have 12 blog posts on the same subjects such as:

1. Daily Routine for Dry Skin
2. Daily Routine for Oily Skin
3. Daily Routine for Combination Skin
4. Daily Routine for Normal Skin
What if instead of having 12 different blog posts, you have a User-Defined blog post. With a User-Defined blog post, you'd start by asking participants questions to determine their skin types. Then, in the end, you'd be able to present to them a blog post that fits their answers.
Discover your Skin Type and find out the perfect Skin Routine for you!
Don't be tempted to think that User-Defined blog posts are only good for B2C companies. They could be great for B2B companies as well. For example, you create a blog post on Lead Generation with 12 different examples. You could ask readers to enter the industry they work in so that the examples you include in the blog post are tailored to that specific industry.
2. Interactive Videos
Interactive Video is another type of User-Defined Content. Following the same principle as User-Defined blog posts, they can be really useful for sharing User-Defined tutorials with your audience. But, it can have many other purposes as Video Marketing is trendy in 2023.
Related: Video marketing trends for 2023
For example, Callebaut, a Belgium Chocolate Factory, used User-Defined video to promote their new concept: the Chookie! In the User-Defined Interactive Experience, participants could build their personalized Chookie by selecting their favorite ingredients and then see Callebaut's Chef assemble it. The User-Defined video ends with the option to download their personalized recipe.
To sum up, the Interactive Video users watched changed depending on the ingredients they chose. Moreover, Callebaut succeeded in getting new leads by sending a personalized recipe to participants by email.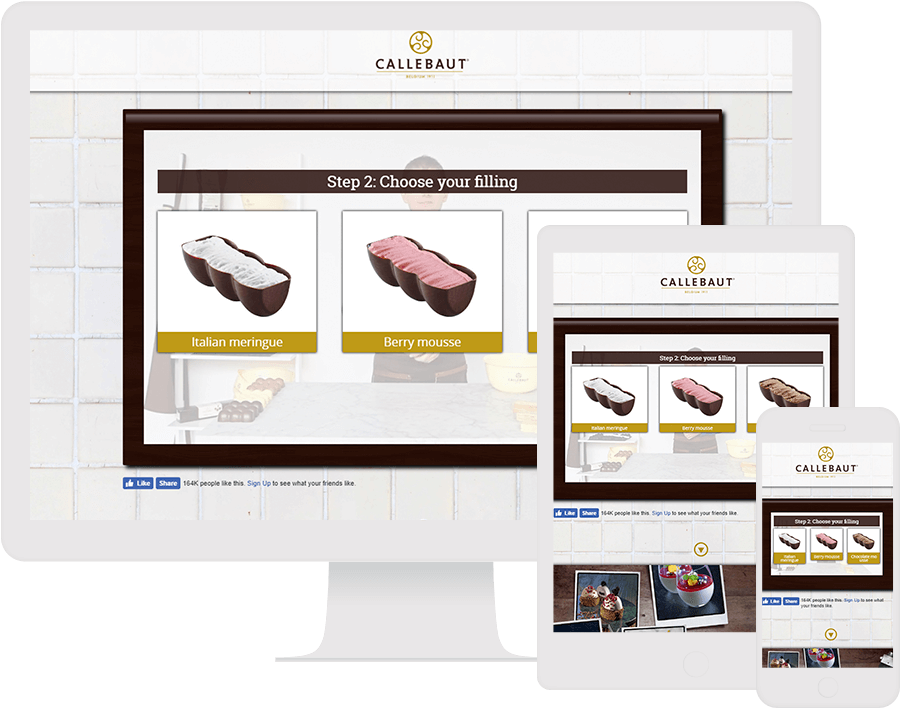 3. Interactive Infographics
User-Defined Infographics are great to show personalized content that should be easy to read and memorable. There are many different types of Interactive Infographics, so of course, depending on the type you choose, you can have different User-Defined ideas.
For example, you could think of having a statistical infographic about Content Marketing. Instead of having general graphs, charts, and stats, you could have interactive elements that are industry-specific or country-specific. Another example could be to have a How-To (Process) infographic and tailor the process depending on the answers of participants.
4. Interactive Microsites
As a marketer, have you ever thought of designing and building different landing pages that are goal-specific, industry-specific, and product-specific? What if instead of having many landing pages, you could have one where the content is dynamic and change depending on your audience?
Yes, that's also a nice type of User-Defined Content. Instead of having a general microsite, you can have a User-Defined Microsite that changes depending on who's consulting it. Just ask them a few questions and provide them with a User-Defined landing page that has exactly what they are looking for.
5. Guided Selling
Finally, the last type of User-Defined Content we will present is Guided Selling experiences. There are different types of Guided Selling experiences such as Product Recommenders, Solution Builders, Gift Finders, and so on. The point here is that the content you are promoting is your product offering.
So, by asking a couple of questions to your users, you make sure to present them with products and/or services that fit what they are looking for.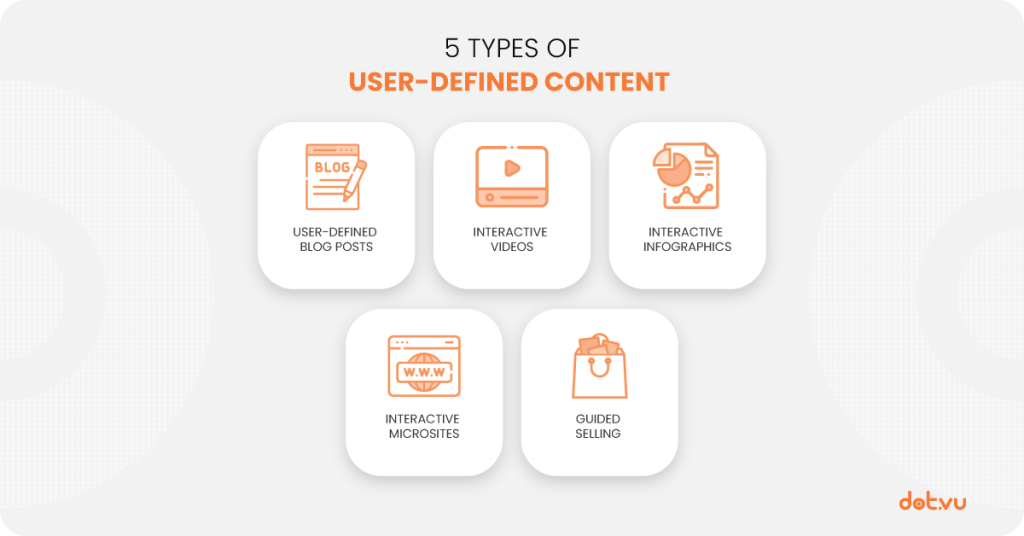 To sum up,
User-Defined Content is a great way to offer tailored and personalized content to your audience without having to rely on Third-Party data and install many different integrations. You can easily create User-Defined content using an Interactive Content platform. Plus, when you use an Interactive Content platform, such as Dot.vu, you are able to collect valuable data insights.
If you want to get started, but need a little bit of help to get on the train, create a free account to get a feel of our editor. You can pick a customizable template and design it to match your brand. Creating personalized Interactive Content has never been easier!
---
---