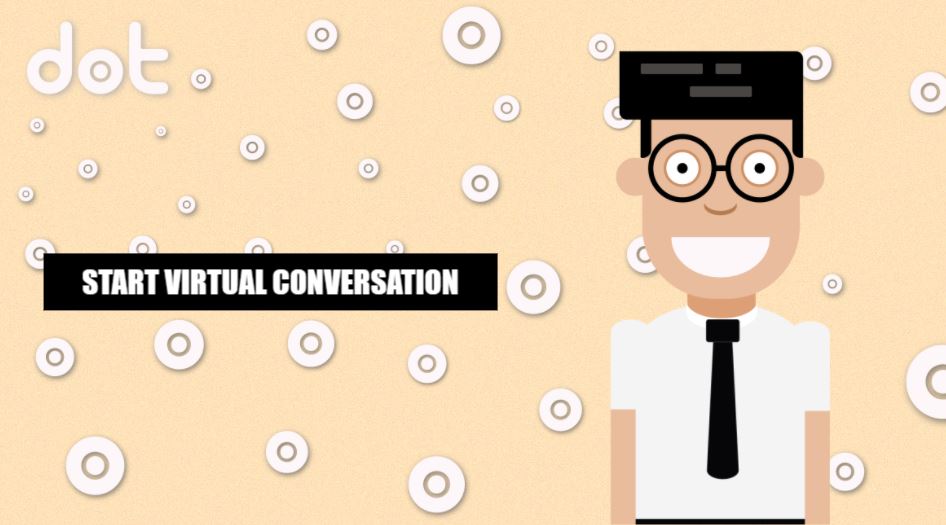 Marketing has been around for a long time, but only recently have consumers been invited to join the party and participate in the marketing conversation.
The Interactive conversation (not to be confused to chatbots) is a real-time, two-way exchange of information that helps your customers make decisions such as picking a health insurance plan, retirement plan, or a savings plan. Moreover, it helps your company to capture, qualify and connect with your leads.
Invasive marketing strategies are slowly being put aside for a more personalised, softer, approach. Today's marketing is all about listening to the customers – their likes and dislikes, opinions and preferences.
This change has empowered both shoppers and brands.
Real-time feedback
With an interactive conversation, your leads no longer have to wait to be contacted back for answers to their questions. Instead, they can engage with your company when it's convenient for them, 24/7, 365!
This can help prevent your customers from turning to another company while waiting to get their questions answered.
The interactive conversation allows your customers to interact with a virtual host that assist them in making smarter choices, book a demo with a sales representative, or informs about your company – all without any human interaction!
Real-time feedback keeps your customers happier. Instead of your leads having to fill out a static lead form and checking their email inbox every ten minutes while waiting for an answer, they instantly get answers to their questions. The virtual host will listen carefully and uncover ways to help your customers.
Saves You Time
Of course, the interactive conversation will never replace a real human being. But, it means your company can offer services 24/7 when you need to catch up on some sleep. The conversation can also feature the brand's personality through the language used, humour, and service.
Interactive conversations are meant to provide basic support such as introducing your company products and help your customers make the right choice.
Imagine having an army of digital consultants working around the clock for you! Generating leads and using the data gathered to create more meaningful and personalised interactions with your leads.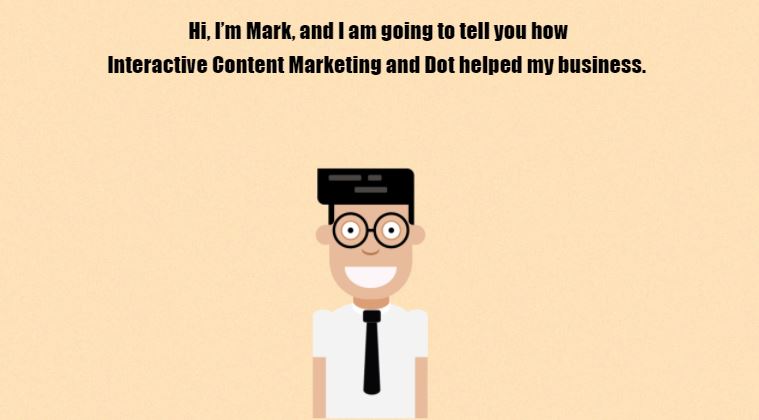 Personalisation
By interacting with your customers, you can build trust and increase the potential for sales. But as you probably can't afford to hire a whole army of salespeople to be ready to engage with your every lead, the interactive conversation may be something to consider.
The interactive conversation personalises its approach to your leads. It gathers information and shows different results to serve the different requests. In other words, the message communicated is adjusted to the needs of the lead, increasing the chances your prospect spends more time interacting with your brand.
The marketing data gathered can be used for personalising your future marketing.
Interacting with the interactive conversation saves your customers time otherwise spent on your website searching for the information needed.
Who can benefit from the interactive conversation?
The interactive conversation is well fitted for companies offering complicated services, especially where people need guidance on their purchases. Below are a couple of examples.
Does your company offer savings? Help your customers pick a savings account!
Do you sell insurances? Help your customer find out which insurance suit them best
Do you sell pension? Help your customers pick the right pension plan
Do you offer loans? Help people find the right loan for them
The interactive conversation can also be used in service feedback. If a customer is unhappy with your service or product, the interactive conversation can offer personalised assistance right away. Acting as a company representative, it will ask questions about what has caused the customer to be unhappy and provide an action such as discount, further follow-up, or something else.
How to get started with the interactive conversation?

Here are a couple of questions to ask yourself, before getting started.
What are the general problems or questions your customers need assistant with?
What value can you offer your possible leads and customers through the conversation?
The process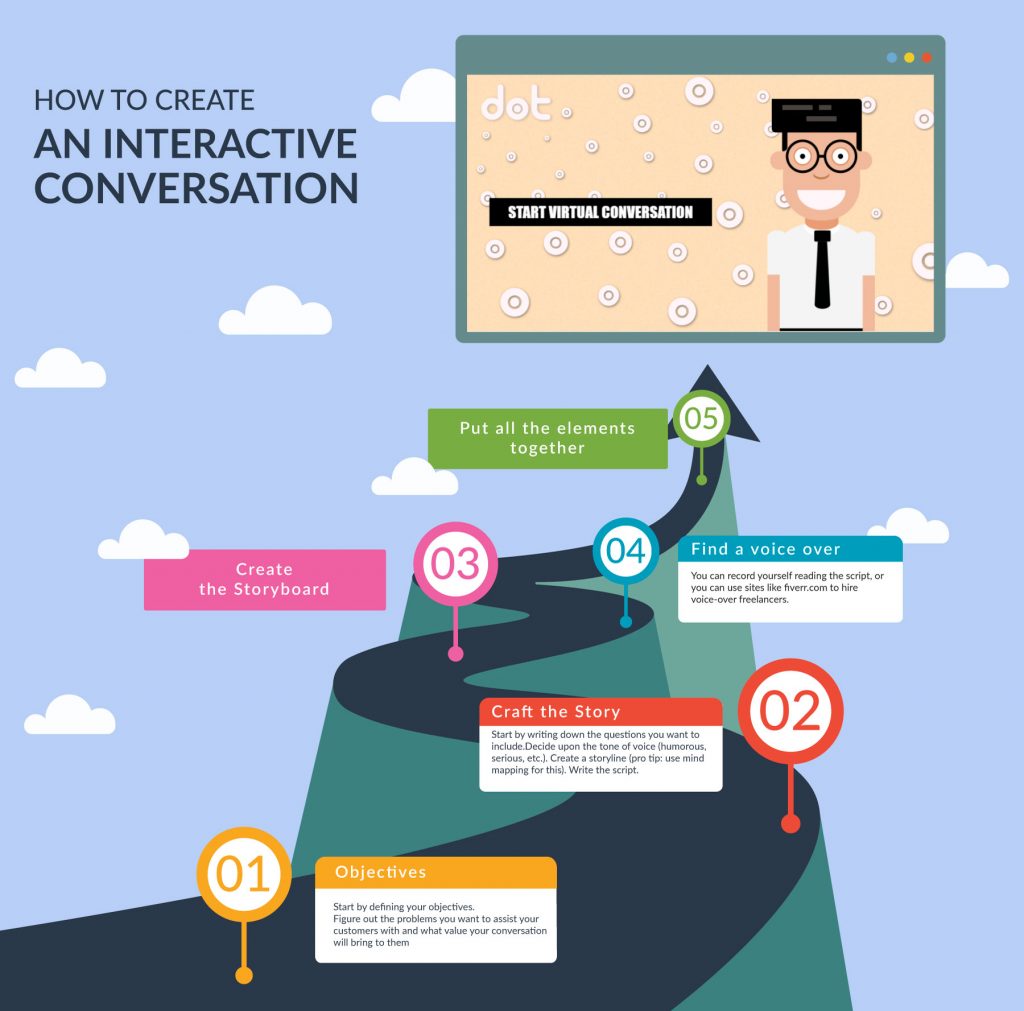 When creating the interactive conversation, it's helpful to have all the components ready for starting. This includes the script, the storyboard, audio files and the graphics.
Objectives
Start by defining your objectives. Try to limit them to no more than three.

Figure out the problems you want to assist your customers with and what value your conversation will bring to them
Craft the story
Start by writing down the questions you want to include

Decide upon the tone of voice (humorous, serious, etc.)

Create a storyline (it's helpful to do a mindmap for this)

Write the script
Storyboard
Create the storyboard
Find a voice over.

You can use sites like fiverr.com to access voice-over freelancers
Put all the elements together!
Ready to give it a go?
Using an interactive conversation can save you a lot of time and effort! The content used, can even be changed later on if it needs updating. This may seem complicated to set up, but we've made it super easy to create an interactive conversation on Dot. You can start by orientating yourself with this one here, and get to know our friend Mark!
---
Subscribe to our blog!
---