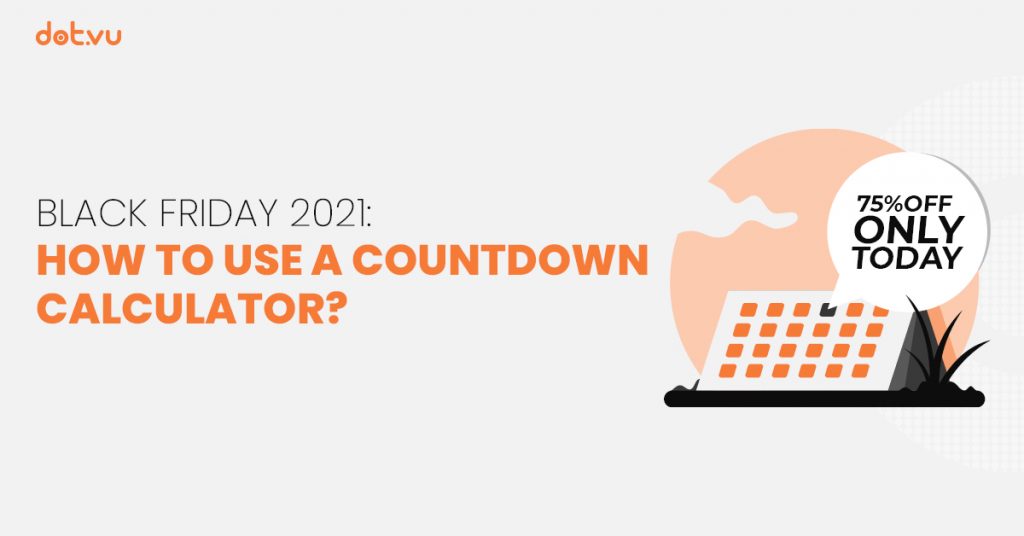 Have you thought about using a countdown calculator on your website to engage with customers, create a sense of urgency, and as a result, boost sales of your special offers? Especially now that Black Friday is on the corner? I imagine you want to have a top-notch strategy for your marketing campaign to ensure your business is not missing out on any potential opportunities to grow your sales and beat the competition.
Discover some tips and tricks such as where to use it, benefits, and the psychological aspects of countdown calculators to have some fine-tuning in your Black Friday campaign. Once you have an overview, it should take no time to create one for your business.
What is a Countdown Calculator?
A countdown calculator can be basically any virtual calculator that counts down from a certain date or number to indicate the end or beginning of an offer or event.
It can be made in many shapes and sizes. They were typically used on landing pages, but you can find them now on checkout pages and even in email marketing.
The purpose of countdown calculators is to create a sense of urgency. Why? Because it makes customers feel they are running out of time, therefore incentivizing them to complete the buying process.
In addition, businesses can also create countdown calculators ahead of any special event such as Black Friday to create hype and excitement.
The Psychological Effect of Countdown Calculators on Customers
The point of any countdown calculator is to play around with time that creates a sense of urgency. Seeing the numbers going down will urge customers to make a decision before they run out of time. This phenomenon is the so-called FOMO (Fear of Missing Out).
Another technique is showing the number of products you have left in stock instead of a timer. This may sound strange, but the point here is that items believed to run out soon tend to be more desirable than easily available items.
Research done by the University of Nebraska has concluded that sellers can compel shoppers to make an immediate decision by creating a perception of scarcity.
It entices shoppers to buy now because they anticipate feeling regret later about missing a deal. This is true even if they know the scarcity is deliberately created by the retailer.
Urgency can be the key in getting customers to pull the trigger on a purchase, so keep that in mind.
Benefits of Countdown Calculators
Sense of urgency
Counting down from a higher number will play on your customers' minds. People in general, no matter what industry you are in, will not want to miss on any great offers. As a result, a sense of urgency and the fear of missing out will incentivize your customers to make decisions quickly before they run out of time.
Highlight Products
It allows businesses to promote products by focusing on different objectives. That said, those objectives can be either a special discount or free delivery within the given period. However, it can also be a simple format showing the number of items left on stock to generate more scarcity and incentivize buyers to complete the buying process as quick as possible before missing out on the offer.
Increase Sales & Conversions
As a result, your business can effectively increase sales and conversions during any campaign period. So why not implement it if your business has not done it already? It is easy to set up, so give it a try and see how much value it brings to your business.
Where to Use Countdown Calculators?
Next up, let's take a look at the various places where you can implement a countdown calculator as an add-on to your holiday marketing strategy.
Website Landing Pages
First up, any website landing page can be a proper place to implement this handy sales tool. This is one of the best things about countdown calculators. As long as you have the right products to offer or a campaign/product launch coming up that can create hype and excitement amongst your visitors, you can basically make this work on most landing pages.
Make sure to decide ahead of time where you intend to place your countdown calculator to make it fit into the content of your page.
Pop-ups
Countdown Calculators can be in the form of exit-intent pop-ups too. Let's say someone is about to abandon your page before making a purchase or any other key page action, but ahead of that, you can show a pop-up with a limited-time offer. Influence the decision-making process with this simple trick and watch your sales grow!
Ecommerce Pages
Here you have multiple options to play around with. You can go with a simple discount offer for a limited amount of time to create FOMO on your most popular products for sale.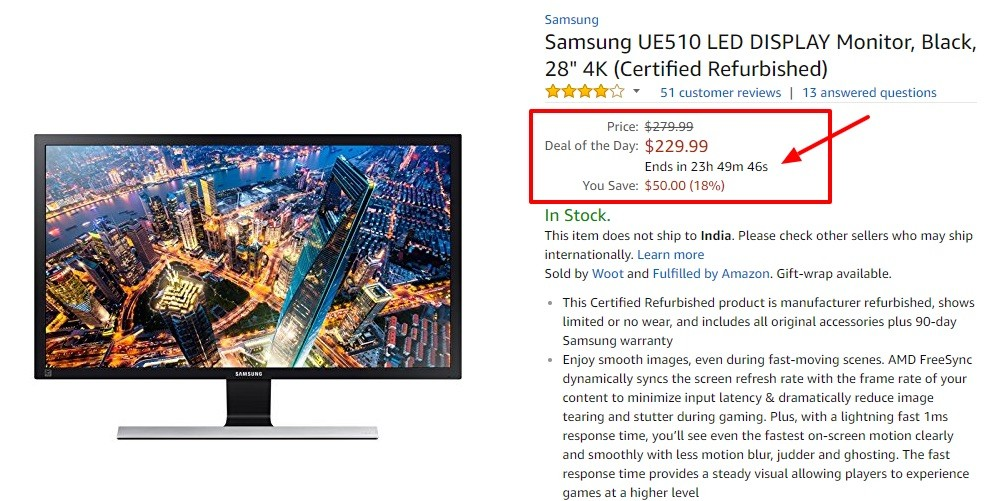 However, you could also go with something different here. You can use a countdown calculator for products low on stock and highlight the number of items left. This way, you can increase the demand for your products. Buyers will basically influence others with their purchasing decisions.

Email Marketing
This might be surprising, but even in email marketing, you can drive success with countdown calculators. According to a report created by Upland, dynamic email content can result in an up to 400% increase in conversion rates.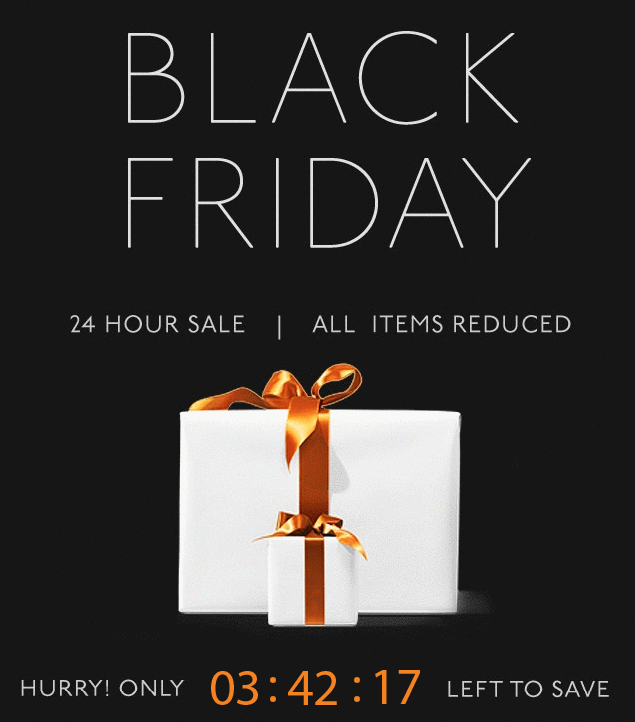 If you have a long list of subscribers to your email list, this can come in handy during Black Friday and the holiday season in general. So, if you want to increase click-to-open rates and conversion rates in your email marketing, this could be just what you need to achieve better results.
Checkout Pages
Finally, countdown calculators for checkout pages. Most likely, the last opportunity for you to turn your visitors into buyers. This is one of the most popular ways to use countdown calculators, as the cart abandonment rate can be as high as 80%. No business wants that, right?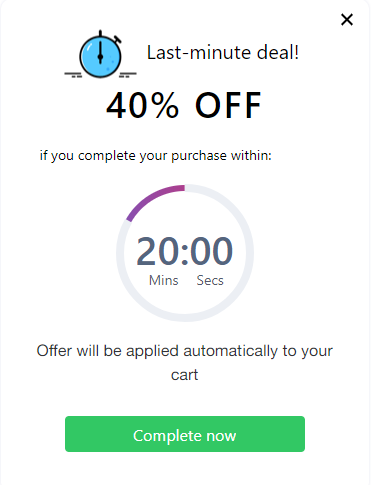 By putting a little pressure on your customers, you can push your customers to go ahead and make a purchase.
Create Your Next Countdown Calculator with Dot.vu
The holiday season with Black Friday coming up first can be hectic and overwhelming for every business. However, try to realize your maximum potential and not miss out on easy-to-implement tactics that can help you get the most out of your sales effort during the holiday season.
With Dot.vu you can create holiday-themed Interactive Content effortlessly. Visit the Dot.vu marketplace for some inspiration or request a demo today to learn more about Interactive Content and how to build it on Dot.vu.
---
Subscribe to our blog!
---