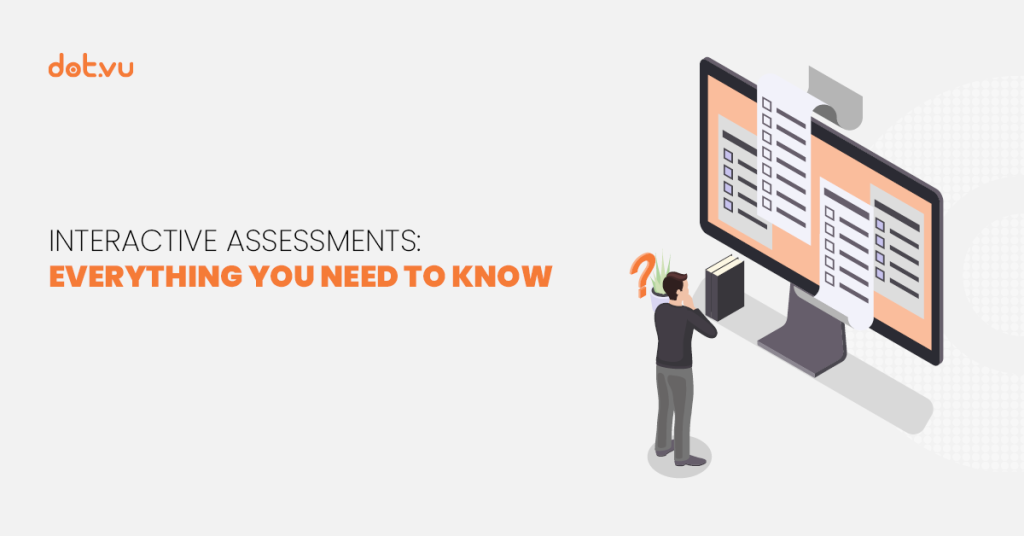 Gaining your customers' undivided attention in today's busy digital space is difficult. There is an abundance of companies out there producing content. People are bombarded online with downloadable e-books and podcasts daily. Luckily, Interactive Assessments can be just as successful for companies and require less time to build.
Like a great listener, an Interactive Assessment asks questions, listens carefully to every response, and gives detailed individual feedback. By asking the right questions, you also get to know the personalities of your potential customers, their likes and dislikes, and their concerns or goals. Then, you can introduce your product as a solution to their problems.
This blog post provides a complete overview of Interactive Assessments. Moreover, you will also learn how to quickly get started!
Table of contents:
What is an Interactive Assessment?
An Interactive Assessment is a personalized online questionnaire that provides users with a score and custom advice, feedback, or recommendation, based on their responses. Assessments are usually longer and more skill- or situation-related than quizzes.
Assessments usually test:
A person's knowledge, skills, and abilities
A company's performance, compliance, or technology readiness.
In other words, an Interactive Assessment is a two-way Interactive Experience that enables users to get performance evaluations on behalf of your business with valuable tips and insights on how to improve, as well as product recommendations that can solve their problems.
An organization can use Assessments both for customers and employees.
8 Benefits of using online Interactive Assessments for companies
Below are 8 ways in which businesses can benefit from using Interactive Assessments within their own companies both within a B2C or B2B setting.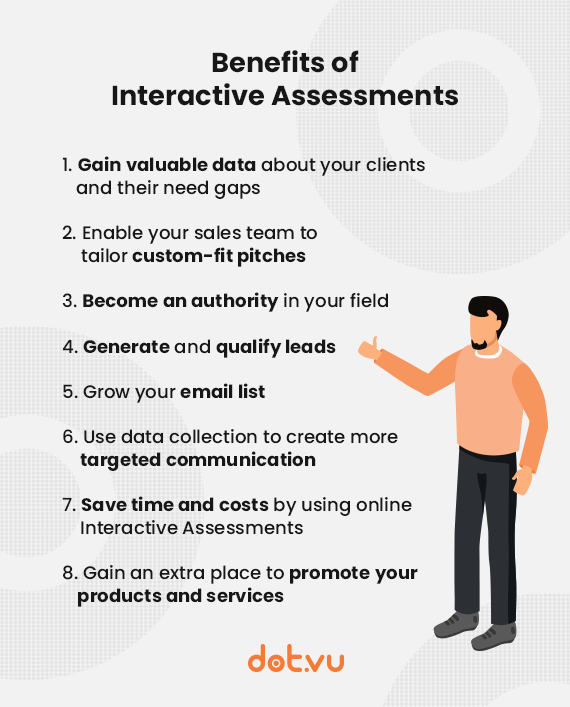 1. Gain valuable data about your clients and their need gaps
The best part of using an Interactive Assessment is the extra information you gain about areas in which your clients or employees need help. That kind of insight is gold for your sales team, who can take over with confidence, and deliver more precise pitches. It is also very helpful within HR departments which needs to make decisions about matching the right employee to the right position.
When using an Interactive Assessment for internal matters, HR departments can assist employees to assess their strengths and weaknesses to help them perform better in the company. If a lack of understanding is discovered, the assessment can offer feedback to help employees improve in their roles.
2. Enable your sales team to tailor custom-fit pitches
Sales representatives love Interactive Assessments. The reason? Assessments enable salespeople to tailor the perfect custom-fit pitches.
As visitors answer the questionnaire, they provide you with valuable insights about their needs and pain points. In other words, you get to know your potential customers better before even talking to them. Then, your sales team can review, analyse, and use the data to prepare customized presentations and address the problems that users willingly mentioned during the Assessment.
Interactive Assessments provide your sales team with the opportunity to:
Understand the needs and pain points of their prospects before even talking to them
Save time on research
Get straight to the point
Make the presentation all about their prospects
3. Become an authority in your field
By offering users valuable feedback at the end of the experience, companies can showcase their knowledge of specific topics in their fields. This will establish stronger brand awareness. In turn, this brand awareness will lead to more trust for your brand and more visits to your website. With an Assessment, you also offer your potential clients a fun experience that creates a foundation and possibility for a strong, long-term relationship.
4. Generate and qualify leads
Online Assessments are among the most innovative ways to generate leads for your business. Everyone loves a good challenge. You can create an Assessment to engage with your audience, test your audience's knowledge, skills or buyer-readiness and score their results.
At the end of the day, marketing is all about relationships. In B2B situations, you are selling to a business, but the decision-makers are still regular folks like you and me, who have KPIs, targets, and challenges. These people need to figure out whether they are on the right track. They need to determine if they are making the right decisions and investments. Your job is to make it easy for them to do all of this.
With engaging content, you have the ability to connect more with your users to develop relationships that will move customers along your sales funnel. Also, with the more interactive elements that you include in the experience, you are able to gain more data on your user. As a result, you capture data that helps to qualify leads with greater precision.
5. Grow your email list
By gating your online Assessment with an opt-in form, you can grow your e-mail list. Today's audience is selective; thus, it is increasingly difficult to get people to fill out lead-gen forms. Also, the expectations for content value in exchange for contact details keep on growing.
In contrast to the run-of-the-mill passive content formats, an Interactive Assessment offers personalized feedback and advice – making it worth the opt-in permission. With Interactive Assessments, people see value in the real-time feedback of a score and personalized outcome and are willing to trade their basic information for the results.
6. Use data collection to create more targeted communication
You can use an Assessment to empower management or the sales team. The insight captured in the answers can be used to pitch the right products to every user. In addition, it can also help managers understand how to help their employees.
More understanding of the client or employee will help members of your company send out more targeted emails with more precise communication. Sales associates deliver sharper pitches, and managers delegate tasks with more clarity and focus. Depending on the outcome of the Assessment, you can follow up with a personalized approach. In doing so, you can turn your prospect into a customer who trusts your product and a confused employee into a more effective worker.
7. Save time and costs by using online Interactive Assessments
Engagement, education, and conversion aside, there's another really neat thing about Assessments. They take a fraction of the time and money required to produce compared to eBooks, white papers, or webinars. All you need is a questionnaire and feedback variations based on score brackets.
Online Interactive Assessments also let you repurpose content continuously. When you are done with one successful run of an Assessment, you just duplicate it, swap out the questions and feedback for new ones and publish it.
Interactive Assessments prove to be a great investment because they also produce a higher conversion rate.
8. Gain an extra place to promote your products and services
Though your website and social media platforms are still great places to promote your brand, an Interactive Assessment adds one more place to educate customers about your products and services. Be sure to include information in your feedback that highlights your products and services as being the next step in solving customer concerns. Also, you can add call-to-action buttons to the end of the experience to get customers to travel where you want them to go on your website.
How do your clients benefit from engaging with an Interactive Assessment?
Online Assessments enable your customers to test their knowledge or skills in a certain area in little time. As a result, they can improve their performance based on valuable feedback.
As Interactive Assessments are relatively quick to complete, users save time. Furthermore, Assessments let people see how they stack up against their peers in different areas.
Industries where Interactive Assessments do wonders
Educational institutions
Educational institutions may be the industry in which assessments are most popular. Teachers use Assessments to test their students' knowledge of different topics, but for educational institutions, interactive Assessments can be used a bit differently.
In the customer example below, VIA University College in Denmark used an Online Interactive Assessment. Specifically, VIA wanted to help students choose the career type that best fit their personality. It targeted potential students who were unsure of their educational futures. VIA helped these students focus on a possible career path. In addition, it also showed how its course programs would help guide students on their journey.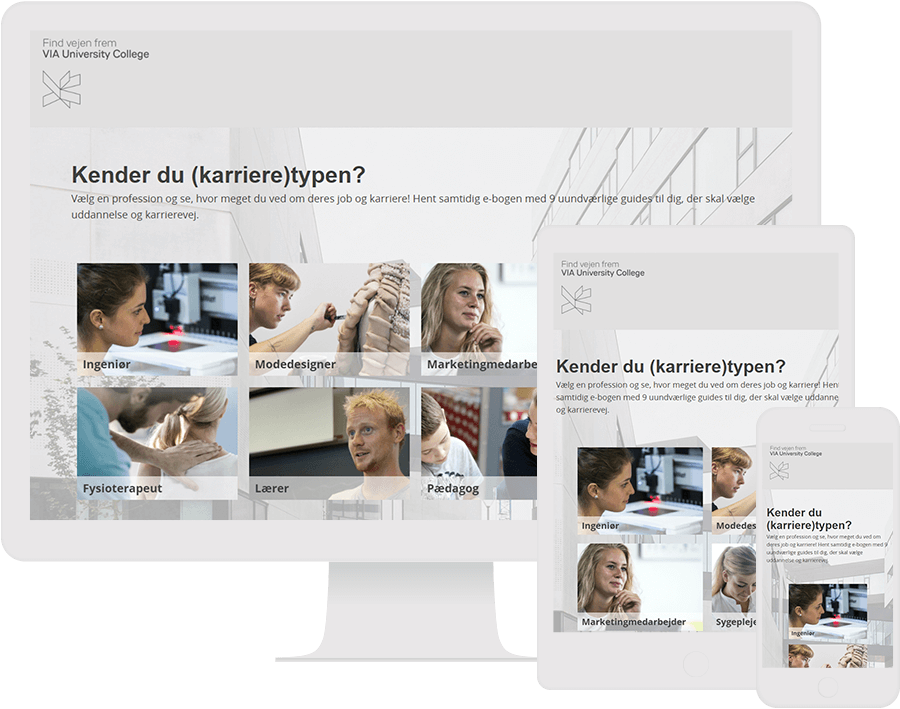 Software industry and IT companies
Interactive Online Assessments can also be used in the IT industry. C2IT, an IT support company from Denmark, set up an Interactive Assessment to help its clients evaluate if they needed to outsource their IT. Specifically, customers spent 5 minutes taking the test and then received personalized feedback on each question. This offered the client an insight into the future and suggested changes that were needed to improve work efficiency, based on the problem the client revealed taking the test.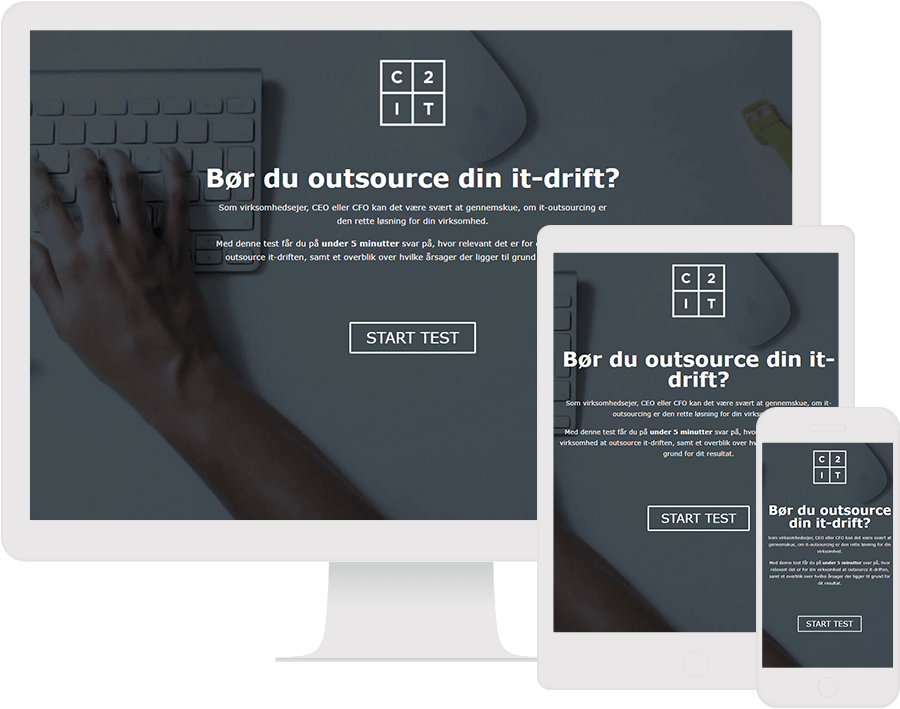 Food and Beverage Companies
Interactive Assessments are great to use in your food and beverage marketing content too.
Here is an example of a Level Assessment Personality Test that asks users different questions to assess their cooking level. At the end of the experience, the results display a recipe that best fits the customer's skill set. Here, you could also easily add a newsletter sign-up form that offers recipes that fit the customer's competency level. These newsletters can also be a great place to promote your products while offering your customers value at the same time. 
Sustainability-Conscience companies
Use a knowledge-based assessment to test your customers' understanding of sustainability and what it means to live an environmentally-friendly life. Ask your visitors questions about their daily life and give customized feedback based on their responses. Let customers know which level of sustainability they fit into and add a lead form for visitors to sign up if they would like to receive newsletters from your company about sustainable topics.
Companies can also use a 10-question educational quiz to educate B2B customers on their own compliance of the sustainability goals. In addition to that, clients can learn more about the goals while discovering which would be best for them to focus on within their own company.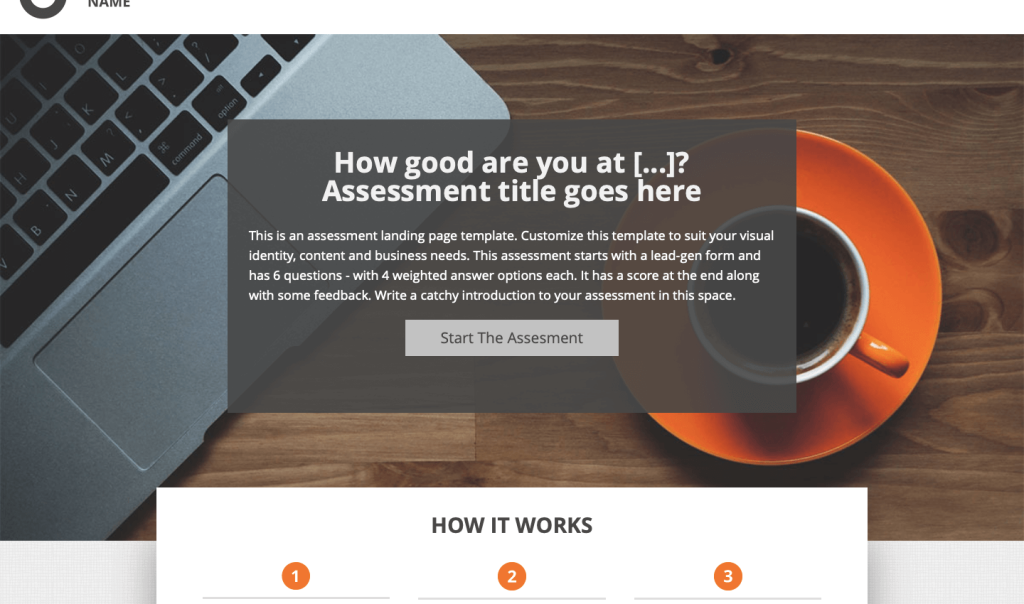 Financial and professional services
Assessments are also beneficial for companies that offer different service packages. By creating an Interactive Assessment, you help your potential customers evaluate their performance, receive custom feedback on their situation, and get suggestions for the right service for their needs.
For instance, companies operating in the financial services sector can create Interactive Assessments like "How good are you at saving money," or "How much do you know about investing?"
Insurance industry
Interactive Assessments can also take your insurance marketing to the next level. Insurance agents can use this Interactive Experience to help their potential customers get customized feedback and pick the right package for their needs. Furthermore, agents can collect and analyze the answers given in the assessment to prepare more personalized experiences for their clients.
What departments can use Interactive Assessments?
Interactive Content can benefit companies across all departments. Below, we give examples of using Assessments for marketing, sales, and HR purposes.
Marketing department
Assessments enable marketers to create tools for showcasing knowledge and educating visitors. A well-crafted Assessment can show a company's deep understanding of a specific subject and establish expertise over time. Therefore, marketers often use this Interactive Experience to convert their organizations into industry experts.
Furthermore, marketers can benefit from an Assessment by inserting a lead form. As a result, they successfully collect and qualify leads.
Sales department
As previously mentioned, Interactive Assessments are among the best tools available for sales teams. Not only do they let them understand the needs and problems of their prospective customers, but they also help them tailor custom-fit pitches that lead to higher sales numbers.
HR department
Companies can use Interactive Assessments for internal purposes too. Every HR representative understands the importance of finding the right candidates for new positions and evaluating employees' performance regularly.
For instance, companies can use Interactive Assessments as a part of their recruitment process. By answering a few questions, candidates evaluate their skills and experience against the job requirements.
Related: 8 Best HR practices to make your work culture thrive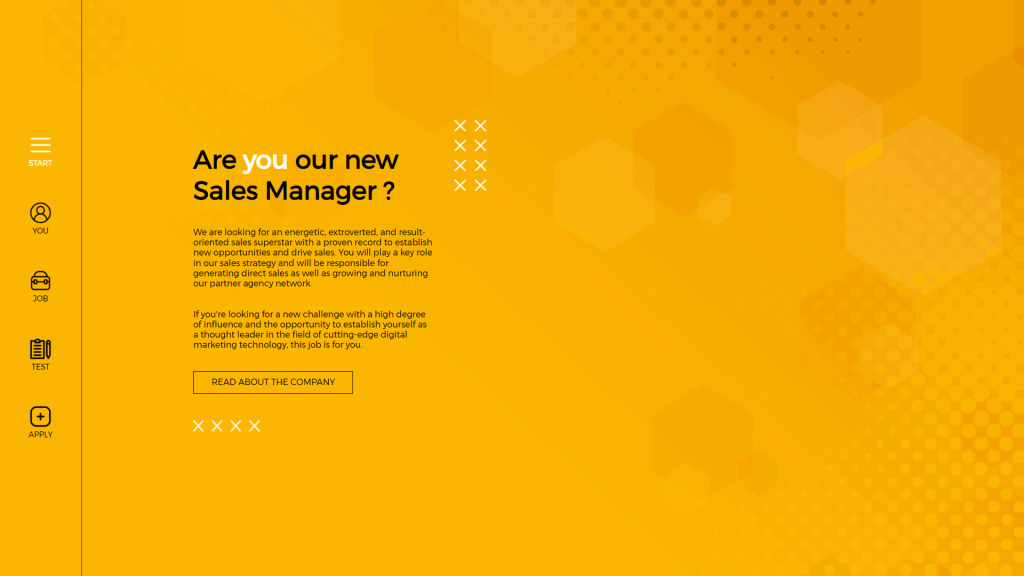 Add Interactive Assessments to your content with Dot.vu!
Online Interactive Assessments are quick and easy-to-make experiences that will enhance the customer journey. They also set companies apart as from the rest with the value they offer. Start generating more leads for your company today! Add an Interactive Assessment to your website and see an improvement in your conversion rates and your connections with customers.
Dot.vu is an Interactive Content platform with an intuitive drag-and-drop editor. Using one of our ready-to-be-customized Assessment templates, you can easily customize and publish engaging Interactive Assessments.  
Create a free account and customize a template in no time!
---
*This post has been updated on February 17th, 2023 by Ivanina Topuzova.
---