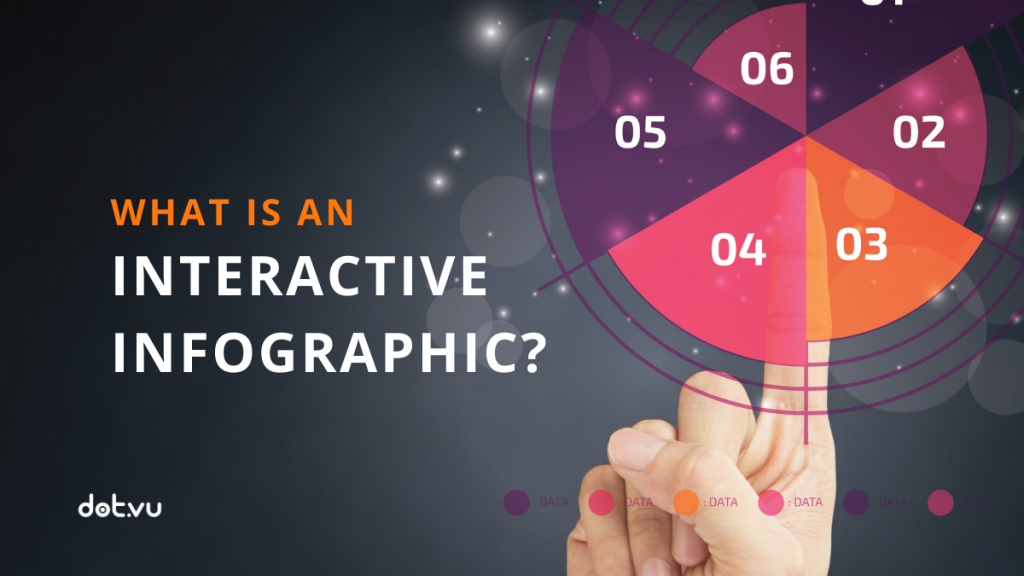 Most marketers know the benefits of using infographics to increase brand awareness and engage with their users. However, they are unaware of what an Interactive Infographic is. Using infographics in an interactive way is a whole lot more efficient when it comes to engaging with your target audience. It helps to generate way better results than a traditional infographic. As a result, a marketer would gain a lot by learning about the specifics of this interactive experience.
But, before we dig into the concept of Interactive Infographics, let's first discuss what an Infographic is. Oxford Dictionary had a pretty broad  definition of the word infographic: "Information or data that is shown in a chart, diagram, etc. so that it is easy to understand."
While this definition is way too broad to our taste, the main point is there. Indeed, the goal of an infographic is to be easy to understand. So, by taking a quick look, viewers should be able to process the content of the infographic. Of course, an infographic should also be visually appealing, clean and clear. 
Basically, Interactive Infographics do not differ from regular infographics regarding these principles. But now, let's dig in. In this article, you'll learn what an Interactive Infographic is, why they are essential, and also get examples of interactive elements to add to 6 different types of infographics.
What is an Interactive Infographic?
An Interactive Infographic is similar to a regular infographic, the main difference is that they are much more engaging because they contain interactive elements such as hotspots, polls, surveys, quizzes, interactive videos, animations, and more. Therefore, as with any other types of interactive content, instead of passively reading the infographic, the viewers can actively engage with it throughout the interactive elements.
Another fundamental difference between a regular infographic and an interactive infographic is the mobile responsiveness. Most marketers believe that an infographic is 800 x 2000 px. This belief has been largely influenced by Canva, one of the best tools to create traditional infographics. But, the format of an infographic doesn't need to fit that. Contrarily to popular belief, an infographic can have any format or shape; the key is how you present its content. And, what is beautiful about an Interactive Infographic is the possibility of choosing a different format or shape for the mobile version that is more visually appealing and allows viewers to see better the content than if the infographic image was simply scaled down.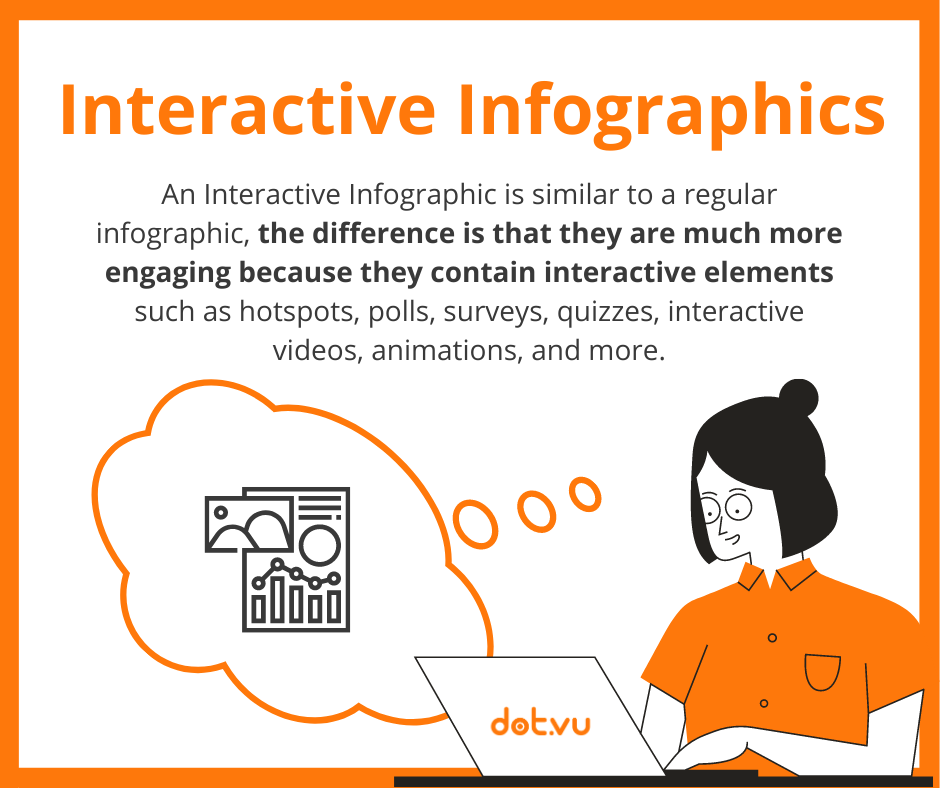 Why is it important to create an Interactive Infographic instead of a traditional infographic?
Below, you'll find 4 known goals of designing a traditional infographic, and for each of these goals, I'll explain why adding interactive elements will generate better results.
Build Brand Awareness
It's well known for lots of marketers; creating awesome and visually appealing infographics is one of  the best ways to build brand awareness. Of course, an Interactive Infographic is primarily a better infographic, or a second-generation infographic (hint to the Pokemon fans here). So, the same is true for Interactive Infographics: they are fantastic to build brand awareness. But, because they are less common and generally quite impressive, as you don't see many around, you will have a greater chance of having your Interactive Infographic being shared or reused by other companies or users. Hence, you'll expand your reach, and you'll increase brand awareness even more than with a regular infographic.  
Educate your audience
Another significant benefit of using an infographic is the ability to educate your audience in the fastest and simplest way possible. Yet, one of the biggest challenges a marketer hit when designing an infographic is that we have to much content to add to it. Most of the time, the infographic gets overcrowded and loses its clarity. But, when you design an Interactive Infographic, you don't have this problem. Instead, you can add hotspots or provide details on mouseovers. You can also add an interactive video in the infographic to explain more complex points or concepts. In other words, in an Interactive Infographic, there are many possibilities of adding more content without losing the clarity or the attractiveness of your infographic.
Boost engagement
As with any other types of Interactive Content, Interactives Infographics are efficient to increase engagement. The reason behind that is that Interactive Experiences are designing to engage your customers by allowing them to participate in the experience actively by answering questions in a quiz, giving their opinions in a poll, collecting points in a marketing game, clicking on hotspots to learn more, etc. Consequently, of course, as engagement is the fundamental element of an interactive experience, it makes sense that an Interactive Infographic will be much more engaging than a regular one.
Grow your email list
Finally, with an Interactive Infographics, you can succeed in growing your email list. I know you can also do that with a conventional infographic, but the thing is that with a traditional infographic, you can only gate the entire infographic with a lead form. With an Interactive Infographic, you can gate sections or interactive elements (e.g., a marketing game) of your infographic as well.
It's way more efficient because consumers are rarely inclined to give their personal information without seeing the value for them. So, they won't be inclined to provide their personal information just to see an infographic. However, they will be way more inclined to do it to see a specific section of your infographic. Another idea is to attach a report to your infographic. So, if viewers are interested in your infographic and want to see the content you used to create it, they can access it by filling out a lead form. Another fantastic way to grow your email list with an Interactive Infographic is to add a marketing game, like a Spin & Win game, with a contest to your infographic.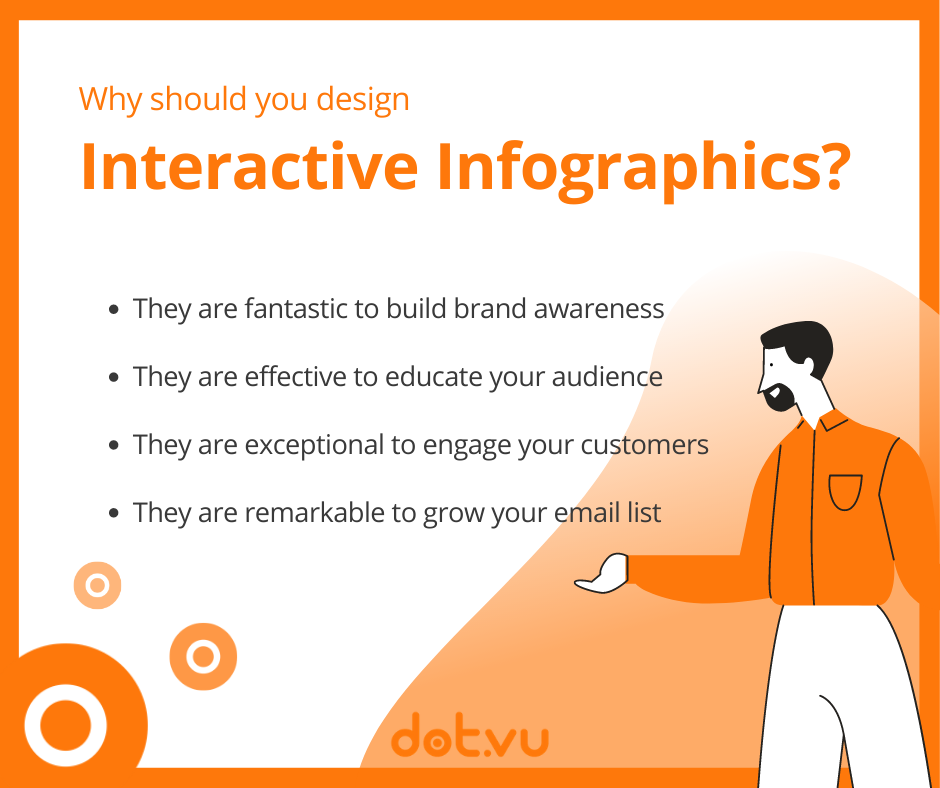 6 types of Infographics with interactive elements you can add to them
Below, you'll find 6 different types of Infographics, what they are good for, and what kind of interactive components you can add to them.
1. Statistical Infographic
Let's be honest, statistics are quite dull, and they can be quite overwhelming. That's why infographics are a popular way of sharing statistics with your target audience, your boss, your colleagues, etc. They usually contain lots of pie charts, pictograms, maps, and bar graphs. A plus when making a Statistical Interactive Infographic is the possibility to make these elements animated. Take a look at the example below to see what I mean.
Useful for:  Company Report, Demographics Report, Customer Success Survey Results, etc. 
Potential Interactive Elements you can add:  hotspots, polls, interactive or regular videos, calculators, a gated lead form to see the full report, etc.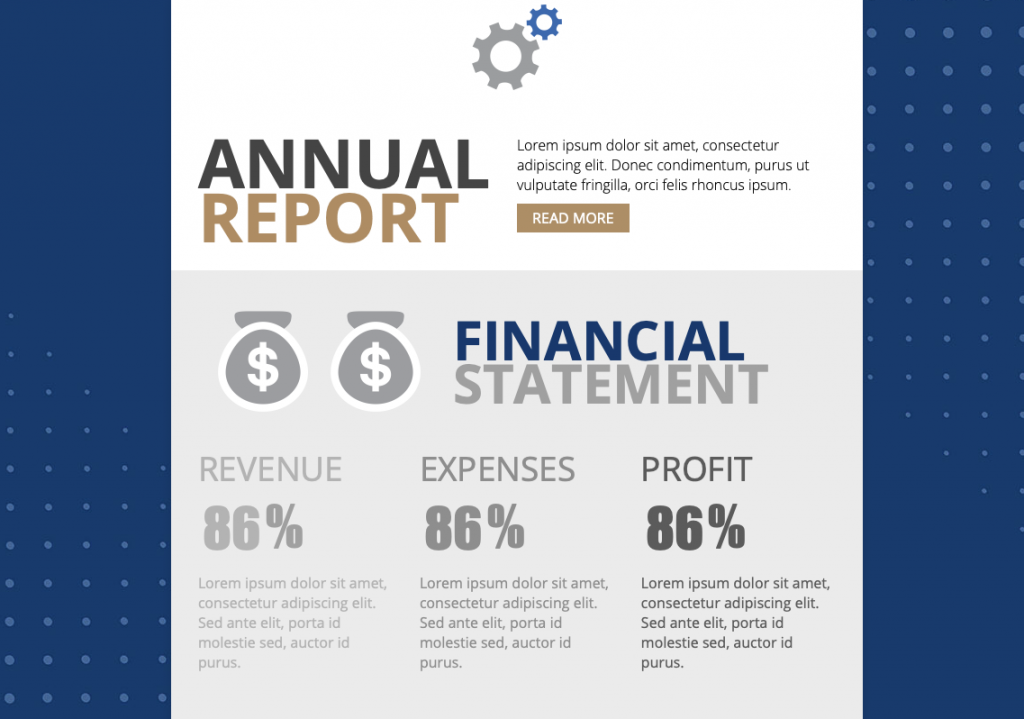 2. Timeline Infographic
A timeline infographic is great for highlighting something that has evolved over time or telling a story in chronological order. They are quite nice because you can add lots of visual elements and icons to them, they are easy to read, and viewers often hook up. So, they want to read it to the end. When you create a Timeline Interactive Infographic, you can also add much more information under each time point or story point without making it overcrowded. You can achieve that with hotspots, videos, or by providing details on mouseovers.
Useful for:  Brand Story, Industry Story, Product Story, Partnership Story, Trend Story, etc.  
Potential Interactive Elements you can add: educative quizzes, surveys, hotspots, mouseovers, interactive or regular videos, assessments, etc. 
3. Comparison Infographic
In a Comparison Infographic, you compare two similar things side-by-side to highlight the difference between them. It's great to help your target audience chose between similar options. It's also amazing to show the true value of a product in comparison to another similar product. In a Comparison Interactive Infographic, you can add a "Buy Now" button where viewers can add an item directly to their basket from the infographic. That way, you shorten the buyer process and make sure you secure your sale.
Useful for:  Products Comparison, Competitors Comparison, or any other similar things you would like to compare. 
Potential Interactive Elements you can add:  hotspots, polls, product recommender, interactive videos, "read more" buttons with hidden sections, etc.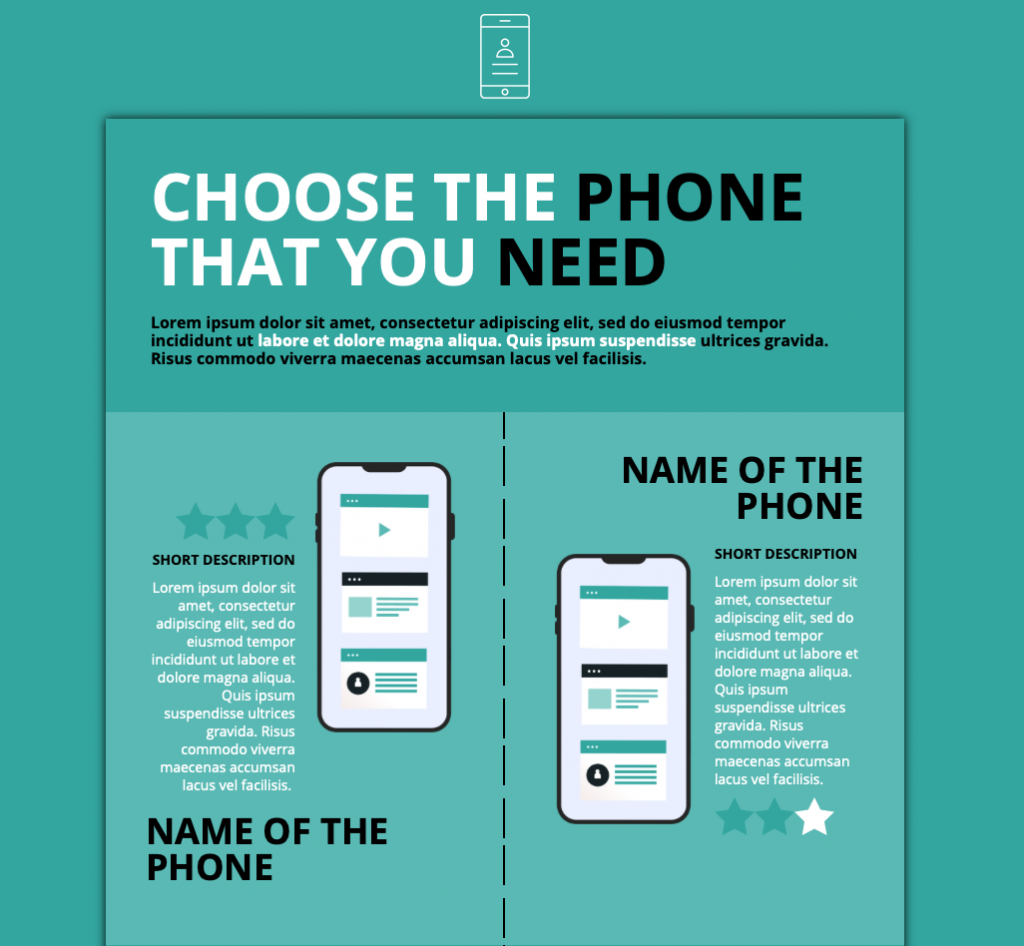 4. Process Infographic (Also called How-to Infographic)
Process Infographics are similar to timeline infographics because they have a similar visual format. The difference is a process infographic describes a process steps-by-step. So, in a Process Infographics, you will show viewers how to do something steps-by-steps. You can also use a process infographic to explain to viewers how something has been done steps-by-steps. When creating a Process Interactive Infographic, a great feature is the possibility to expand each step with regular or interactive videos. There is nothing better than videos when you want to teach something to your users.
Useful for:  Recipes, Product Guides, Platform Guides, or any types of guides.  
Potential Interactive Elements you can add:  hotspots, marketing games, contests, gated sections, interactive videos, polls, etc.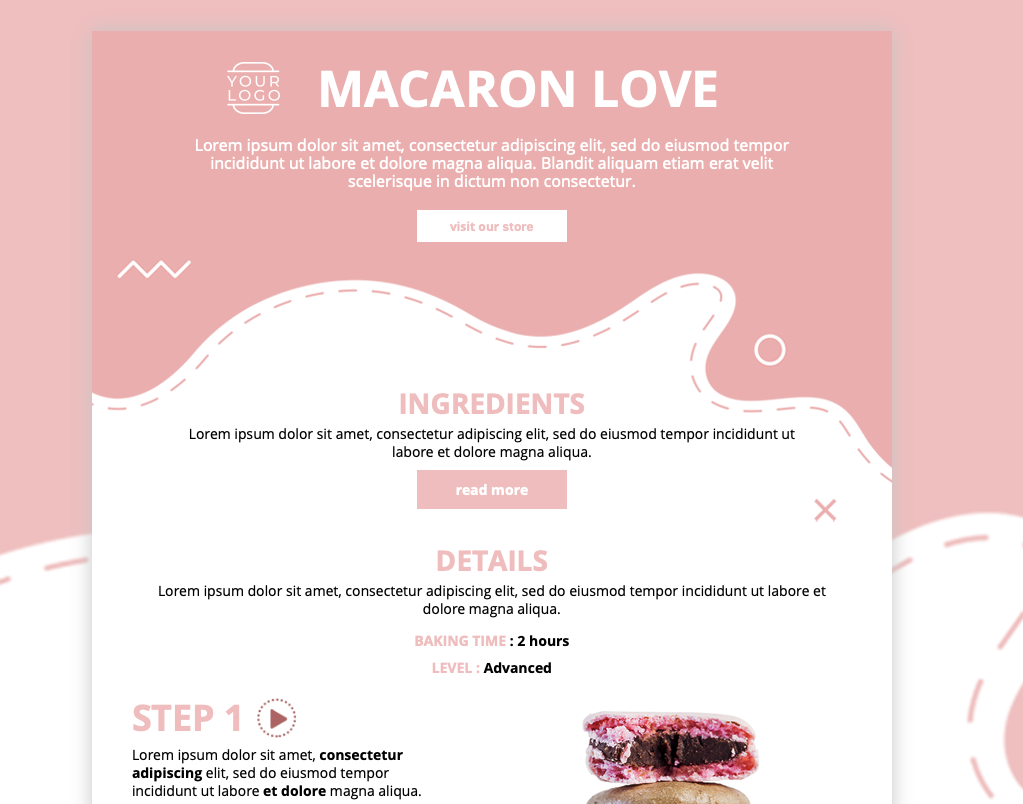 5. List-Based Infographic
This  type of infographics  doesn't rely on visual elements as much as some of the other types. Instead, it's often mostly text and icons. That's why they are generally very easy to design. When doing an Interactive Infographic instead of a regular list-based infographic, one of the nice advantages is the ability to create an accordion. This will allow you to promote your products or services under each point of your list. Take a look at the example below to understand better what I mean. 
Useful for: Tips & Tricks, Feature Lists, Product Lists, or any other types of lists. 
Potential Interactive Elements you can add: hotspots, interactive videos, polls, surveys, assessments, CTA buttons, animations, gated marketing games, accordion, etc.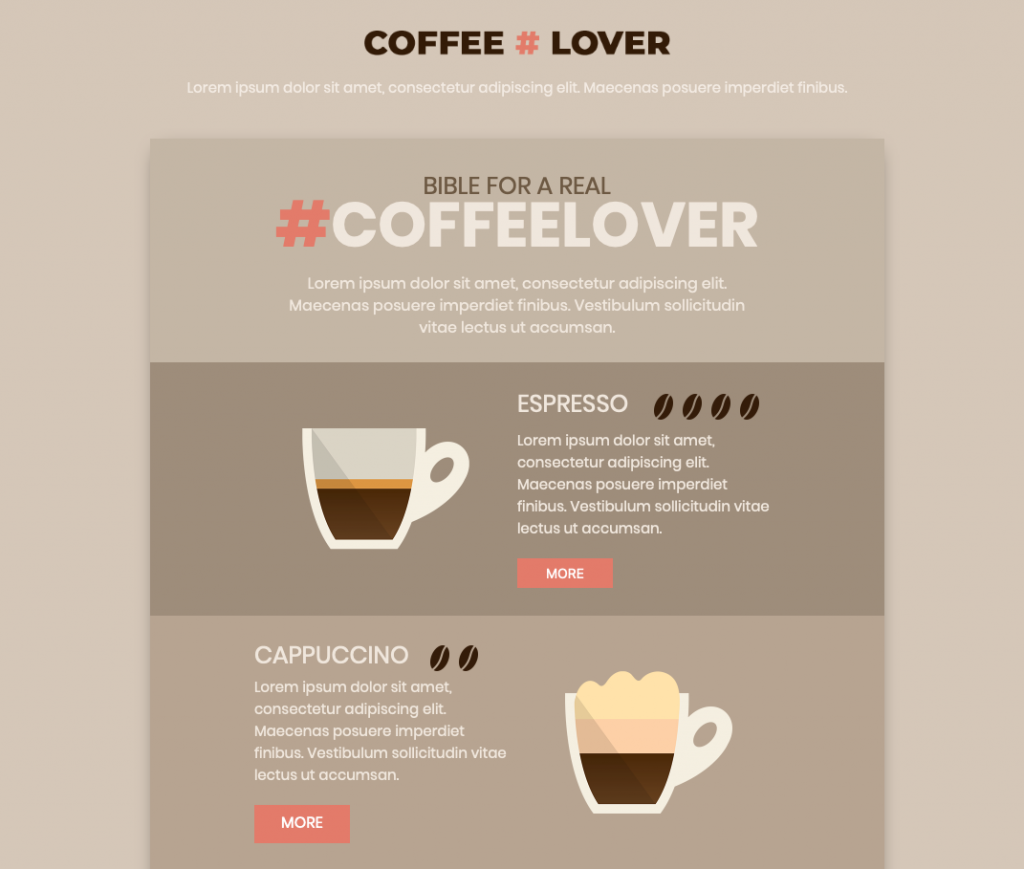 6. Informational Infographic
Informational Infographics are like a mix of all the different types of infographics. In such an infographic, you can find several sections with statistics, processes, lists, quotes, etc. They are great when you want to really educate your audience on a complex concept because they allow you to add many different elements like text, images, icons, lists, graphs, etc. Because they mix different sections, they can often become quite overcrowded, so it's nice to add interactive pop-ups to them to keep the infographic visually appealing. 
Useful for:  Company Overview, Concept Introduction, Product Introduction, or any other in-deep notion you would like to educate your audience about.  
Potential Interactive Elements you can add:  lots of pop-ups & hotspots, regular or interactive videos, surveys, gated marketing games, contests, etc. 
---
I hope this article was insightful and encouraged you to create more Interactive Infographics in the future. At Dot.vu, we are sure that we will see more and more of Interactive Infographics in the next few years. So, if you want to be a first mover, grab the opportunity with both hands. Also, keep in mind that Interactive Infographics are great for both B2C and B2B marketing strategies. Actually, B2B companies can create great results by adding this type of Interactive Experiences to their marketing strategy.
If you want to learn more about creating Interactive Infographics on Dot.vu, learn more here. You'll see how easy and straight-forward it is!
---
Subscribe to our blog!
---