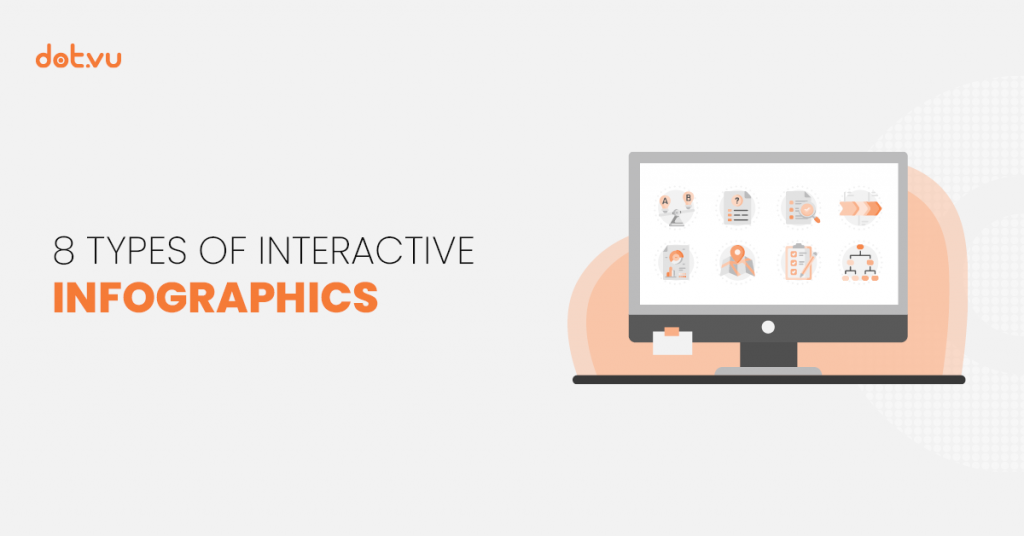 Before we dive into this blog post and learn about various types of interactive infographics, let me just quickly explain the basics of the concept.
Interactive Infographics are a collection of imagery, charts, and minimal text that gives an easy-to-understand overview of a topic just like a regular infographic. However, the main difference is that by making them interactive, you can succeed in engaging and interacting with your audience way more efficiently.
You can add interactive elements such as hotspots, polls, surveys, quizzes, interactive videos, animations, and more. Hence, instead of passively consuming any infographics, your readers will actively participate and engage with your content. Think about how much more data you could collect (Zero-Party data and First-Party data) by tracking what people are watching, clicking on, and interacting with, all the time. It's a whole lot of opportunities.
If you want to learn more about the concept of interactive infographics, go and check out our blog post on it.
8 types of Infographics with interactive elements you can add to them
Below, you'll find 8 different types of Infographics, what they are good for, and what kind of interactive components you can add to them.
1. Statistical Infographic
Let's be honest, statistics are quite dull, and they can be quite overwhelming. That's why infographics are a popular way of sharing statistics with your target audience, your boss, your colleagues, etc. They usually contain lots of pie charts, pictograms, maps, and bar graphs. A plus when making a Statistical Interactive Infographic is the possibility to make these elements animated. Take a look at the example below to see what I mean.
Useful for:  Company Report, Demographics Report, Customer Success Survey Results, etc. 
Potential Interactive Elements you can add:  hotspots, polls, interactive or regular videos, calculators, a gated lead form to see the full report, etc.
2. Timeline Infographic
A timeline infographic is great for highlighting something that has evolved over time or telling a story in chronological order. They are quite nice because you can add lots of visual elements and icons to them, they are easy to read, and viewers often hook up. So, they want to read it to the end. When you create a Timeline Interactive Infographic, you can also add much more information under each time point or story point without making it overcrowded. You can achieve that with hotspots, videos, or by providing details on mouseovers.
Useful for:  Brand Story, Industry Story, Product Story, Partnership Story, Trend Story, etc.  
Potential Interactive Elements you can add: educative quizzes, surveys, hotspots, mouseovers, interactive or regular videos, assessments, etc. 
3. Comparison Infographic
In a Comparison Infographic, you compare two similar things side-by-side to highlight the difference between them. It's great to help your target audience chose between similar options. It's also amazing to show the true value of a product in comparison to another similar product. In a Comparison Interactive Infographic, you can add a "Buy Now" button where viewers can add an item directly to their basket from the infographic. That way, you shorten the buyer process and make sure you secure your sale.
Useful for:  Products Comparison, Competitors Comparison, or any other similar things you would like to compare. 
Potential Interactive Elements you can add:  hotspots, polls, product recommender, interactive videos, "read more" buttons with hidden sections, etc.   
4. Informational Infographic
Informational Infographics are like a mix of all the different types of infographics. In such an infographic, you can find several sections with statistics, processes, lists, quotes, etc. They are great when you want to really educate your audience on a complex concept because they allow you to add many different elements like text, images, icons, lists, graphs, etc. Because they mix different sections, they can often become quite overcrowded, so it's nice to add interactive pop-ups to them to keep the infographic visually appealing. 
Useful for:  Company Overview, Concept Introduction, Product Introduction, or any other in-deep notion you would like to educate your audience about.  
Potential Interactive Elements you can add:  lots of pop-ups & hotspots, regular or interactive videos, surveys, gated marketing games, contests, etc. 
5. Process Infographic (Also called How-to Infographic)
Process Infographics are similar to timeline infographics because they have a similar visual format. The difference is a process infographic describes a process steps-by-step. So, in a Process Infographics, you will show viewers how to do something steps-by-steps. You can also use a process infographic to explain to viewers how something has been done steps-by-steps. When creating a Process Interactive Infographic, a great feature is the possibility to expand each step with regular or interactive videos. There is nothing better than videos when you want to teach something to your users.   
Useful for:  Recipes, Product Guides, Platform Guides, or any types of guides.
Potential Interactive Elements you can add:  hotspots, marketing games, contests, gated sections, interactive videos, polls, etc.
6. Hierarchical Infographic
Hierarchical Infographics, just like its name indicates, are types of infographics where you can organize information according to the various levels. It could be for instance organized based income level, job functionality, level of difficulty and level of importance in general. It gives you quiet the freedom to play around with it and organize it in a way you want it as long as it displays the differences between the various levels appropriately. The key with these types of infographics is to compare the different levels to each other and show how they relate to each other. In order to make them more entertaining and catchier for your audience you can include different interactive elements in it.
Useful for: Product & Service Categories, Features, Income Levels, Job Functionality, and basically anything else where you can show the relation between tangible and intangible concepts.
Potential Interactive Elements you can add: interactive videos, pop-ups & hotspots, contests, quizzes, marketing games, surveys
7. List-Based Infographic
These  types of infographics  don't rely on visual elements as much as some of the other types. Instead, it's often mostly text and icons. That's why they are generally very easy to design. When doing an Interactive Infographic instead of a regular list-based infographic, one of the nice advantages is the ability to create an accordion. This will allow you to promote your products or services under each point of your list. Take a look at the example below to understand better what I mean. 
Useful for: Tips & Tricks, Feature Lists, Product Lists, or any other types of lists. 
Potential Interactive Elements you can add: hotspots, interactive videos, polls, surveys, assessments, CTA buttons, animations, gated marketing games, accordion, etc. 
8. Location Infographic
Location Infographics provide an easy way to communicate any trends across regions whether we talk about local, national, or global levels. These types of infographics are excellent for you to compare changes based on regional, global statistics and illustrate them on a relevant subject your readers care about. In fact, it gives you the freedom to compare any kind of statistics and data based on location. We recommend you here at Dot.vu to include interactive elements in them to make it visually more appealing and entertaining for your audience.
Useful for: Company Expansion, Product & Service Coverage, Population Density, Costs of Living and so on.
Potential Interactive Elements you can add: hotspots & pop-ups, surveys, animations, gated sections, read more buttons.
To conclude this blog post,
Infographics are still highly valuable when it comes to sharing information as they are versatile and offer many opportunities. Netflix is using infographics to share what people are watching. The New York Times relies heavily on infographics to share their stories. Nonprofit organizations are using them to share their success and maintaining accountability to the people they serve.
The only thing that is changing is the motivation. Meaning that organizations are now looking to create highly creative and visual content. The main focus shifted towards quality instead of quantity. That's why companies are increasingly seeking out expert content creators to deliver what they can't create in-house. And they're going directly to those experts. That's because not many businesses are equipped to make interactive infographics and other types of interactive content that can help to satisfy the needs of the end-user.
Fortunately, we are one of those expert interactive content creators who can help you to boost your content with highly immersed interactive experiences to ensure the success of your business. So, hit us up if you got interested, or book a demo if you have any ideas or campaigns that you want to bring to life. Thanks for staying till the end. I hope this blog post was insightful for all of you.
---