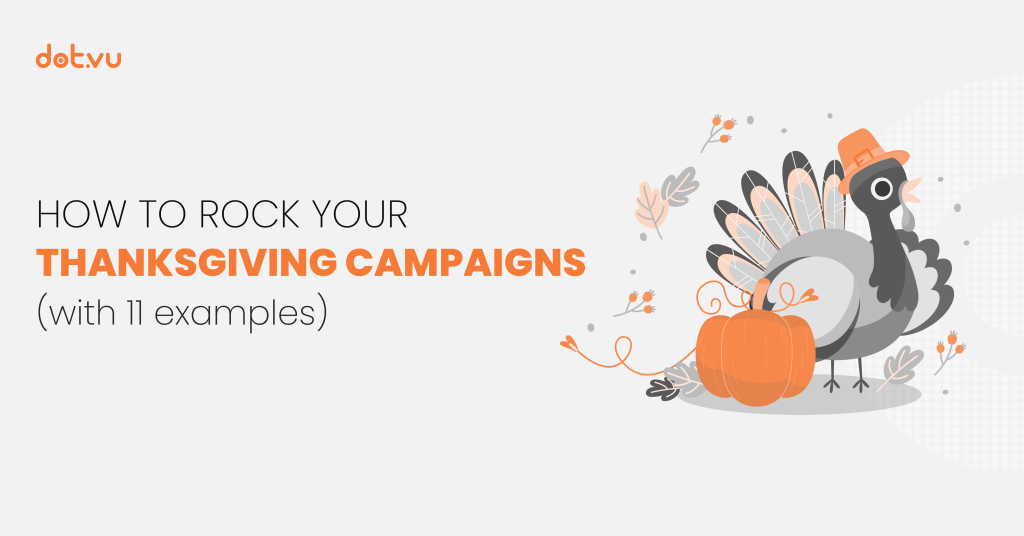 We rarely hear about Thanksgiving Marketing because it is often overshadowed by two other major shopping holidays: Black Friday & Cyber Monday. While these two major shopping holidays are extremely vital and should get the most attention from the retail, shopping, and electronic industries, other industries should not overlook the potential of Thanksgiving Marketing.
In this article, we discuss the main industries and types of companies that should consider doing Thanksgiving Marketing campaigns. We will also include lots of interesting and valuable Thanksgiving stats that can help you prepare these campaigns. Finally, we will give Thanksgiving Marketing ideas for each of these industries. We included ideas that can help you stand out from competitors because they are original and interactive!
Industries where doing Thanksgiving Marketing campaigns is a must!
Did you know that over 96% of American families celebrate Thanksgiving with a good meal? Therefore, Thanksgiving Marketing campaigns can be vital for grocery shops, bulk warehouse clubs, and other convenience stores. The same goes for liquor stores and wine shops.
Another industry that can benefit greatly from doing Thanksgiving marketing campaigns is the traveling industry, as 34% of Americans planned to travel for Thanksgiving in 2021. That's over a third of Americans. So, any companies that are targeting travelers, either by plane, by car, or by train, might not want to overlook doing Thanksgiving marketing initiatives.
Moreover, of the 34% of Americans traveling, 24% are going on vacation, which means that hotels, hostels, B&Bs, and other establishments of this kind should definitely allocate a large sum of their Marketing budget to attract these travelers. Plus, lots of Americans are also planning to go to restaurants during the Thanksgiving weekend, meaning that restaurants and bars should also think about their Thanksgiving marketing strategy if they want to stand out from the crowd.
Finally, while the shopping industry should focus on Black Friday and Thanksgiving, they shouldn't overlook Thanksgiving marketing either.
11 Interactive Thanksgiving Marketing ideas to boost results!
For each industry, we gathered insightful Thanksgiving stats and marketing campaign ideas you could do.
Interactive Thanksgiving campaigns for the Food Industry
As mentioned in the previous section, 96% of Americans celebrate Thanksgiving with a good meal. This meal costs Americans around $48,91 for a 10-person dinner, which is $4.89 per person.
In 2022, 44% of hosts were concerned about the rising prices, especially at the grocery shop (87%). This year, with the prices rising everywhere, food retailers are expecting shoppers to be even more cost savvy than in 2022. This means that your Thanksgiving Marketing initiatives should promote discounts, deals, and low costs.
Moreover, did you know that in 2020, 80% of people said they shopped for Thanksgiving Celebration in-store, 19% said online with delivery, and 15% said only with pickup? Plus, 67% of people said they would shop for their Thanksgiving Celebration in Grocery Stores, 58% in Superstores, and 26% in Wholesale Clubs.
Having these Thanksgiving statistics in mind, we gathered 4 examples of campaigns you can do.
1. Interactive Grocery List Generator
A Thanksgiving feast is not only about eating great food and sharing what you are thankful for. It is also about gathering family members around the same table. This is why 28% of Americans will have more than 12 people at their Thanksgiving table. The actual average number of people per table is 11 people.
It's not every week that people are used to shopping for that many people, and it can be quite stressful. Will you have enough food? Will the food be as good as expected? Helping hosts with their duties can be a very good Thanksgiving marketing idea for online grocery shops.
An idea could be to create an Interactive Grocery List. So, your customers who come to your website can get help in finding everything they need and how much they would need.
The experience would look like the following:
You would ask customers how many people will attend their Thanksgiving festivities.
You will ask them what recipes they would like to do (e.g., turkey, rolls, mashed potatoes, corn, pumpkin pie, etc.)
Then, knowing this, the Interactive Experience would generate a grocery list depending on their needs.
You will encourage customers to modify the grocery list if needed (Add items, remove items, change quantities, etc.)
The customers would then buy the items and decide on pick-up or delivery.
Pro Tip: If you are not offering delivery or pick up, you could simply let customers print their grocery list and bring it with them to the store.
2. Wine Recommender
Did you know that the Wednesday before Thanksgiving is the third biggest day for Liquor Stores in the U.S?
In every family, there is always a cousin or a brother that shows up to these family gatherings empty-handed – or worse, with a bottle of wine they bought at the convenience store at the corner of the street.
While giving a hostess gift is not a tradition shared in every family, it is always a very nice gesture. Plus, lots of guests usually arrive with a bottle of wine. So, grocery shops, wine shops, and liquor stores might want to help their customers find the right wine for this type of meal. Take a look at the example below.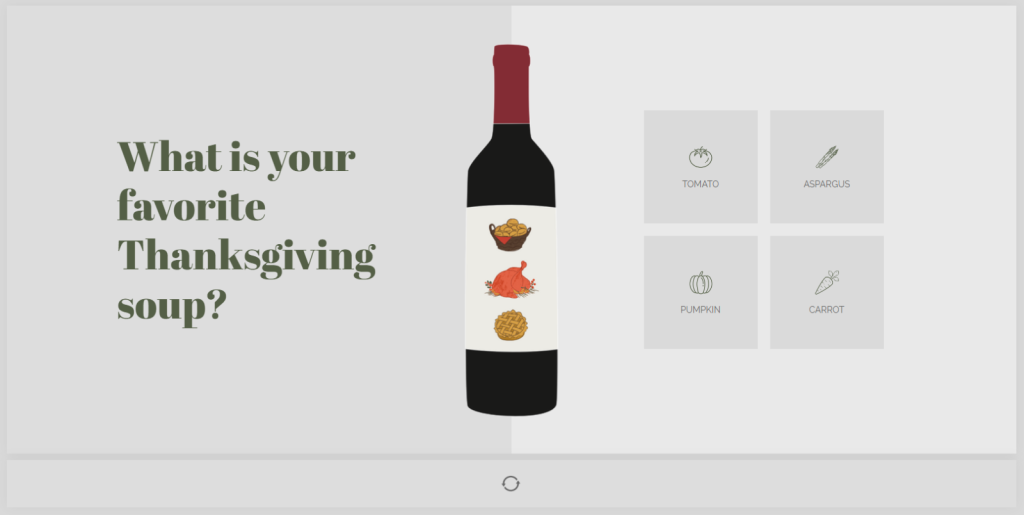 3. Interactive Cookbook
Thanksgiving is about food, a huge amount of delicious and feel-good food. In fact, 40 million turkeys are cooked and eaten on Thanksgiving. That's around 1 turkey per 8 people! Moreover, 50 million pumpkin pies are eaten. That's why creating an Interactive Cookbook can be the perfect Thanksgiving Marketing idea.
1.095 billion is the expected amount spent on turkeys for Thanksgiving this year. So, if by creating a great Interactive Cookbook with lovely Thanksgiving recipes, you succeed in getting potential customers to choose your shop over others to buy their turkey, you'll be able to increase your sales considerably.
You might think that there is no value in giving recipes for turkeys, as lots of people use their traditional family recipes. But, remember that 79% of Americans value the leftovers even more than the Thanksgiving meal. Therefore, your Cookbook can also be about leftover recipes!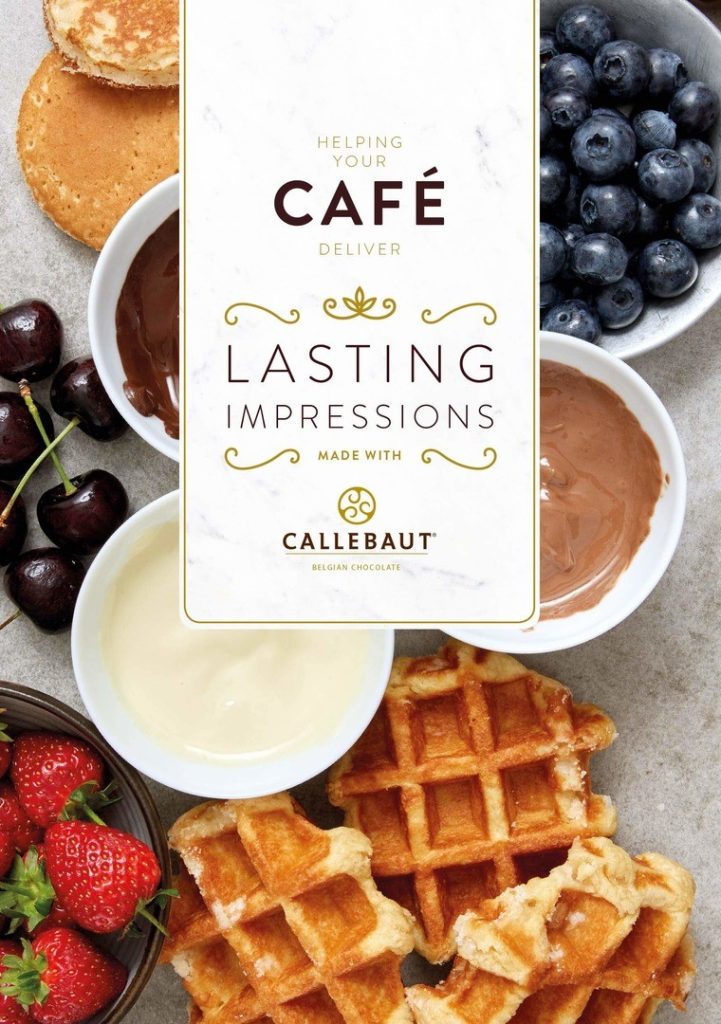 4. Meal Plan Recommender
Another idea, for both Meal Delivery services and caterers, would be to help customers find their perfect meal package. For example, you can ask them a few questions about what they would like to have for their Thanksgiving meal. Then, you can present them with a few different packages they can choose from.
So, with this Interactive Experience, you can empower customers to find the perfect meal for their needs – because yes not everyone has the time, nor the ability to find recipes, shop, cook, and so on.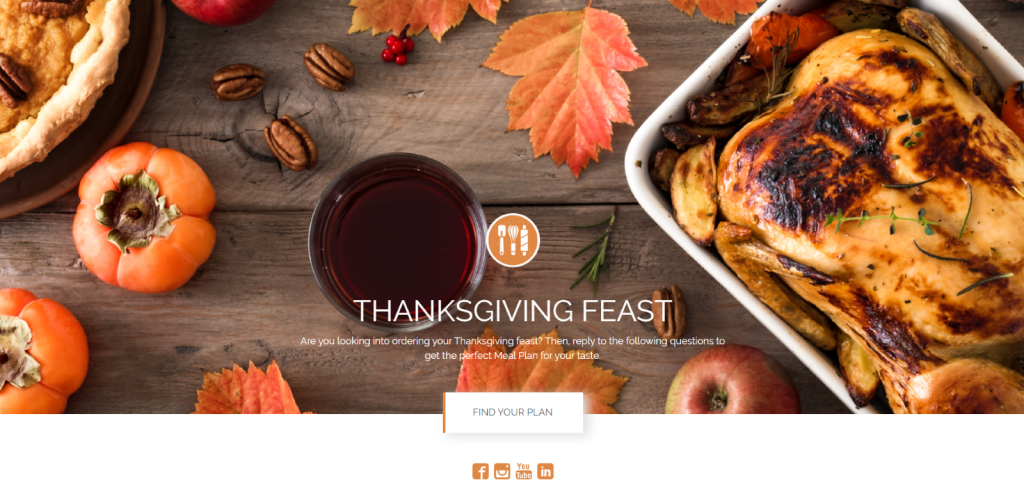 Interactive Thanksgiving campaigns for the Traveling Industry
Over a third of Americans (34%) were planning to travel in 2021. Now that the pandemic situation is getting better, we can expect this number to rise in 2023. Gen Z and Millennials are the generations that are likely to be traveling the most. Accordingly, 52% of Gen Z and 49% of Millennials were planning to travel in 2021.  62% of travelers were driving to their destination, and 29% were flying. 65% of travelers were visiting family, while 24% were going for a vacation. The average length of the trips was 3 nights.  
Knowing these Thanksgiving stats, we gathered 3 different ideas related to the Travelling Industry.
5. Marketing Games at pumping stations
Again, in 2022, 44% of hosts were concerned about the rising prices for Thanksgiving, especially at the gas pump (75%). So, keeping that in mind, gas stations can help travelers by giving them extra discounts this year! That would be a very good way of making sure that customers choose your gas station over others.
An idea could be to create a Marketing Game that could be available on the screens at the pumps, or inside the stations on big interactive screens. The game should be Thanksgiving-themed, and participants could win discounts on gas or other related products such as coffees, croissants, bagels, and sandwiches.
Check out this example of a great Thanksgiving Marketing Game: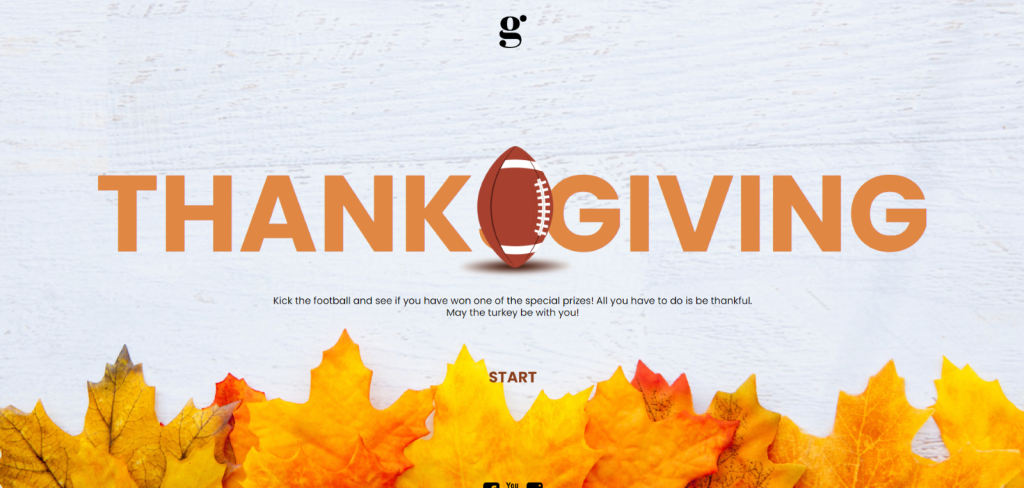 6. Marketing Games at the Airport
29% of Thanksgiving travelers were planning to fly to their destinations in 2021. That's around 32.5 million Americans. So, creating Thanksgiving Marketing campaigns for Airports and airline companies is definitely a must.
Keep in mind that traveling during the holidays can be very difficult, there are lots of people traveling on the same days, airports are packed, flights are delayed, and stress levels are sky-high. So, creating fun Interactive Experiences available at the airport might actually have more than one benefit.
An idea could be to create a couple of Marketing Games that could be available on big screens in the airport. Or you could also create billboards where you share QR codes with participants, so they can participate on their phones instead.
7. CO2 Footprint Calculator
Did you know that nearly 80% of Americans consider sustainability as part of their purchase decision? This means that companies that promote sustainable ways of traveling, such as trains and buses, could think about doing a Thanksgiving Marketing campaign to promote sustainable trips.
An idea could be to create a CO2 Footprint calculator, where potential customers can calculate the cost of their trip in terms of CO2. They could compare different alternatives such as driving, taking the bus, the train, or the plane.
Check out this CO2 Footprint calculator example: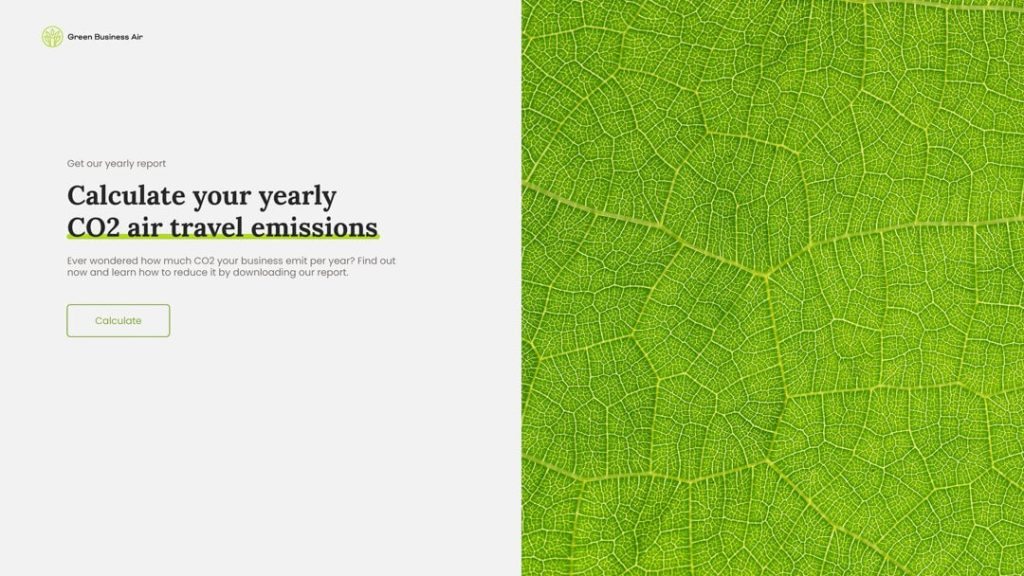 Interactive Thanksgiving campaigns for the Hospitality Industry
You might be thinking that all the Americans that travel on Thanksgiving are doing it to visit families, but the facts are that 24% of Americans are traveling for a vacation. This means that hotels, B&Bs, chalets, and other types of rentals are in high demand on Thanksgiving. So are restaurants and bars. So, the hospitality industry can also think about creating successful Thanksgiving Marketing campaigns!
Below, you can find the most important destinations.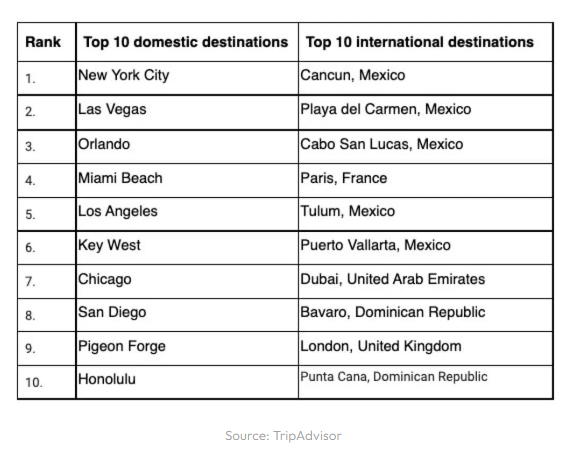 8. Marketing Game at the restaurant/bar
Drinksgiving, also known as Blackout Wednesday, is on the Wednesday before Thanksgiving. On that day, because people are generally off on Thursday, lots of Americans visit their friends in their hometowns and go to restaurants and bars. The guest counts at restaurants on that day increased by 23% in 2018. The sales were also up by 23%
So, creating fun games available for Drinksgiving can be a fun way to entertain your clientele. For example, you could create a Marketing Game available via a QR code that can be found on the menu cards. Participants could win free drinks or shots. Creating these fun and memorable experiences can be a good way of building a relationship with your customers and making sure they choose your establishment every year.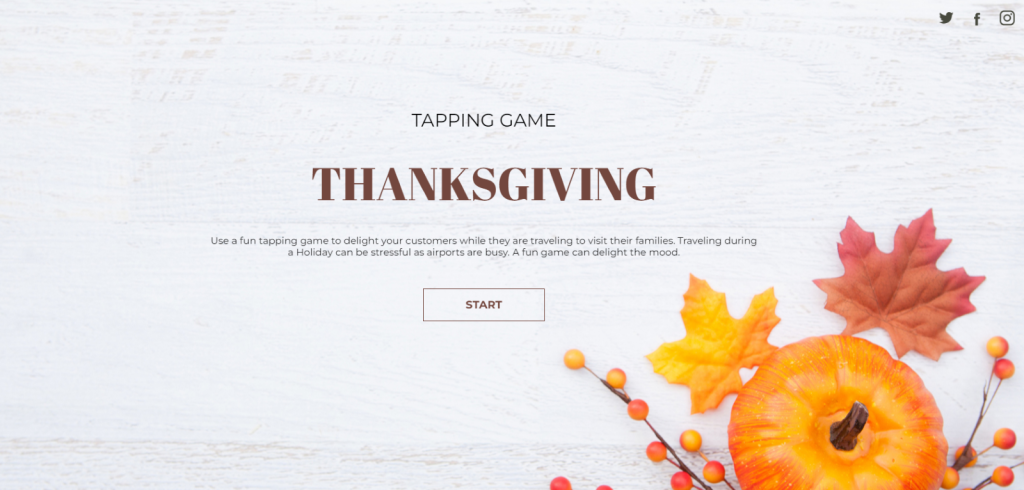 9. User Generated Content for hotels and chalets
Another Thanksgiving marketing campaign idea could be to create a contest where people share a picture of their Thanksgiving vacation in your establishment. The winner could win a Christmas gift basket delivered to their place or a free 2-day stay at another time.
Another Thanksgiving marketing campaign idea could be to create a contest where people share a picture of their Thanksgiving vacation in your establishment. The winner could win a Christmas gift basket delivered to their place or a free 2-day stay at another time.
This is an amazing campaign because it leverages the fact that it is a busy season with lots of visitors, so having a WOM campaign can be beneficial for your business and attract lots of new potential customers.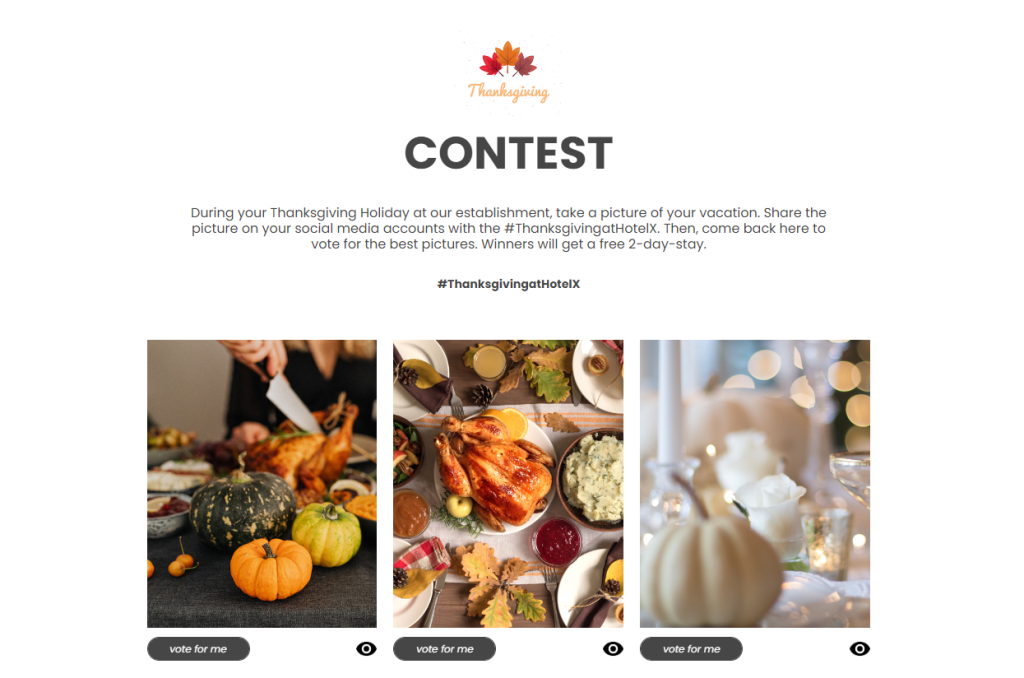 10. Service Evaluation Survey
Another interesting Thanksgiving Marketing idea could be to prepare for Next Year's advertising by getting new marketing Thanksgiving stats such as "90% of visitors would recommend our establishment for their Thanksgiving vacation". Having these stats is a nice way to build trust and encourage decision-makers.
So, at the checkout of both hotels and restaurants, you could have a simple Interactive Experience with a single question "How likely would you recommend our establishment for Thanksgiving?". Then, you can use the answers in your next year's promotion tactics.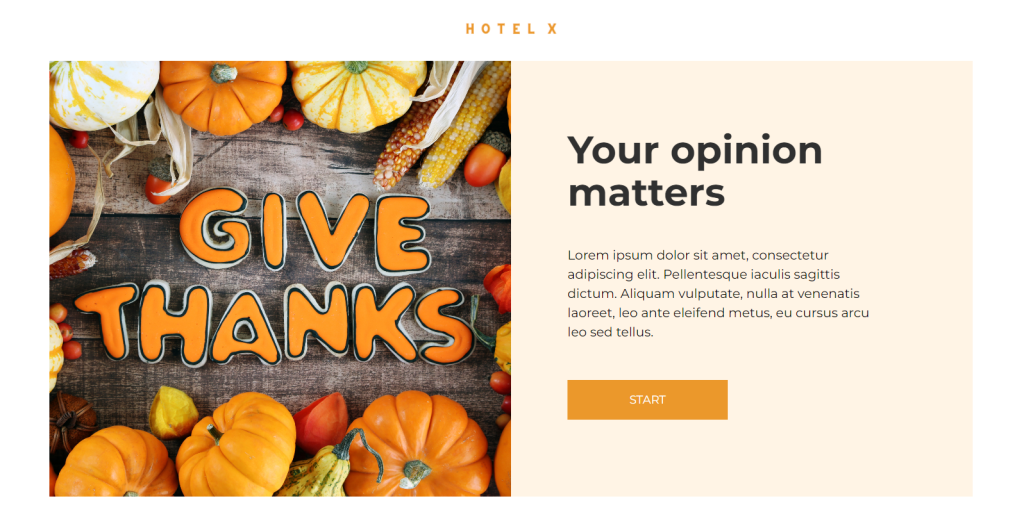 Interactive Thanksgiving campaign for the Retail Industry
Most Marketing campaigns during Thanksgiving are linked to Black Friday and Cyber Monday. Thus, we rarely see Thanksgiving Shopping campaigns. Yet, it could be very beneficial as well.
11. Product Recommenders
A great Thanksgiving Marketing idea could be to promote your products before Thanksgiving. For example, you could create a Product Recommender where you help customers find the perfect outfit for their Thanksgiving dinner, or the perfect makeup style to impress their family.
Pro Tip: Create Thanksgiving posts on Social Media to promote your Product Recommenders!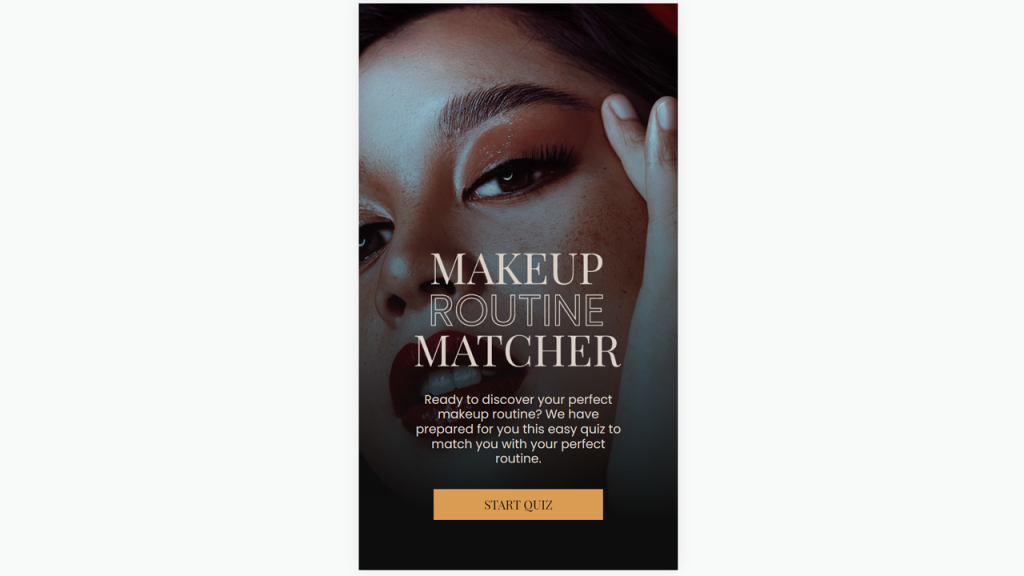 Ready to create amazing Interactive Thanksgiving Marketing campaigns?
We really hope you found these ideas insightful and that you learned more about Thanksgiving Marketing with the Thanksgiving stats we included.
Thanksgiving is around the corner, so if you feel time pressured to create your campaigns, check out our marketplace to find 200+ templates ready to be customized. Create a free account and build your own Interactive Content that engages and converts!
---
Other articles you might be interested in: