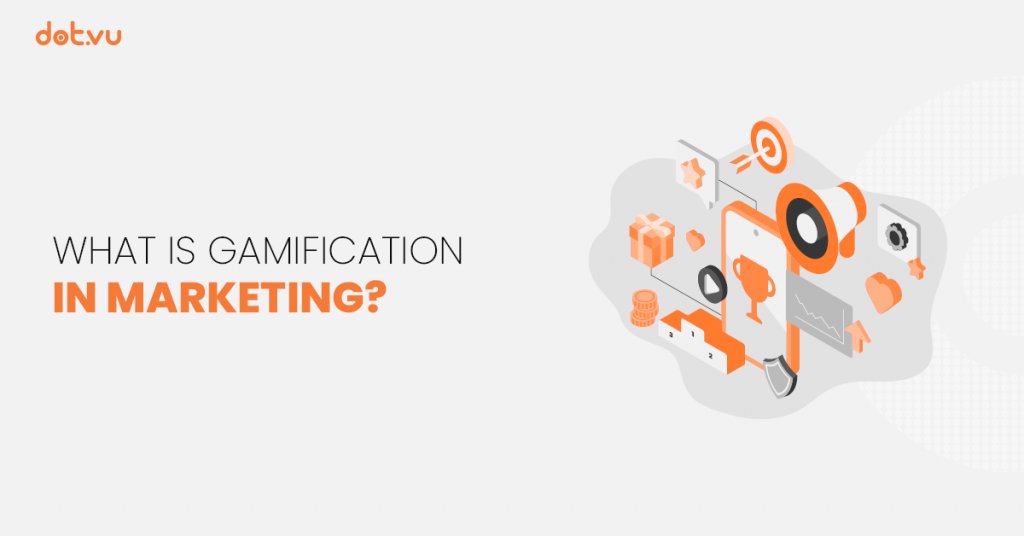 Gamification, games for marketing, Marketing Games – these terms have gained vast popularity among businesses nowadays. The reason – implementing game elements for business purposes is a proven way to increase engagement, boost sales, and enhance brand loyalty.
Some marketers might express skepticism toward putting games and advertising in one place. However, gamification is one of the ways to set a website apart from the competition. Just think about it – most websites look the same. A simple tool like a fun instant reward game can change it all.
Whether you are still discovering the power of gamification or are already looking for gamification software, this blog post will prepare you for success.
In this blog post, we go over the following:
What is gamification in marketing?
What is gamification in marketing, and why is it so popular?
Gamification marketing is using gamified experiences for business purposes. Companies use Marketing Games on their websites to engage visitors and improve user experience. Transforming old concepts into interactive online experiences has never been easier.
Marketing gamification has gained a lot of traction in business. In fact, organizations that utilize gamification in marketing and gamified elements in the workplace are 7 times more profitable than those that don't. For example, Extraco Bank increased customer acquisition by an astonishing 700%!
Some of the world's biggest and best-known brands, such as McDonald's, Toyota, Coca-Cola, Spotify, and Disney, deploy gamification for marketing strategies. Yet, this doesn't mean gamification is exclusive to larger companies.
Today, developing and launching Marketing Games can be quick and easy and has become available at a fraction of what it used to cost. Most companies can now implement games in their marketing mixes and have enormous success. Games are especially profitable for marketing campaigns, given that mobile devices contribute $92.2 billion in revenue, accounting for half of the market's total earnings.
Let us have a closer look at the history of gamification. The technique of rewarding customers can be traced back to 1912. The image below outlines the most important dates you need to know.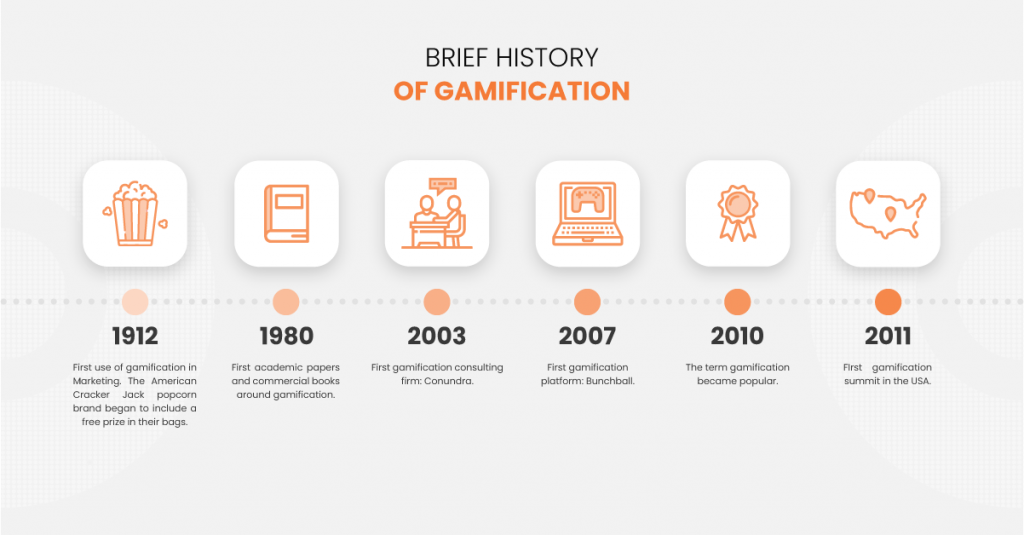 Why is marketing gamification so effective?
As people, we like to be entertained. We want to have fun. We love to play. This should come as no surprise, as it is ingrained deeply into our culture and has been expressed for centuries. When we play games, our body releases hormones that make us feel better. Marketers leverage this to attract, engage and retain their audiences. One of the most effective and popular ways of approaching this today is by deploying gamified experience or marketing gamification, as it is more commonly called.
Customers love playing games for many reasons. Most people like to be in the driver's seat, and when playing a game, they can influence their own experience. If we compare playing a game to passively reading a whitepaper or blog post, it sounds a bit more fun, doesn't it?
Before the widespread use of the term, which became popular around 2010, many different fields of work had already applied this technique, where game-design elements would be adapted into non-game contexts – drawing heavy inspiration from video games.
In today's context, many companies across industries use gamification in marketing. The reasons for this include enhancing user engagement, improving learning and comprehension, increasing motivation and productivity, steering better user flows, and many more.
Gamification for marketing is effective because it leverages people's natural inclination for socializing, learning, and self-improvement. Marketing gamification gives people a sense of achievement through diverse types of reward systems.

What are the benefits of gamification in marketing?
Here are some of the main benefits and reasons why you might want to implement gamification into your own marketing:
1. Supercharge customer engagement
Games are proven methods to increase customer engagement rates. Moreover, they are excellent for increasing the time spent on websites (and improving those SEO stats!) because the chance of winning a prize keeps people motivated to play further. Not to mention, this creates a memorable experience for the user, who may feel eager to share the results with others on social media.
2. Differentiate and strengthen your brand
Games are a great marketing tool because they are fun to play and often not perceived as intrusive marketing. They create a positive image of your company and influence consumers' buying decisions in the future. Marketing gamification increases social shareability too.
3. Increase conversion rates
As your audience engages playing the game, your CTA button at the end is more likely to work. Rewarding participation with discount codes and limited offers will incentivize sales. As a result, you will increase conversion rates.
4. Educate about products/services
Gamification for marketing entertains your customers while educating them about products or services. Some Marketing Games, such as quizzes or puzzles, have educational purposes.
5. Generate new leads in a non-intrusive way
Marketing has transitioned from product-centric to more consumer-centric in the past years. Games are permission-based, where the customers choose to opt-in and give up their contact details to play. Customers also value more personalized marketing efforts, which the Interactive Experience brings.
Gamification marketing also helps you collect valuable customer data. Embedding Marketing Games is a great tool to understand consumer behavior, as they allow marketers to monitor analytics.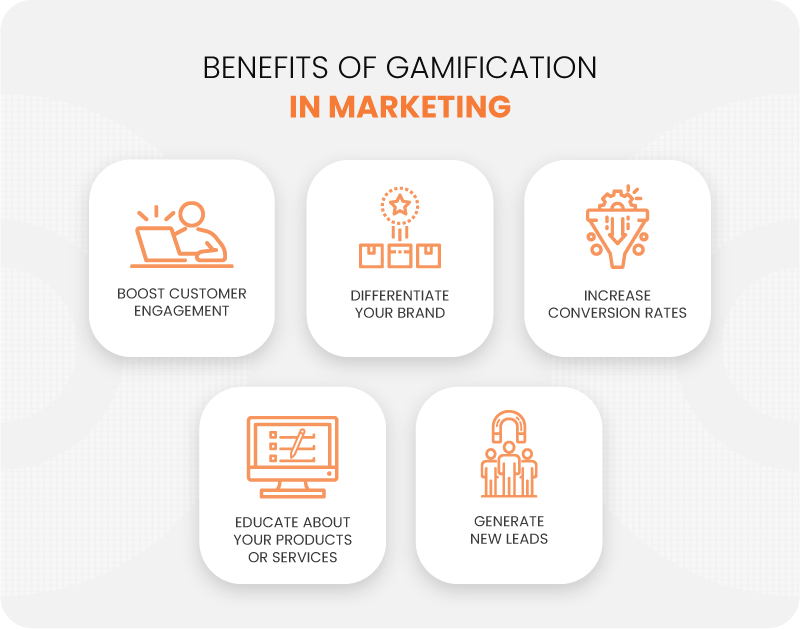 To give you an example of what a branded game might look like, try Breguet's own custom developed game below:

Don't know the combination? Find it here together with more information.
Tips on how to implement gamification in marketing
Gamify your marketing by following these steps:
Get to know your audience
Before anything else, think about your target audience and what type of games would appeal to it. The game must speak to your customers. Otherwise, you risk not reaching the objectives you set for this marketing effort. Consider factors like gender, age, location, interests, and how tech-savvy your audience group is.
Test out other Marketing Games
The best way to prepare is to try games yourself to see what's out there. What are your competitors using? What kinds of Marketing Games have been successful? Testing out other games helps you become better equipped to see what fits your brand, objectives, and target audience. Furthermore, you can investigate different ways to repurpose content into a gamified experience. Some of your competitors might be utlilizing elements you never even imagined before!
Give your customers a reason to engage
No one is going to play your game "just because." You need to motivate your customers to play with prizes like exclusive access to new products, coupons, discounts, tickets, points, badges, or something else. Define what you want to give to obtain your visitors' attention.
Make results shareable
According to a survey from the University of Bologna, gamification marketing can translate to higher customer value and participation.
However, this positive relationship is linked to specific gamification mechanics being met. For example, activities that motivate customers to share content online significantly increase both amount of money spent and the frequency of purchases.
You can improve brand image with actions that require users to share content online, such as sharing obtained badges and rewards. This way, your audience is spreading the word about your brand.
Make sure your game is mobile-friendly
The usage of mobile devices has increased drastically in recent years, and when it comes to playing games, it's no exception. According to Statista, more than 80% of the global population uses smartphones. With phones being an inseparable part of our everyday lives, generating mobile-friendly content is necessary.
Moreover, according to Business Wire, mobile devices are the best way of reaching customers.
Keep it simple
Your Marketing Game doesn't have to be as complex as the advanced video games available today. After all, the point is to entertain while generating leads, selling your product or service, and ensuring positive interactions between your customers and your company. Thus, it is a great idea to keep your game simple. If it is too complicated and your audience can't figure it out quickly, you may risk them moving on to another website. Most of us have moderately short attention spans. Therefore, keeping the games short increases the odds of visitors staying focused and sticking around. Have a look at some gamification examples in marketing to get inspired.
Measure the results of your marketing gamification goals
Make sure to measure the results, such as time spent playing the game, boost in sales, engagement, or whatever goals you set for this marketing campaign. It is crucial to measure your outcome to improve future marketing endeavors and discover what works best for your target audience.
Related: Event gamification: the new trend you must follow
Getting started with gamification in marketing
It goes without saying that it's important to align the brand values with the game experience itself and not just do it because it is trendy or fun. Once you're ready, it's just a matter of deciding what the context should be: an online contest on social media, as part of signing up to your newsletter, a special birthday surprise for existing customers, an in-store interactive screen experience, for internal training or something entirely else. The options are endless.
Dot.vu is an Interactive Content platform that offers various types of Marketing Games. We have many different templates you can customize to match your brand image. We can help you harness the power of gamification in marketing and boost customer engagement. Explore our marketplace and create a free account to get started!
---
*This blog article was updated on July 17th, 2023 by Ivanina Topuzova.