What is an Online Assessment?
An Online Assessment asks your customers a set of questions and gives them a score and custom advice on completion of the questionnaire. It's typically longer than a quiz and gives them customized feedback in the end.
How does it work for B2B Content Marketers?
There's a world of opportunities for the B2B content marketer. You can use an assessment to evaluate your customers' knowledge on a particular subject, their skills or personality type. There's are loads of formats you can use – even if you want to gauge your customers' department effectiveness, compliance with industry best practices, risk exposure and more.
What's in it for your customers? (H2 heading)
They get to evaluate themselves and see how they stack up against their peers.
The personalized advice you give them is based on their assessment results – which helps them make better decisions for their needs and pains
It takes a few minutes to complete and gives them the instant gratification of a score.
What's in it for you as a B2B content marketer?
You get to establish your authority in your field of expertise or industry and as a go-to source for valuable insights.
You can generate new leads by gating assessment results (read more here: link)
You get to learn more about customers through their answers to your questions
You can promote other content assets like e-books or white papers at the end of the assessment
You can pitch your offerings at the end of the assessment as the solution to their problems
It's way cheaper than writing a 100-page e-book.
9 Quiz & Assessment Ideas for your B2B Content Marketing
Below are four assessments meant to evaluate your customers on a personal level.
Knowledge test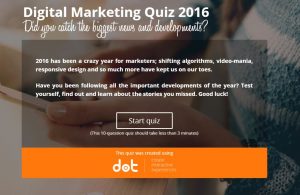 As the name suggests, a knowledge test evaluates an individual's knowledge on a specific topic. Topics can be things like industry news, trends, technology or even lighter topics like annoying industry buzzwords. Check out our Digital Marketing Quiz 2016 here and see how it works!
Skill test
A skills test is used to analyze an individual's weaknesses and strengths. Use it to highlight areas where your company can help its potential clients with feedback and by offering its product.
Topics could be related to an individual's professional skills, reactions to different scenarios or management of certain tasks.
For example, if your company sells leadership courses you could do something like this Emotional IQ test.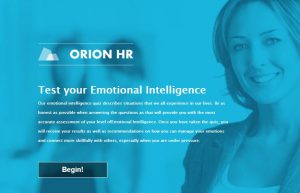 If your business specializes in SEO, you can test your customers on how well they manage SEO on their blog. It reveals to them where they fall short, what they need to improve and provides them with a perspective on where to put their focus. In results, you can offer them your expertise, product or help in the areas they needed the extra assistant.
Educational assessment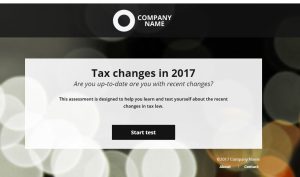 The purpose here is to educate your audience about a certain topic by giving the user feedback after each answer.
It is ideal for informing people about complicated issues or teach about changes in the industry. If you consult on tax regulations and recent complicated changes came around, you can create an assessment to help your clients learn about the changes. For every question answered, you can provide an explanation.
These kind of assessments are great for in industries where technologies, laws and standards change quickly. For example, in digital marketing, to keep clients on top of Google's search engine updates or Facebook's algorithm updates.
Personality Test
A personality test is a lighter experience that puts the user into a personality category based on their answers. We used this concept to create our "What kind of marker are you?" test. See here.
One of our clients used it to help their customers find out what role they play in business meetings. See here (in Danish)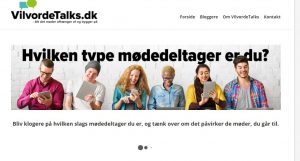 The following five assessment types are great for gauging your customers' department and company performance.
Industry benchmark test
This helps your customers discover how they stack up against their peers in the industry. A great way to make this kind of assessment is by turning any of your existing research studies or industry reports into a questionnaire.
For example, you can analyze how many resources a company should allocate to a project or how much budget they spend on solving a definite issue. The results will show the company what other companies do and provide an advice on how to improve. This helps companies to compare how they use resources or budget in comparison to others.
Technology readiness test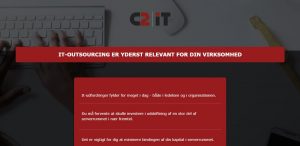 Despite the unsexy name, the technology readiness test is very effective. Topics could be things like "how up-to-date is your xyz infrastructure", "which xyz technology should you use?" or "should you outsource your xyz tech services?". Check out an example here.
Give people helpful advice on their technology needs and there's nothing wrong with sliding your product in as a possible solution.
Best practice assessment
As the name suggests, this kind of assessment will gauge to what extent the user follows industry or function best practices. To do this really well, you should accompany your score with useful feedback and advice for the user.
For example, if I used you, the B2B content marketer as my target customer, I might create an assessment entitled "is your blogging seo-optimized? Test yourself against the best practices." For example, In a test like this, I might ask you questions about whether your blog title is SEO-friendly, whether you're conducting keyword research, using keywords in the right places, etc.
In the end, I'd give you a score and feedback on what is the right way to do it and what you can be improved. This can apply to any industry. If you are in the Banking industry and your target audience is business loan applicants, you can ask them about application best practices.
This test is also great for internal communication to update and educate your staff about job-related best practice. Say your firm has just updated their best practice guide and no one wants to read it. Instead, you can include the best practise test in the mail can and offer people to test their knowledge about the recent changes. Turn boring topics like safety regulations, customer service rules, documentation guidelines into fun tests.
Compliance assessment
A compliance assessment is meant to help your clients stay on top of law, practices or industry standards. The test helps companies figure out if they comply with regulations within an industry.
Let's say you were in the Healthcare industry and your target audience needs to stay on top of HIPPAA laws, then you might want to use a test like this: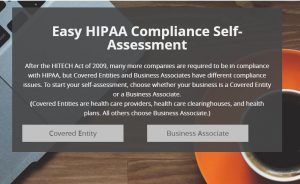 Risk assessment
This is helpful in telling your audience what their current risk exposure is, based on their current business practices or documentation. This kind of assessment is popular in the IT security systems industry but can be used many situations. People need to evaluate their risk in terms of insuring themselves and making any kind of investment.
Leverage this to help your clients and pitch the right solution for their needs.
Try out our online assessment and start getting more leads and valuable information for your client. Click here to get started.