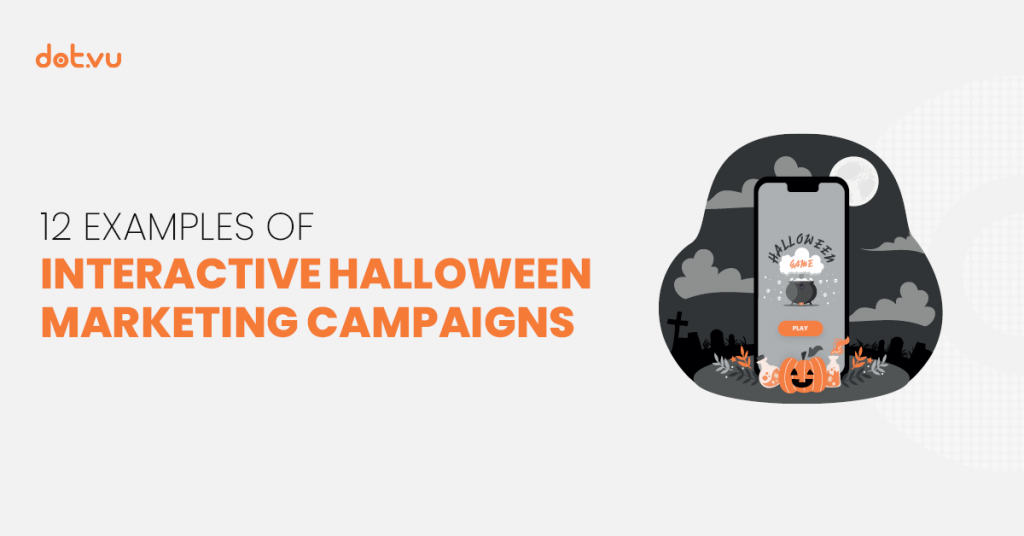 Are your Interactive Halloween Marketing campaigns ready? Halloween is right around the corner, and this year more than ever, companies need to innovate to give a great time to their audience. In general, holidays create the perfect opportunity to enhance your seasonal marketing.  
Why? Unfortunately, because of the Corona pandemic, we will probably not be able to celebrate Halloween like we used to. No big parties. No trick or treats. No candies in shops. So, instead of creating traditional in-store campaigns, companies need to adapt and focus on online campaigns. That's why it is a fantastic idea for marketers to come up with Interactive Halloween Marketing Campaigns this year. Your online campaign's interactiveness will succeed in marking your customers and positively influencing your brand image.
12 Examples of Interactive Halloween Marketing Campaigns
One sure thing to keep in mind is that gamification should be at the core of any Interactive Halloween Marketing Campaigns you design. Halloween is a fun holiday with trick-or-treats, haunted houses, and costume parties. So, when you design a Halloween Interactive Experience, you need to keep that in mind.
Below, I'll present 12 examples of fun and gamified Interactive Halloween Marketing Campaigns.
1. Spin & Quiz
A Spin & Quiz game is an easy to implement and highly engaging marketing game. To participate, visitors will have to enter their email address, and then they will be allowed to spin the wheel. It will spin to a specific category, and the participant will have to answer a question related to that category. If the participants get a minimum of the answers right, they can get a chance to win a prize.
Of course, you'll need to create a Halloween themed Spin & Quiz. Therefore, the experience's overall design should contain Halloween elements such as vampires, pumpkins, ghosts, etc. Plus, the quiz questions can also be related to Halloween to make it even more fun for your users.
2. Maze Quest
In a Maze Quest, participants will need to find the right path to the treasure to get a chance to win a prize. They can succeed in finding the treasure by unlocking different keys in the maze. Every time they'll want to unlock a key, they'll have to click on it, and then answer a question. If their answer to the question is wrong, they will not be able to open the path. In that case, they can click on the key again to get a new question or click on another key, if possible. Participants are only allowed to have a maximum of 6 mistakes to get to the treasure. They'll also have only 120 seconds to solve the maze.
This is one of the most desirable Interactive Halloween Marketing campaigns because it's highly engaging and contains 2 different games in one: a quiz and a maze. Again, you can choose quiz questions that are related to Halloween. However, you can also ask questions related to your company if you want to take this opportunity to educate your audience on your values, mission, or vision.
3. Hat Shuffle Game
In a Hat Shuffle Game, a magician will show you where the prize is under three different hats. He will then cover the reward with one of the hats and shuffle the 3 different hats around. The participant's challenge is to follow the hat with the prize and select where it is hidden once the magician is done shuffling the hats. If a participant succeeds 5 times to find the hidden reward, he'll get a chance to win it.
Between each of the attempt, you'll get the chance to highlight some characteristics of your companies like selling points, values, discounts, or any other things that can impact your image positively or boost your sales.
4. Slot Machine Game
In a Slot Machine Game, the participant will simply have to click on the button "Play". Then, depending on the result of the slot machine, he can win a prize or not. This is one of the least engaging Interactive Halloween Marketing campaigns because participants don't have much else to do than clicking on play. However, it's one of the least complicated experiences to implement. Basically, you only need 4 different images for the slot machine, plus a background image, and your logo.
Because of its simplicity, it's not the experience that leads to the most remarkable results, but it's quite amazing to grow your email list.
5. Memory Card Game
You must know what a memory card game is, but let me explain it real fast just to be sure you remember correctly. In a Memory Game, you have different cards where you can't see the image under. The game's goal is to click on one card to see the image under and then find its match. Of course, you need to remember where the cards to complete the game successfully.
Again, you'll want to create a Halloween Memory Card game. So, you can have different Halloween images under each card, such as pumpkins, witches, monsters, etc.
6. Hit the Pumpkins Game
In this Halloween campaign, the goal of your participants is to collect 10 points under 15 seconds. The participants will have to click on all the good pumpkins as fast as possible to collect points. At the same time, he should be aware not to click on a bad pumpkin, or he will lose a point instead of gaining one.
This is a really nice game to have at Halloween if you want to increase brand awareness. More importantly, because you can appeal to your audience's competitiveness and ask them to compare their score with their friends or family members.
7. Spot the difference Game
In a spot the difference game, participants are shown two highly similar pictures. They'll have to spot the differences between the two pictures. Of course, you'll want to have images that are Halloween themed. If a participant succeeds in finding all the differences, he gets the chance to participate in a contest by filling in a lead form.
This Interactive Experience can have two different main benefits. First, you can take this opportunity to promote a new product in the pictures. Plus, you can grow your email list with the contest.
8. Wheel of Fortune
Similarly to a Slot Machine, a Wheel of fortune is one of the most effortless Interactive Halloween Marketing campaigns to implement. You simply need to design a Halloween themed wheel and voilà, you have an Interactive Experience.
This experience's engagement level is relatively low. That's why the prizes participants can win are very important if you want to encourage participation and grow your email list. Keep in mind, if you give discounts as prizes, you can succeed in boosting your sales.
9. Puzzle
Puzzles are quite fun for your participants, and they are also easy-peasy to implement. It's just an image that you will divide into different sections to create the puzzle pieces. Again, you'll want to make sure to choose a Halloween themed image. If the participant can solve the puzzle under the time limit, the solved puzzle image becomes a scratch card that participants can scratch to win a prize.
With this Interactive Halloween Marketing campaign, you can promote a product in the puzzle image, grow your email list by gating the experience with a lead form, and positively influence your brand image with a joyful experience.
10. Hourly Surprises experience
Another mind-blowing Interactive Experiences to have next Halloween is an Hourly Surprises experience. With an Hourly Surprises experience, your audience can unlock different prizes or discounts throughout the day on Halloween. You can also add gamification elements to your Hourly Surprises experience to engage your audience even more. For example, you could add a scratch & win game under each lock.
While this experience is a bit complex to implement than the games we have introduced so far, yet the benefits are really worth it. Your audience will want to come back on your website a couple of times in the day to unlock the different doors. Thus, you make sure you increase brand awareness. Plus, you succeed in growing your email list and positively influence your brand image with this innovative and exceptional experience. Finally, by having different offers and discounts and website visits throughout the day, you boost your sales. It's an all-in-one Interactive Halloween Marketing campaign.
11. Branching Video
The following Interactive Experience demands more effort to design and implement, but it will bring you insanely good results. . In a branching video, viewers can actively participate in the experience by deciding what happens next.
So, for example, you could have a short film where a witch steals some of your products on Halloween, and a detective is hired to find them. Viewers will then be asked to choose what the detective will do to find the stolen products. It's a great example because it's a highly engaging and gamified experience that also promotes your products. In a nutshell, the possibilities with branded videos or other types of interactive videos are endless.
12. Personality Test: Find the best costume for you
Finally, last but not least, you could create a Halloween themed personality quiz. Every Halloween, it's always hard for most to find out what they should dress in. So, as a company, you could help your audience choosing their next Halloween costume by giving them ideas based on their personality.
In other words, participants will answer a couple of personality questions, and then they will be presented with costume ideas that fit their answers. If you are a clothes retailer, a great idea could also be to suggest different products to help customers make their own costumes. For example, if you advise a participant to dress as a witch, you could promote different black dresses that could be used for that. Thus, boosting your sales.
---
I hope this blog post inspired you to create fun and engaging Interactive Halloween Marketing campaigns. Some of these Interactive Experiences are really easy to design and implement, while others take more time and resources. So, when choosing which one you'd like to make, keep in mind that we are relatively close to Halloween already.
Would you also like to get inspiration for Black Friday or Christmas Interactive Experiences? Then, take a look at these blog posts:
Subscribe to our blog!
---