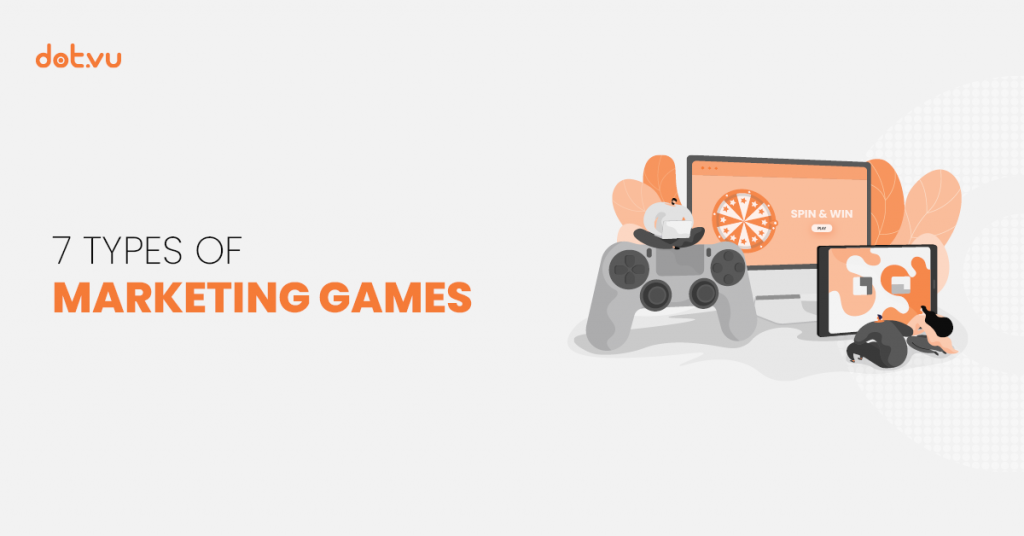 Before we introduce the different types of Marketing Games, let's take a few steps back. The word gamification has been very trendy for the past couple of years. Companies around the world started to use gamification to motivate employees, attract new customers, increase brand loyalty, and so on. The reason gamification in marketing is so popular is that it works incredibly well. Indeed, gamification can boost browsing time on your website by up to 30%. That is quite amazing! So, if you haven't started yet, you need to jump in with both feet!
In this article, you will learn about different types of Marketing Games; how they work, what their main benefits are, when you should use them, and so on. The goal is to give you valuable knowledge to get you started in using these types of Marketing Games in your current Interactive Content strategy.
What are Marketing Games?
Marketing Games are gamified content that is used to create a memorable experience for users. They are mini-games used by companies to attract new customers, engage their audience, promote their products, or boost their email list.
In other words, the idea behind online Marketing Games is to delight potential and current customers while they are interacting with your brand. By delighting and engaging them with gamified experiences, you increase the chance to convert web browsers into engaged visitors, engaged visitors into customers, customers into loyal buyers, and loyal buyers into advocates.

7 Types of Marketing Games to engage your customers
There are different types of Marketing Games available out there! Depending on your marketing goals, resources, desired level of involvement, duration, and other pre-established factors, you might want to choose one type over the others.
1. Games of chance
Games of chance are games where the results are based on randomization. It doesn't require special skills to play games of chance because the outcome is determined only by pure chance (with randomization devices).
Companies can use games of chance to attract potential customers, engage website visitors, boost sales and grow their email list. Games of chance often have an instant-win feature to boost participation. For example, participants can win discount codes, free items, free memberships, and so on when playing these types of Marketing Games. Because of that, they are one of the best types of Marketing Games to grow your email list. You can grow your email list by either gating the entire game with a lead form or gating the results.
There are many different examples of fun Marketing Games of chance such as scratch cards, dice games, card games, wheels of fortune, or numbered balls drawn from a container.
2. Knowledge Games
Knowledge games are fun Marketing Games where you want to test the knowledge of participants on a specific subject or on random facts. You already know lots of knowledge games such as Fill-the-Words, Jeopardy, Trivia Games, Maze Quiz, and so on.
Knowledge games are one of the best types of Marketing Games to attract potential customers to your website and boost engagement. Why? Because humans always want to test their knowledge. So, these types of online branded games are easily shared on social media and get lots of clicks. For example:
Are you a true Harry Potter fan?
Test your Harry Potter knowledge with our new Maze!
Pro Tip: To generate even more awareness, encourage participants to share their scores on their Social Media profiles.
3. Platform Games
Platform games are among the most popular types of Marketing Games because they are simply so fun to play! Platforms games are 2D games where you move a character through a specific environment. You control the character by being able to jump, climb, move, and/or dodge. The goal is often to avoid obstacles while collecting items. Does it ring a bell? Yes, that's right, Mario Bros is one of the most popular examples of a platform game.
Platforms games are one of the most engaging types of Marketing Games out there. They are really delightful for customers so they can also be used for brand recognition and brand loyalty.
Platform games are also a great asset to your Seasonal Marketing strategy because you can adapt them to different holidays. For example, you could have a platform game for Easter where the character is a bunny that needs to collect eggs and avoid trunks of trees.
4. Tapping Games
Tapping Games, similarly to Platform Games, are also very fun Marketing Games that are highly engaging. In a tapping game, participants tap (or click) as fast as possible to collect valuable items while trying to avoid unwanted ones.
These types of games are extremely popular because they harness rapid growth, speed, and reward. Participants can become better and collect lots of points fast. Moreover, participants can compete with their friends by finding out who can keep the best score.
A very effective way to boost participation in your tapping games is to add a Leaderboard. Participants will want to compete to find out if they can be in the 10 best spots.
Pro Tip: Incentive participation even more by giving prizes to the participants in the Leaderboard!
5. Puzzles
We all know what puzzles are! It's images that are split into smaller images and mixed that we need to put back together. To goal of this type of Marketing Games is to use logic to put the pieces back together. There are traditional puzzle games but also puzzle games that are more a by-product of this type of Marketing Game such as Spot-the-difference games.
Puzzles are always fun marketing games, and they can be a nice way to introduce a new product or make sure your logo is remembered. To make things even more engaging you could add a timer to your puzzles, so participants need to finish the puzzle before the timer is done!
6. Hidden Object Games
A hidden object game is any type of Branded Game where participants need to find hidden objects. For example, that includes Seasonal Marketing Games where participants need to find all the Candy Canes hidden in your Christmas image. Or another example of a hidden object game could also be a cup game where participants are shown a prize under one of three cups. Afterward, cups are moved around, and participants need to follow the prize and find under which cup the prize is hidden once the cup stops moving to win.
Hidden object games are great to mix with instant-win possibilities. Let customers win discounts if they succeed in finding all the candy canes in your Christmas image, or identity which cup contained the prize.
7. Strategy Games
Finally, the last of our types of Marketing Games are strategy games. Strategy games are games where participants make active choices that can impact the outcome of the game. For example, old-school strategy games can include Tic Tac Toe, Monopoly, and Chess.
Strategy games generally require a higher level of involvement from participants, but they are often perceived as more entertaining because you need to think about what you should do. Strategy games can be very short (for example, Tic Tac Toe) or quite long (for example, a Banking Game where you buy stocks). Some strategy games might even last for days, weeks, or even months.
An idea here could be to have a fun Marketing Game where participants need to sign into their profile every day to do a couple of actions (such as rolling dice, drawing a card, buying a special item, and so on). This is amazing because they go back to your website daily to perform these actions. So, every day they are aware that you are there. It's great for boosting sales and brand loyalty because it plays with the mere exposure effect.
Ready to implement some of these types of Marketing Games?
In summary, Marketing Games have been present since 1987, and they are not only a trend in business but rather a tradition. Gamification is so versatile that it can be applied in any industry and to any type of business. That's the beauty of it being applied in any industry and to any type of business. You can use it for so many different purposes, benefiting your employees, rewarding your customers, building your company culture, and so on.
No wonder big brands like Mcdonald's, Starbucks, M&M's, Heineken, or Coca-Cola are implementing Marketing Games continuously. You shouldn't hesitate if it works for them, you need to give it a try as well. Have a look at these examples of marketing games from real brands for inspiration. Furthermore, you can get new ideas with these gamification marketing examples. Games are fun to play, they might even bring back childhood memories for your customers. So, it's definitely something you should consider when brainstorming about your marketing strategy.
If you are interested in having your own fun Marketing Games released on your website in no time, then you should check out our marketplace. We have tons of templates for Marketing Games ready to be used. Creating Marketing Games is easy with our Interactive Content platform. Create a free account and try any of our gamification templates for free! When you are ready to publish your Marketing Game, you can choose the subscription that fits your needs and goals.
---
Other articles you might be interested in:
---