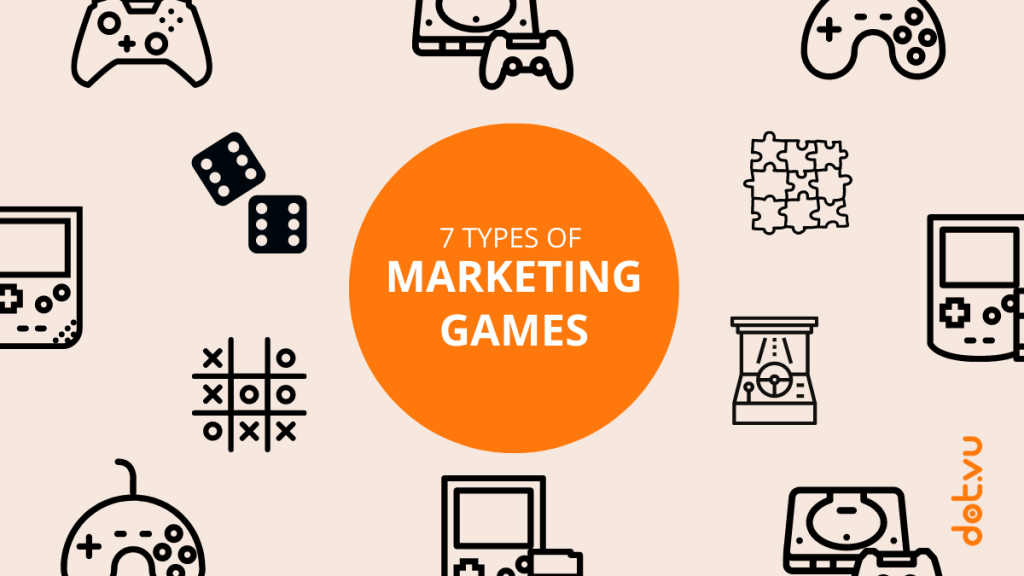 In the era of digitization, it is significant to keep up with the trends required to get the attention of your customers. Outbound techniques are not the winning strategy anymore. It is not about pushing your products and force your customer to buy them. You must come up with ideas that create such value that has the power to attract, engage, and delight your audience without the need to hassle them. The concept is called Inbound Marketing. But what does this have anything to do with the different types of Marketing Games?
So, Marketing Games are part of your content strategy within the Inbound Marketing concept. They are used to attract your potential buyers and make them want to stay on your website and engage with your brand. Eventually, your goals with Inbound Marketing techniques are the same as with Outbound Marketing techniques but with a kind of reversed psychology. So, your constant focus is to create values that will influence consumers to stay and engage with your brand. Hence, as an effect of that, they won't feel like they are forced to buy something.
Consequently, in this blog post, you'll read about different types of Marketing Games that have the power to engage with your audience. Therefore, you can effectively learn about your customers. This will help you in the long run to achieve higher sales and better customer satisfaction. So, stay with me for the next 5 minutes and learn about the different Marketing Games with various difficulty levels. I hope it will be inspirational for you.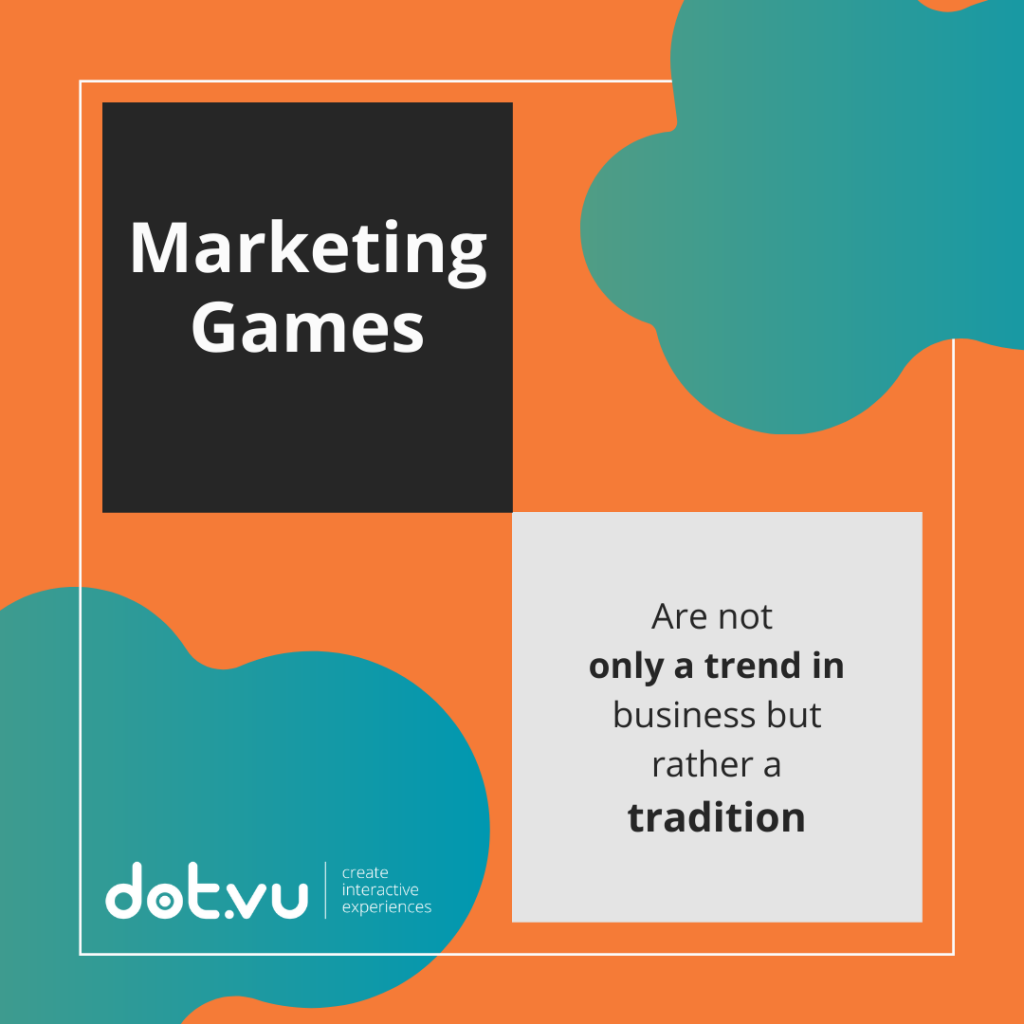 7 Types of Marketing Games
I am going to start out with the simpler ones and gradually increase the level of gamification and involvement. You'll learn about 7 types of Marketing Games to help you find the one that suits your business and your audience the most.
1. Spin & Win
Anytime you feel like creating a marketing campaign, a Spin & Win game is always a great choice. Your customers can come and spin the wheel to win a discount or a prize. All you need to do is to include a lead form at the beginning of your gamified experience or at the end right before you would reveal the discount or prize. Be careful, your offer must be worthy enough to incentivize participation. Otherwise, it is not likely that your potential customers will want to trade in their contact information. But if you have a reasonable offer and you like to keep things simple, this is your way of doing it!
2. Dice Game
The next types of Marketing Games are Dice Games. These types of Marketing Games are a fantastic choice for your Christmas campaign, so your potential customers can come back every day to try their luck. To play, your participants will first throw two dices and win if they get two sixes. When a participant wins, he can pick a gift and drag it into its Christmas sock to see the prize he won. You can set these Marketing games for a specific period. However, the longer you make it available, the more website visits you can achieve. So, I would recommend you implement this game for longer than just a day, for instance. Also, it can help you to boost sales and grow your email list with a lead form placed in your gamified experience.. This will create such a positive effect on your brand image, trust me!
3. Cup Game
If you've been following this blog post, you'll notice that this is the stage where it starts to get a little bit more advanced regarding the level of gamification and involvement of these games. Your customers will see an item being hidden beneath one of the cups. The cups are then shuffled randomly around, with the participants needing to keep track of the right cup. If they choose the right cup, they need to fill out a lead form to get a scratch card and potentially win a prize. Once the card has been scratched, participants are immediately told if they are the lucky winner or not. That's what we call Instant-Win, which is an incredible way to boost participation.
4. Tapping Game
With this game, you offer a 3 round of tapping madness to your customers. After each round is completed, you can showcase different products and custom messages. Don't forget to include a lead form so you can also benefit from having this experience in your strategy and not only your audience. It can be an exceptional experience on special occasions throughout the year, such as celebrating the anniversary of your company. Don't forget to include a lead form so you can collect highly valuable data about your participants. These types of Marketing Games are exceptional experiences on special occasions throughout the year, such as celebrating the anniversary of your company. You can reward your customers to make them feel appreciated and thank them for their loyalty but also to attract potential new customers. Ready, set, tap!
5. Solve the Puzzle
Go ahead and activate your customers with a 9-piece puzzle with limited time available. As you can notice, the level of gamification and involvement are getting higher, but this is a great game to grow your email list in exchange for participating. You can reward your potential customers with a scratch card that might include sweet prizes they are looking for. You can design the puzzle in a way where once your participants get all the 9 pieces right, it will showcase a message or a picture of your brand so you can positively impact your brand image. Don't forget, games are great to entertain and get your audience's attention. But it's also an opportunity for you to be super creative and make them remember your brand.
6. The Maze Quest
The next type is the Maze Quest. In a Maze Quiz, participants need to find the right path. But on the way, they will have several stops where they need to answer one of your questions. If they get them all right, they can reach the treasure and be one of the lucky winners. However, just to spice things up and put an extra layer of pressure on your participants, you can set a time limit as well. This game is a little bit longer than the others and, harder. So, I would recommend for you to use this gamified experience if you've something more worthy to offer!
7. Memory Game
Last, the most challenging game on my list is Memory games. You can test your participant's memory with this challenging and fun game and reward them if they are good enough. Visitors need to remember the position of up to five images in a grid, then position the showcased images to the right spot. They must complete all 3 rounds before being able to win the prize of your choice. You can feature different products in all three rounds, that way, you get to promote them. You can easily customize your template that'll help you to positively impact your brand image and get the attention of your potential customer.
Make Your Customers Lucky by Creating Marketing Games
In summary, Marketing Games have been present since 1987, and they are not only a trend in business but rather a tradition. Gamification is so versatile that it can basically be applied in any industry and to any type of business. That's the beauty of it! You can literally use it for so many different purposes, benefiting your own employees, rewarding your customers, building your company culture, and so on. No wonder why big brands like Mcdonald's, Starbucks, M&M's, Heineken, or Coca-Cola are implementing Marketing Games continuously. You shouldn't hesitate if it works for them. You need to give it a try as well. Games are fun to play they might even bring back childhood memories for your customers. So, it's definitely something you should consider when brainstorming about your marketing strategy.
Thanks for staying with me till the end. I hope this was an inspirational piece of content for any one of you who read this. Hopefully, I could motivate you to consider using any of these Marketing Games in the future. If you liked what you saw in this blog post, feel free to go on our marketplace and check out the ready to customize templates we have here at Dot.vu.
---
Subscribe to our blog!
---