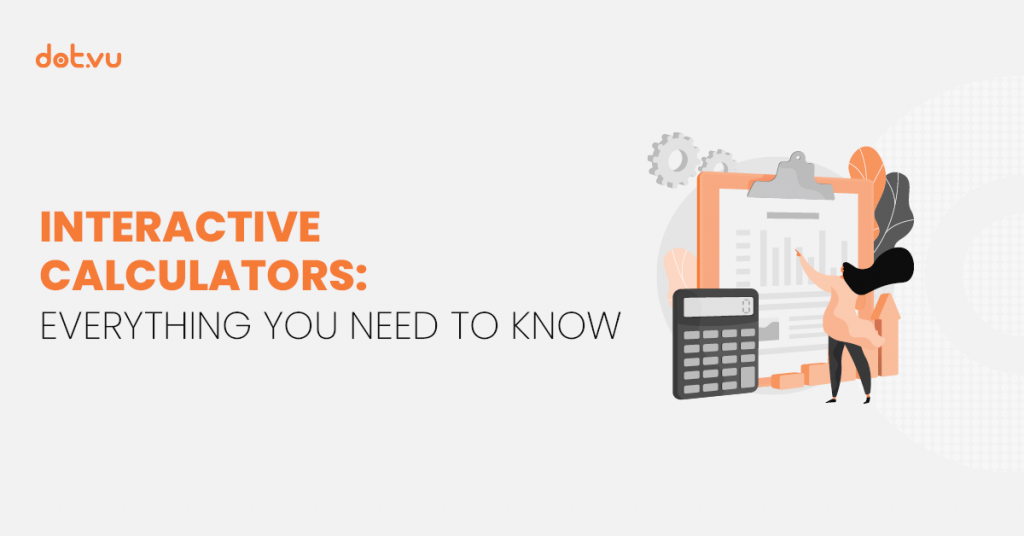 Interactive Content isn't just a great way to entertain your customers. In fact, 66% of marketers say that using Interactive Content led to greater audience engagement. This is one reason why many marketers are seeing the value of using Interactive Calculators to educate customers and get them to keep coming back!
Interactive Calculators not only attract customers to your site but also encourage visitors to stay on it longer. Thus, they help increase sales. But let's start with the beginning, what are Interactive Calculators, and which ones would benefit your company?
What is an Interactive Calculator?
The main benefits of building an online calculator
How to create Online Calculators in 5 easy steps?
6 types of Interactive Calculators (With examples)
What is an Interactive Calculator?
Interactive Calculators are online tools that require visitors to insert data into a form in order to get an instant calculated answer. These answers are calculated based on custom formulas defined by you. Interactive Calculators can help your customers with looking at their financial stability when buying a house, creating a budget, losing weight, and so on.
Interactive Calculators are very helpful for customers who are looking for quick answers to their problems. These customers have decisions to make and are looking at online tools to make their lives easier. Also, in recent trends, you can see that Interactive Calculators are widely used within the Software as a Service industry, which itself is predicted to generate $141 billion in 2022. Creating an Online Calculator can be just what your SaaS marketing strategy needs to set your company apart from the rest.
Interactive Calculators are not only great in a B2C context but also in a B2B one. Indeed, many B2B companies offer quite complex products and services. They often have a hard time demystifying their product offerings on their website. That's where an Interactive Calculator can help!
The main benefits of building Interactive Calculators
1. Boost Sales
As we mentioned before, Interactive Calculators are great because they give your potential buyers the necessary information they need to buy with confidence. In other words, they help you educate customers on what would be the best choice for them. By educating customers and advising them on their best course of action, you will boost sales.
2. Improve User Experience
Finding new ways to attract and retain customers on your platforms is the constant job of the marketer. However, you can get an advantage over the competition if you are focusing on giving customers enjoyable experiences. Bringing value to a customer isn't something they often forget and will help you build loyal relationships with your customers. Using an Interactive Calculator can give customers the value they seek, hence enhancing their User Experience.
3. Boost lead generation
Insert a lead form at the beginning or the ending of your Interactive Calculator to convert more visitors into leads. Customers are more likely to give their personal data if it is in exchange for something they value. Thus, by gating the result of your Interactive Calculators with a lead form, you can generate more leads. In other words, for great results, you can always use Interactive Calculators for lead generation.
4. Personalize your marketing efforts
The important data you receive each time a potential customer tries your Interactive Calculators can help you to reach your customers later in your marketing strategy. This data allows you to send more personalized marketing efforts to these customers because you know more about them. You know how much weight they want to lose, or how much money they want to invest in a new house. Hence, you could send them more targeted emails that show only houses within their budget or diets that fit their weight loss goals.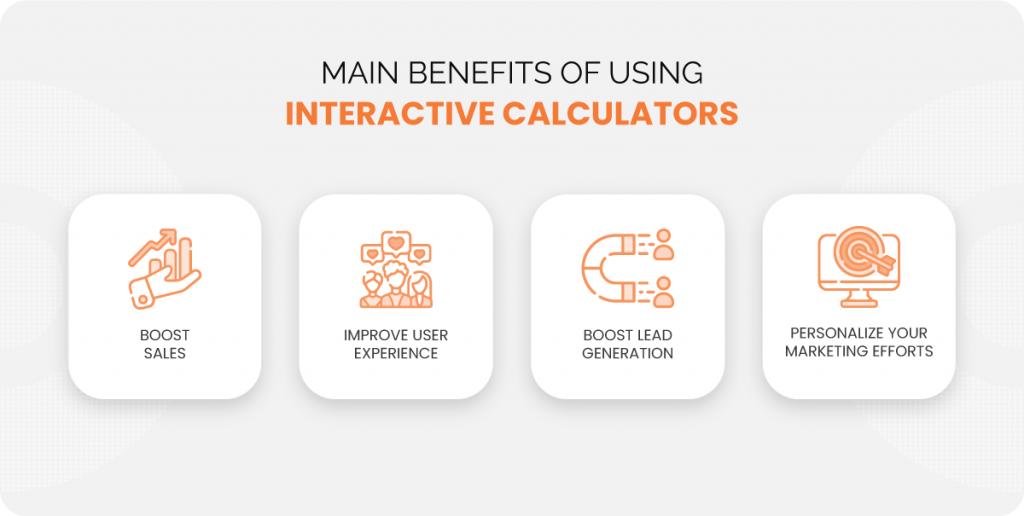 How to create Online Calculators?
There are many ways to create an online calculator. In this post, we chose this 5 steps no-code approach:
1. Find the purpose of your Interactive Calculator
Before you start designing your Interactive Calculator, you might want to ask yourself "What are the pain-point of my User Experience?" or "What can convince visitors to buy on my webshop?".
For example, if you were selling paint. A pain point for online visitors could be that they don't know how much paint they need to buy and what the final price would be. So, with a simple calculator, you could help them resolve that problem. In your Interactive Calculator, they would insert the m² of the area they want to paint, and they would choose which color they are interested in. Accordingly, they would find out how many cans of paint they would need to buy and what the final price would be.
2. Define the formula
Once you know the purpose of your Online Calculator, you need to think about the math behind the Interactive Experience. Some formulas are easy to define and are even found online (ROI Calculator) but others are more complex and personalized.
If we continue with our previous example, the correct formula here would require us to know how many m² a can of paint can cover. So, if a can of paint can cover 20 m², the correct formula would be:
# Of cans = (Desired color x m² of the area) / 20 m²
3. Choose a template
Now that you have defined the logic behind your calculator, it's time to implement it. The easiest way to create an online calculator would be to find an Interactive Content platform such as Dot.vu. We have ready-to-be-customized templates for many different types of Interactive Calculators available for you.
Let's continue with our example again! On Dot.vu, you can find a template called "Product Calculator" which follows what we have been looking for.
Check it out: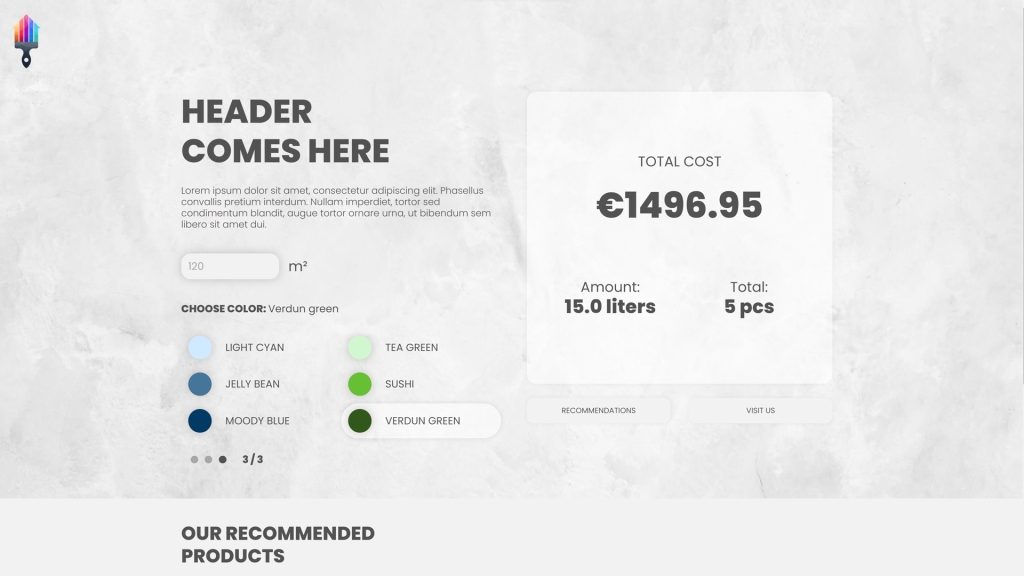 4. Design the calculator
With any of our templates, you can use our Quick Edit guide to easily modify any template into your own personalized Interactive Calculator. Change the icons, background images, logos, fonts, titles, and so on. So, get your best designer to design this Interactive Experience and upload it directly to your website.
5. Promote your Interactive Calculator
Once your Interactive Calculator is up and running, don't forget to promote it on your Social Media accounts, email newsletters, and other forms of promotional tactics you have.
6 Types of Interactive Calculators
Companies from a variety of industries can find ways to incorporate Marketing Calculators into their websites. To find out if Interactive Calculators will work in your marketing strategy, have a look at these 6 examples. They are great suggestions for turning static visitors to your website into engaged buyers!
1. ROI Interactive Calculator
You can help your customers feel more at ease with their buying decisions by using a return of investment (ROI) Calculator. For example, customers calculate the amount of time, money, or work that is needed in order to produce a specific outcome. Is it going to pay off for them in the end? Help your customers make more educated decisions with an Interactive ROI Calculator. This type of Interactive Calculator can factor in the ROI of anything from financial matters to health-related topics.
2. Service Pricing Calculator
Highlight your company's services with a Service Pricing Calculator. Show customers what you have to offer. Specifically, you should include all the details they will need in order to choose which service is best for them. This type of Interactive Calculator can help convert visitors into paying customers. This is because it offers quick and easy choices to those with problems to solve and provides a clear path to the checkout. It is particularly good for companies that offer many different services at different prices.
3. Product Finder with Cost Calculator
Guide customers to the perfect product with a Product Finder with Cost Calculator. Within this type of Interactive Content, customers can not only find the product that will fulfill their needs, but they will also be able to calculate the cost-per-use of the item. Show your customers how your products can be valuable and cost-effective.
4. Savings Calculator
Interactive Savings Calculators are great tools to help your customers figure out how much their money can grow over time. By filling in forms with various elements such as monthly contributions, interest, and years, your customers can determine if they will have enough money to make a future purchase based on their current saving habits. A savings and/or budget calculator will show your customers how your service is a cost-effective solution to help them reach their financial planning goals.
5. Fitness Calculator
Your customers may be looking for guidance in leading a healthier lifestyle. You can help them by incorporating a Fitness Calculator into your website. This Interactive Calculator allows customers to answer questions based on their habits and gives them a personalized result. Showcase how your products and services can give customers added value. Use the call-to-action at the end of the experience to guide them to your webshop.
6. Love or Friendship Calculator
Entertain your customers with a Love or Friendship calculator. These Interactive Calculators can be a big hit for your Interactive Valentine's Day campaigns. Customers will fill in their names and that of a friend or a loved one to calculate compatibility scores. On the result page, you can post information about your products or services that are relevant to the experience. This is a great way to showcase your offerings and boost sales.
Are you ready to create Interactive Calculators?
Overall, there are many different types of Interactive Calculators with different benefits and purposes. It is the task of the marketer to determine which type would be best to use and offer value to customers. These tools set companies apart from the competition while creating memorable experiences for customers in the meantime.
Visit Dot.vu, an Interactive Content platform, to see many different templates of Interactive Calculators and get inspired. You can pick the one you like and customize it to match your brand. When you are ready to get it up and running on your website, you simply need to pick the subscription that best suits your needs.
Create a free account and dive into the world of Interactive Calculators!
---
---