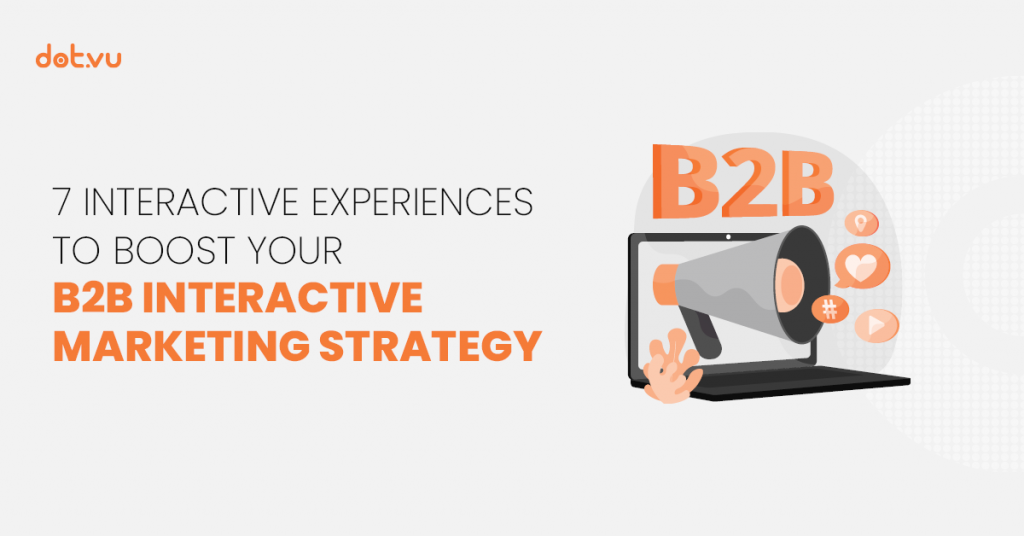 Before we dig into B2B Interactive Marketing, let's start by defining what is Interactive Content and what are Interactive Experiences. If not, let me explain it quickly. An interactive experience is a piece of content in which the viewer plays a central and active role rather than a passive role when consuming it.
As a user, when you are browsing online, you see many types of interactive experiences. But these memorable experiences (e.g., Quizzes, Marketing Games, Contests, etc.) are usually used by companies that sell consumer goods. So, lots of marketers have the wrong impression that interactive content is more successful in a B2C marketing strategy.
But, that's not true! B2B Interactive Marketing can also be an amazing way to improve your Marketing Strategy. In this article, I will present 7 of the most popular B2B Interactive Experiences.
7 B2B Interactive Experiences to boost your B2B Interactive Marketing strategy
1. GUIDED SELLING
Adding a Guided Selling Experience to your website is like having an employee that welcomes visitors to your physical shop. It will help you uncover their needs and directs them to the right place! In other words, in a guided selling experience, website visitors will answer a series of questions regarding what they are looking for. In the end, they will be presented with a product or a solution that fits these needs.
A Guided Selling Experience is an amazing type of B2B Interactive Content. It is particularly useful if you are selling multiple projects/solutions. But, it can also be powerful if you have only one product/solution with many different features to choose from.
While Guided Selling is more popular for B2C companies, it is also a very nice addition to your B2B Interactive Marketing tactics. For example, if you are a SaaS company with 3 different pricing plans, you think about a guided selling experience. This B2B Marketing idea will help your clients decide which plans are best for them.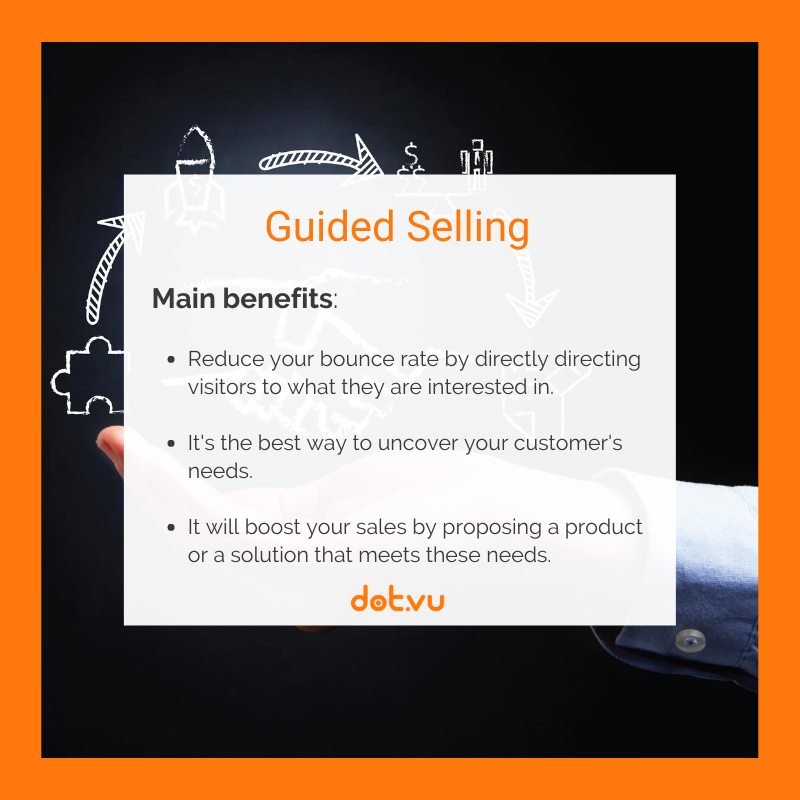 2. INTERACTIVE FLIPBOOK
What is an Interactive Flipbook? It is a type of B2B interactive experiences where visitors read and interact with an online page-turning publication. There are many types of Interactive Flipbooks, such as product catalogs, guides, brochures, reports, etc.
Interactive Flipbooks are quite interesting for companies that want to dive into B2B Interactive Marketing. Mainly, because they are a great way to share information about your company, your products, and/or your services.
An effective way to start using Interactive Flipbooks is by converting your current ebooks and PDFs to Interactive Flipbooks. By doing that, you'll be able to add many interactive elements to them (e.g., hotspots, polls, lead forms, etc.). This will make your new Interactive Flipbooks way more user-friendly than your previous pieces of content.
Another fantastic benefit of this B2B Marketing ideas is the possibility to track many new KPIs. For example, who reads them, where they click, where they exit, etc.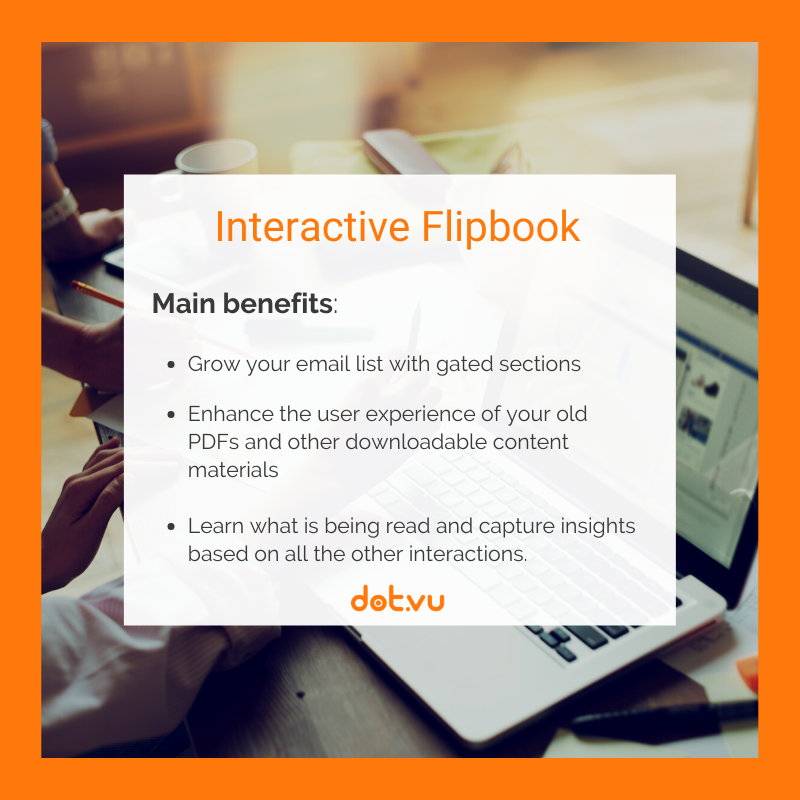 3. INTERACTIVE VIDEO
Interactive Video is also a very powerful type of B2B Interactive Content. What is the difference between a normal video and an Interactive Video? In a normal video, you would sit passively and watch. But, in an Interactive Video, you'll be asked to participate actively. So, what is an Interactive Video? It's a video that is much more engaging for your customers because they'll have to make choices based on their own preferences. Therefore, get a more personalized experience.
You can convert a normal video into an Interactive Video by adding interactive elements. There are many types of interactive elements, e.g, such as hotspots, lead forms, quizzes, and much more. Moreover, with an Interactive Video, you can learn a lot about your target audience by analyzing all their interactions during the video.  
They are different types of Interactive Videos, such as Branching Videos, Shoppable Videos, Sales Consultations, etc. For companies that are trying to boost their B2B Interactive Marketing, one of the most interesting types of Interactive Video is a Sales Consultation Video. In a Sales Consultation Video, you open a conversation with your viewers by asking them questions while they watch. Plus, you can give them instant feedback. It's an incredible add-on to your sales funnel.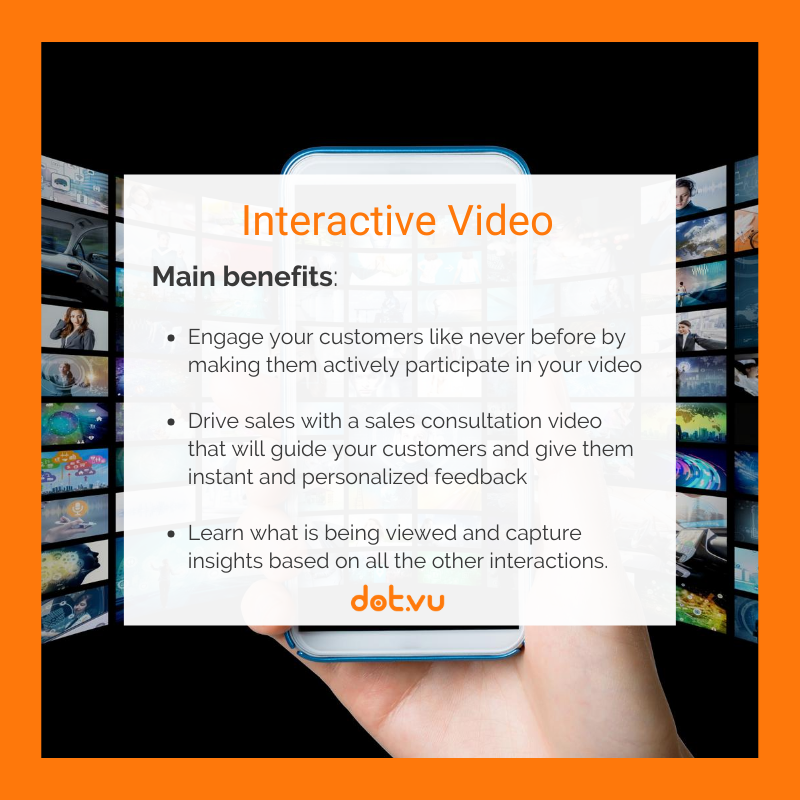 4. INTERACTIVE CALCULATOR
An Interactive Calculator asks users questions about their current setup, situation, needs, or expectations, and then gives them a numerical result. This numerical result can be an estimate of savings, price, revenue, ROI, risk exposure, or anything else. It is calculated based on a custom formula defined by you.
Calculators are a great addition to your B2B Interactive Marketing strategy because they can help customers understand the true value of your product offering. For example, an ROI Interactive Calculator is always great for B2B companies. It shows clients that investing in your product, or your service will benefit them in the long run. Another great Interactive Calculator for B2B companies is a Savings Calculator. With it, you can show customers how much money they will save by choosing you over a competitor or a substitute product. Finally, if you are selling a product with a complex price, you can help customers understand it better with a price calculator. A price calculator will calculate a cost estimation for them.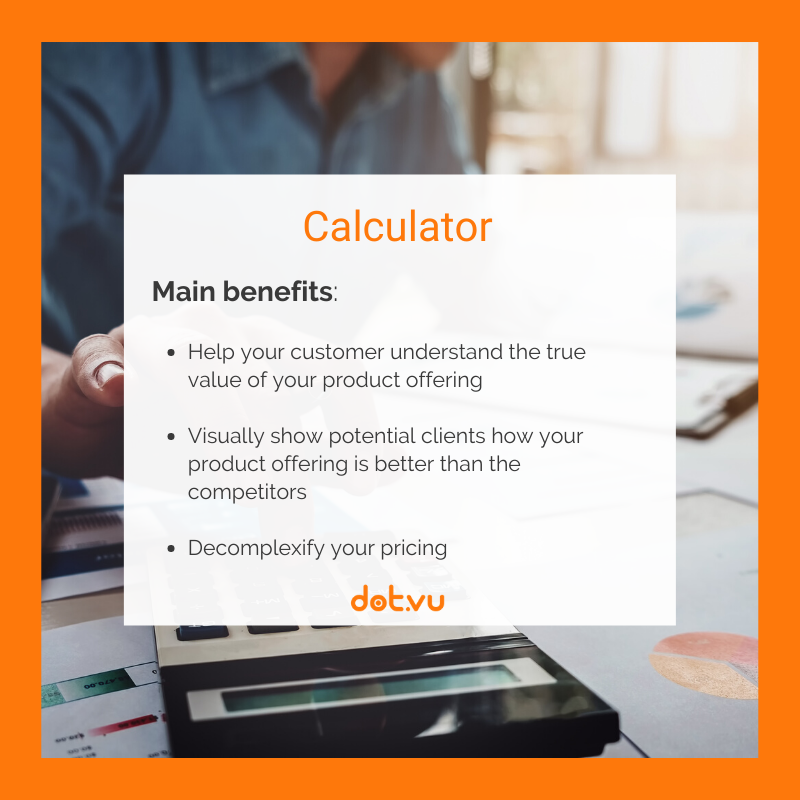 5. ASSESSMENT
Online Assessments are a type of B2B interactive experience that asks participants a set of questions and gives them a score and custom advice or feedback on completion. It is typically longer than a quiz. Assessments are a great way for your customers to evaluate their skills, competences, knowledge, needs, etc. They are a very valuable tool to add to your B2B Interactive Marketing strategy because they position you as an expert and a go-to source in your field.
A good idea is to add a gated assessment on your website. That way, you'll grow your email list. But, you'll also be able to learn more about your audience!
For example, if someone books a demo after the completion of the assessment, the sales rep in charge of the demo will already know the customer's needs because he will have access to the answer of the assessment. Plus, by completing the assessment, and looking into the results and feedback, the clients will already know more about your product and its benefit for him.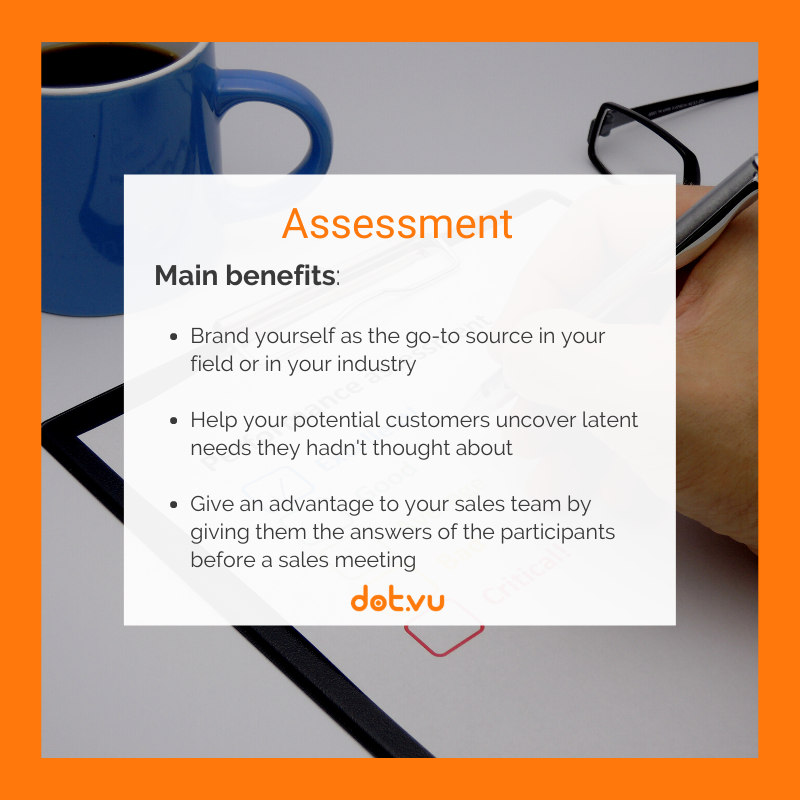 6. INTERACTIVE INFOGRAPHIC
What is an Interactive Infographic? It is a visual representation that allows readers to understand the content that is being presented quickly and clearly.
There are many types of Interactive Infographics that can be used to boost your B2B Interactive Content strategy such as statistical infographics, timeline infographics, process (How to…) infographics, comparison infographics, list-based infographics, etc. You can make an Interactive Infographic by adding interactive elements to your standard infographic. Such elements include animations, quizzes, contests, lead-forms, marketing games, information boxes, etc. These interactive elements will enhance the user experience of the readers.
Interactive Infographics are particularly useful B2B Interactive Experiences because they often have lots of data or information to share with their customers. For example, an Interactive Infographic is a great way to promote new trends in your industry, your latest case study, or your new feature. However, an Interactive Infographic should always be clear and concise and doesn't leave much room for precisions and specific information. By adding interactive information boxes to your infographic, you can make sure your customers can get more details directly from your interactive infographic if he needs it.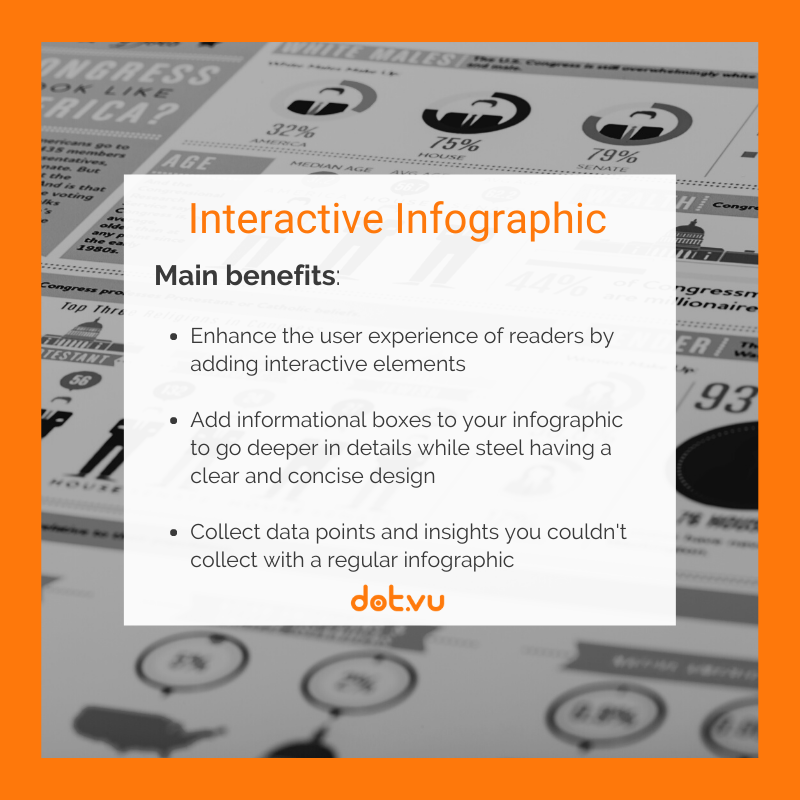 7. INTERACTIVE CONVERSATION
This next B2B Marketing idea is an Interactive Conversation. An Interactive Conversation is a two-way dialog using voices, images, and animations that simulate a conversation with the user. It's an excellent way to connect with your audience on a more personal level.
While Interactive Conversations can be used for many different B2B Interactive Marketing purposes, they are really effective in nurturing your relationship with your customers and making sure they fully understand your product and or service. They are also considered a low-cost alternative to a video.
In a B2B context, you could create an Interactive Conversation to teach your clients how to use your products depending on their needs. For example, you could ask your clients what their main difficulty is when using your product between options A, B, and C. Then, you could ask them why, and finally, you could teach them how it works depending on their answers and problems. It's way more engaging and personal than an FAQ.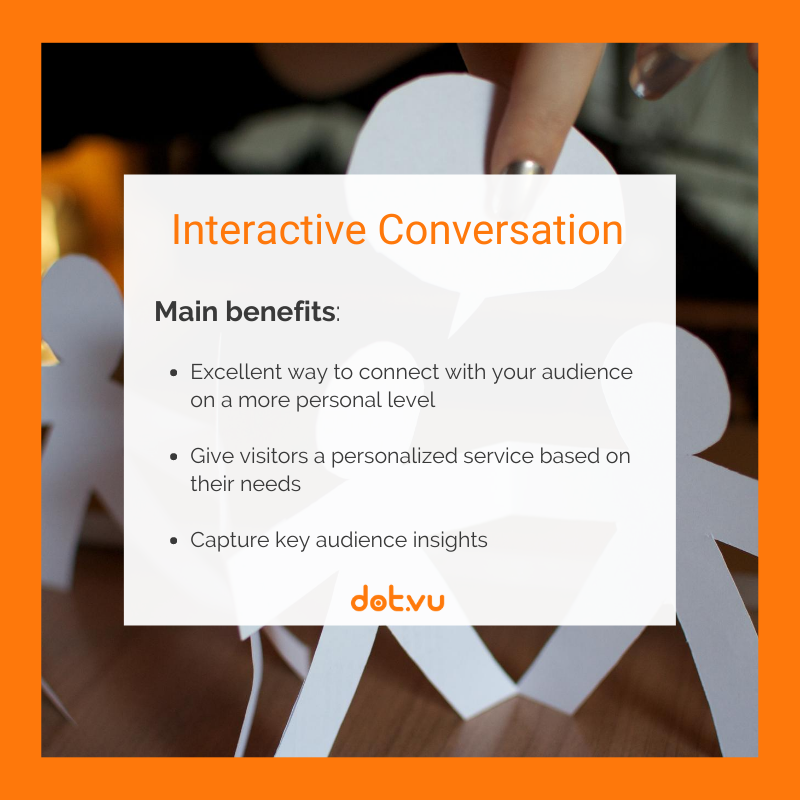 Ready to add plenty of B2B Interactive Experiences to your B2B Interactive Marketing Strategy?
I hope this article gave you lots of great ideas on how to add B2B interactive experiences to your B2B Interactive Marketing strategy. Just a thought on your way out, Interactive Content is mainly used in Marketing, but it can also be very beneficial for your sales team or your HR department.
Please, let us know in the comments if you are using an interactive experience in your B2B marketing strategy or if you are planning to do it in the future. We love to hear from you!
---
Subscribe to our blog!
---