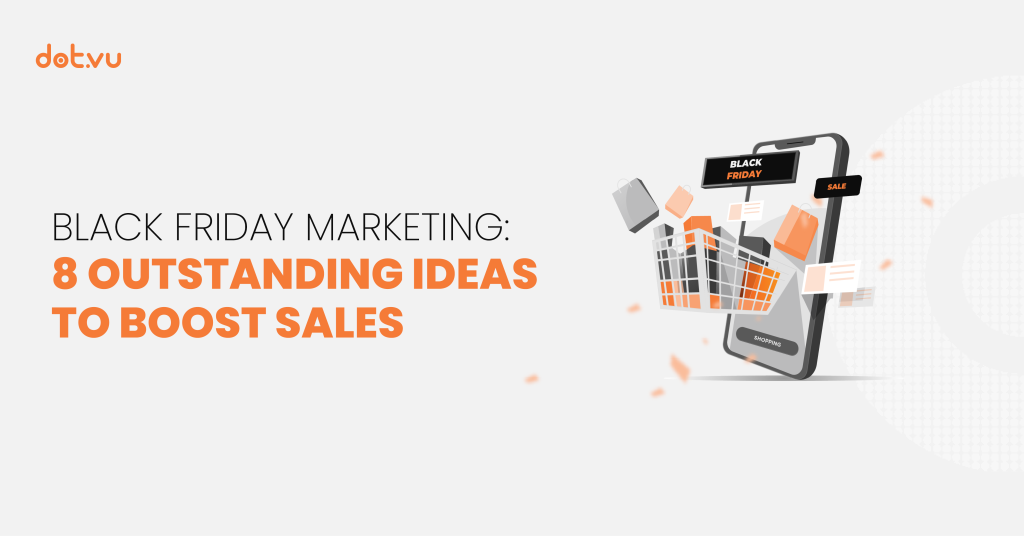 Black Friday marketing is an indispensable part of every retailer's seasonal marketing strategy. Consumers all over the world are looking forward to finding the best deals at the end of November. Therefore, companies are also eagerly preparing for a surge in online orders.  
Many people want to finally purchase their desired products at a discount. Others consider the crazy deals on Black Friday a perfect opportunity to buy an early Christmas present. In addition, stumbling upon a limited sale creates a sense of urgency and FOMO. The simple idea that an item is scarce makes shoppers obsessed with buying.  
Whatever the reason for buying more, the reality is that Black Friday is one of the busiest shopping days of the year. However, releasing crazy discounts is not enough anymore. Every business is doing that! In this blog post, we will show you some ideas on interactive Black Friday marketing strategies that will help you beat the fierce competition and maximize sales.  
What is Black Friday?
Black Friday refers to the Friday after Thanksgiving in the United States. It also marks the start of the Christmas shopping season where everyone will be rushing to buy items at highly discounted prices.
Many stores will offer promotions and be open for business longer than usual, sometimes from midnight or even from Thanksgiving Day itself. Some Black Friday sales even start before Thanksgiving Day and last throughout the Black Friday weekend till Cyber Monday.
Why do you need to stand out on Black Friday? 
While most people associate Black Friday with a crazy day at the shopping mall, as many as 60.8% of consumers are not planning to shop in-store. That leaves a huge opportunity for brands to promote their products online.
Online sales for Black Friday 2022 reached a record of $9.12 billion, which was a 2.3% increase from 2021. Therefore, you should focus on creating a good online buyer's journey this year to increase your chances of potential sales.  
Tips to stand out against Black Friday competition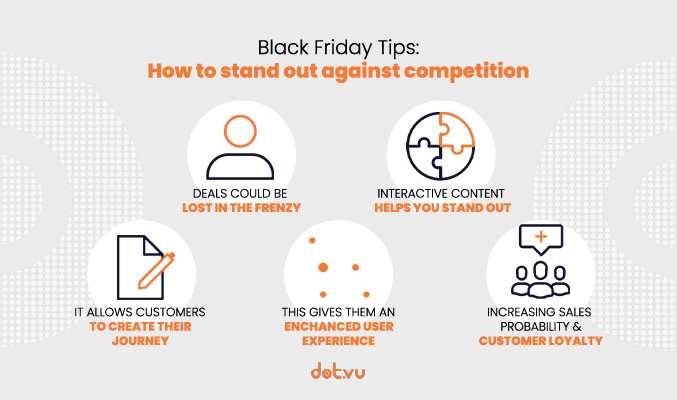 Don't let your deals get lost in the frenzy
On Black Friday, consumers are looking for deals everywhere, and the competition is fierce. The deals and promotions that you're offering could be easily overlooked by your customers, as it is among many other promotions that are being offered by your competitors.
Let Interactive Content help you stand out
Creating a traditional marketing campaign is not enough anymore. Therefore, using Interactive Experiences to boost sales on Black Friday is becoming crucial. You must succeed in cutting the clutter and letting your audience know you are there, offering them fantastic deals on a silver platter.
Let customers create their own journey for an enhanced user experience
However, people are different in their tastes and requirements. If you want to improve the user experience, you should avoid the one-fits-all approach. You can consider customization options instead. Interactive Content lets your visitors create and modify their journey. They engage with your content through different actions, such as clicking on images, answering questions, and playing games. 
Increase sales by distinguishing yourself from competitors
Interactive Experiences are not only a great way to incentivize purchases, but they are also very beneficial to distinguish yourself from your competitors. Most companies are investing a lot in their Black Friday Campaigns, and they are always trying to be more innovative than the others. Using Interactive Experiences is a great way to achieve that at a generally low cost. 
An example is worth a thousand words! Explore this Black Friday online game below and see how captivating it is: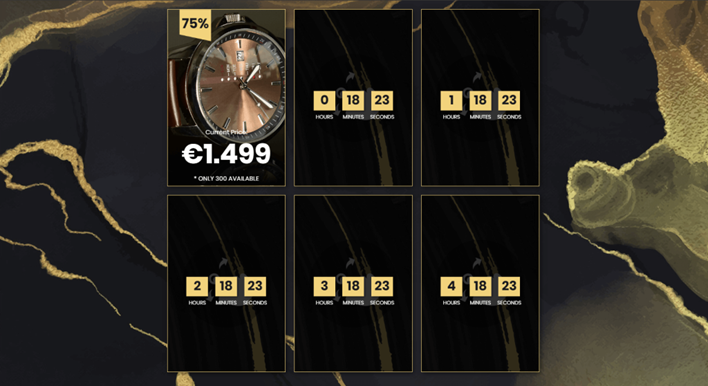 8 Interactive Experiences to enhance your Black Friday marketing campaigns   
There are many different types of Interactive Experiences you can use to generate engagement both before and during Black Friday. Take a look at the following ideas and note the experiences that would be interesting for you! You can try to design or modify them yourself afterwards.  
Related: 9 gamified Singles' Day Marketing campaigns (with great examples)
1. Hourly Surprises Campaign
An Hourly Surprises campaign, also called "A deal an hour" campaign, is a landing page where you release special deals, offers, and/or discounts every hour. It is often used on Black Friday and Cyber Monday because it encourages consumers to engage with your website all day long to unlock surprises.  
There are many reasons why Hourly Surprises campaigns are exceptional for Black Friday. For example, discounts and offers are only available for one hour, creating a sense of urgency. Therefore, Hourly Surprises is one of the best FOMO marketing examples for Black Friday. Potential buyers won't have much time to browse around for a better solution or price, rethink their choice, and forget about your deals; they'll have to decide in under an hour. If your deal is good enough, most buyers won't risk missing it. They'll buy it straight away!    
Another great reason to use Hourly Surprises is that it encourages customers to engage with your brand all day. Indeed, consumers will be curious about every new hourly deal, and they will come back to see what you have to offer. This will play on the mere exposure effect. Finally, you can also gate your Hourly Surprises with a lead form. That way, you can grow your email list and send remarketing emails later.  
Why does an Hourly Surprises Black Friday marketing campaign work? Because it triggers the Fear of Missing Out. 
Click To Tweet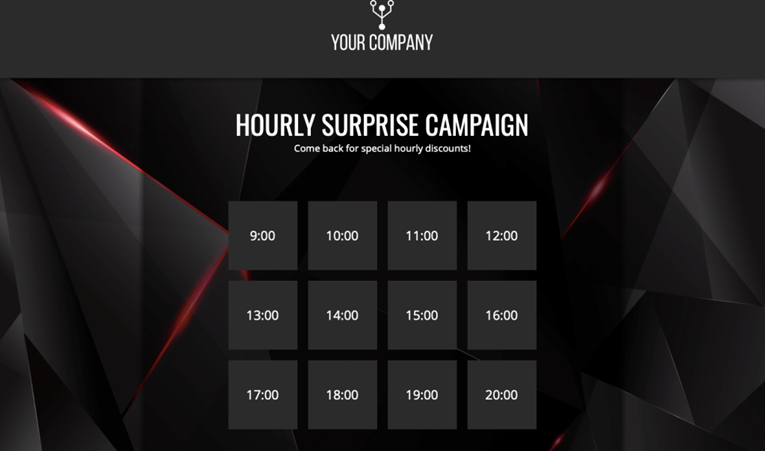 Click on the image to try the Hourly Suprises experience
2. Product Recommender 
A unique Black Friday Product Recommender is an absolute must have for eCommerce companies. Why? Because lots of people are ready for a shopping spree. Using a Product Recommender to suggest products to your website visitors is beneficial for you and your customers. It accelerates the decision-making process. Therefore, it is one of the best Interactive Experiences to boost sales on Black Friday. 
Imagine how many people have been waiting for the day of crazy discounts to finally buy something they need. For instance, various experts point out Black Friday as the perfect opportunity to buy a new laptop or tablet. If you are an electronics retailer, releasing discounts on electronic devices will get you to boost sales. However, a Product Recommender is an innovative way to push your deals while helping visitors make an informed decision.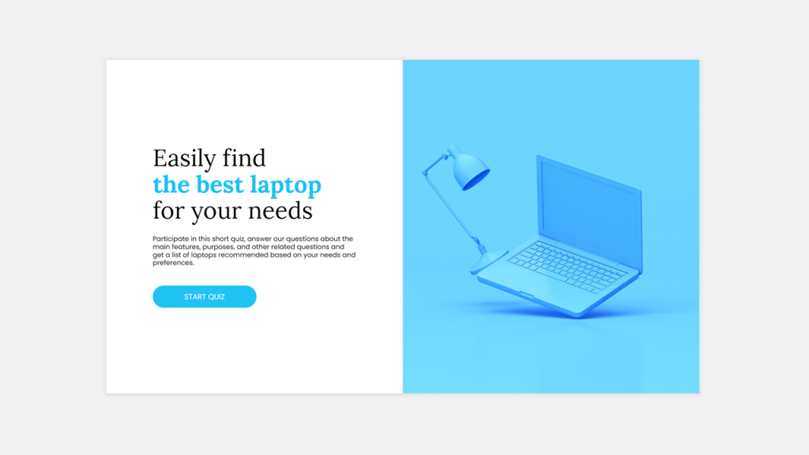 Click on the image to try the Electronics Recommender experience
Another brilliant use of a Product Recommender is a Gift Finder. As previously mentioned, many will take advantage of Black Friday to get early Christmas gifts. This Interactive Experience works the following way: you ask your visitors whom they would like to buy a gift for (ex. mom, dad, wife, husband, siblings, etc.). As the next step, try to figure out their budget. You can also take this opportunity and guide your potential customers further by helping them to decide the product categories they are interested in depending on what you are selling. Lastly, based on the answers, the Product Recommender would show different Black Friday deals based on their preferences.  
A Black Friday Gift Finder is great because it combines two important things. It enhances the customer experience by helping visitors choose a gift for their loved ones. Plus, it highlights your discounted items. 
Here is an example of a Black Friday Product Finder you can use to cater to early shoppers looking for great Black Friday deals. Click on the image to try!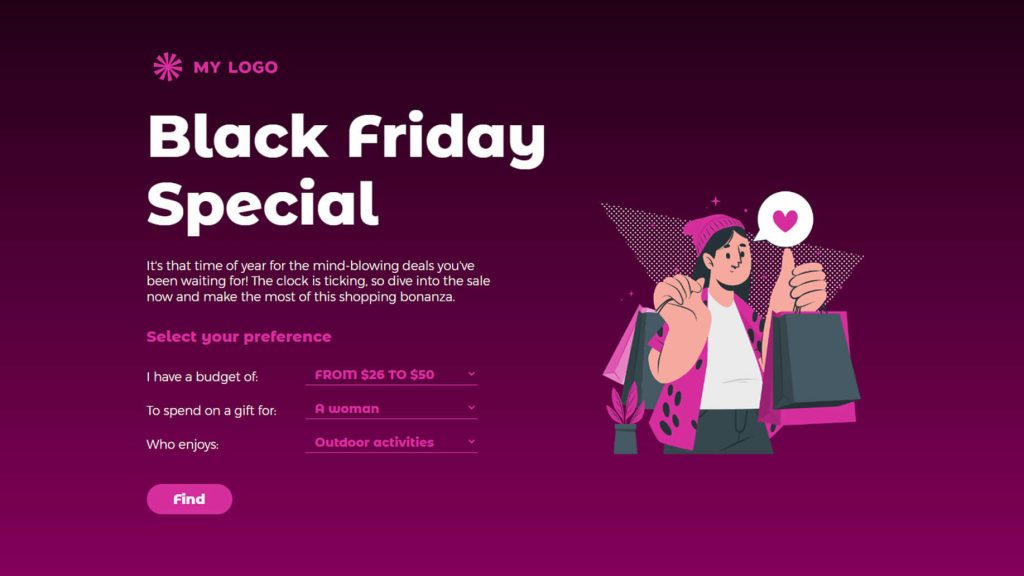 Why is a Product Recommender good for your Black Friday marketing? It accelerates the decision-making process by highlighting the best matching products for your visitors. 
Click To Tweet
Pro tip: Embed any of these Interactive Experiences as a popup. Select your triggers and target your audience at the right time. See the example below or read our blog post about 28 types of popups to get you inspired.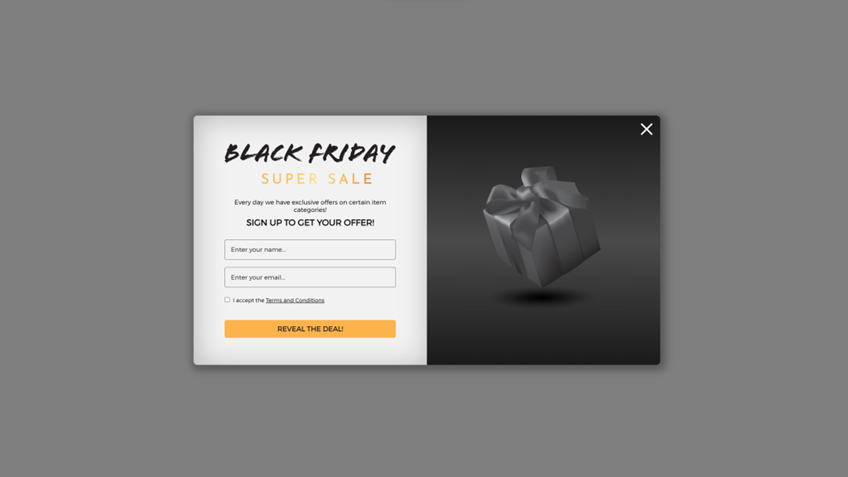 3. Black Friday Holiday Sales Calendar 
You do not need much effort to build anticipation in the weeks leading to Black Friday. But what you can do is to leverage on it by giving customers a glimpse of the promotions you'll be having.
In order for customers to not miss out on the deals, they'll just need to subscribe to your holiday calendar to get reminders and also gain access to the amazing offers.
It's a great opportunity to increase your email list with every subscription and to rake in sales during the promotion period!
Pro tip: Social media is a great place to connect with potential buyers. Share this on your social media page to attract loads of new customers, grow your presence on social media, and increase brand recognition.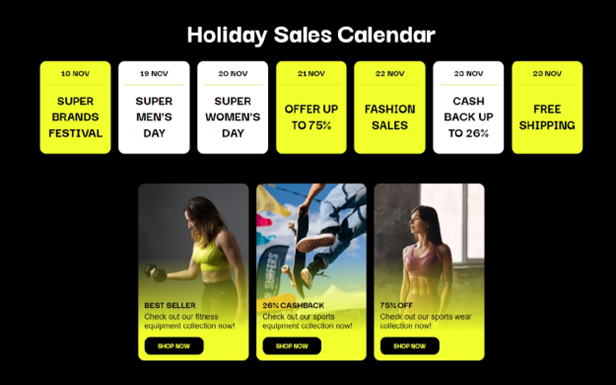 Why do Black Friday interactive posts work? They reach people exactly where they spend their time: on social media. 
Click To Tweet
4. Marketing Games
Another great Interactive Experience to promote your sales on Black Friday is a branded marketing games. You can use gamification to entertain your customers and help them relieve their stress during the day. On top of that, you can reward the winners of the game with an additional discount. In other words, once your website visitors have browsed your site and seen your amazing deals, you can encourage them to decide by giving them an extra discount through a gamified experience. People love to get extra discounts that make them feel like it's worth it to choose you over your competitors.  
During the game, it is nice if you highlight your Black Friday deals so as a result of that you can really make sure that every visitor is aware of your promotions. You can also always gate the Marketing Game to grow your email list.  
Pro tip: An increasing percent of revenue comes from smartphones in November. Make sure your Black Friday Marketing Game is mobile friendly.  
Every company will release crazy deals in November. Be different, let your customers earn their discount codes by playing fun Marketing Games!  
Here is an example of a gamified Black Friday experience. Encourage your visitors to return every hour to unlock new discounts and spin the wheel to earn additional rewards. Click on the image to play!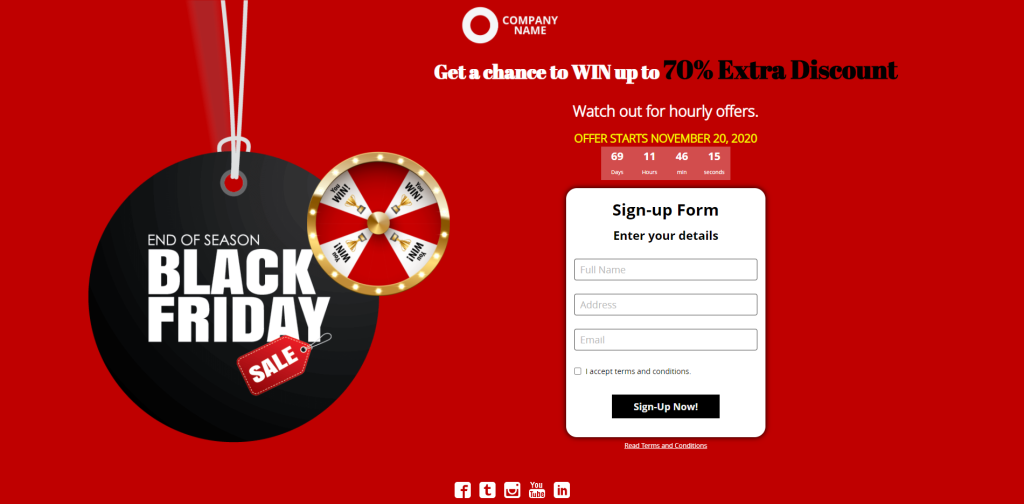 5. Interactive Video 
Another effective way to boost sales during Black Friday is creating an Interactive Video. This enchanting Interactive Experience helps you level up your promotional videos.   
Let's explore an example created by Dot.vu. In this short video, you can disclose your deals of the day. In the end, you can add a small Marketing Game like a Wheel of Fortune to give participants more discounts or a small gift in exchange for viewing the entire video. Interactive Videos generate amazing results as they truly catch people's attention. You can open the example below to fully understand the power of this Interactive Experience. 
Related: What is an Interactive Video?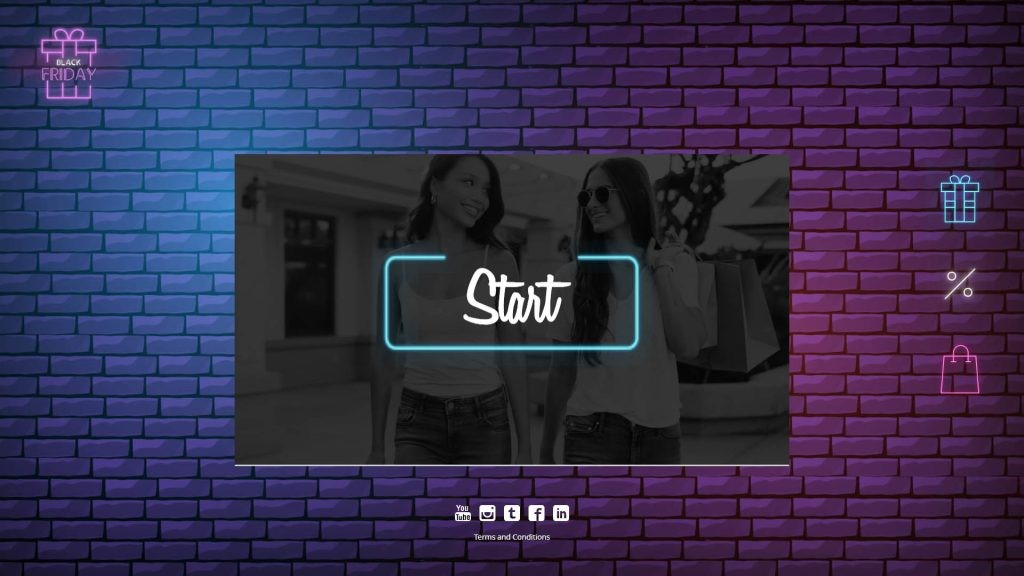 Why does an Interactive Video get people to buy more on Black Friday? Interacting with the promotional video is far more engaging than viewing a linear video to spot the best deals. 
Click To Tweet
6. Contests
Another experience you might want to take into consideration is to create a buzz before Black Friday with an online contest. You can achieve that by creating a contest with a tempting prize. Providing attractive rewards lets you insert a lead form with names and email addresses for entering the contest. You can then use this email list to send special deals and Black Friday offers to participants. That way, you'll make sure they will come and visit your e-commerce site once the day finally comes.  
You can also do an online contest during Black Friday to encourage customers to make a purchase. How can you do this? By creating a special contest that only customers who have bought a discounted Black Friday item can participate in. Again, the prize must be quite significant and desirable for your target audience to create the wanted effect. 
Why do contests deliver better results during Black Friday? Even if participants don't win a prize, they will remember your brand name when they are ready to buy an item. 
Click To Tweet
7. Interactive Flipbook
A great way to build anticipation for your Black Friday deals is to promote them through an Interactive Flipbook. Two weeks or a month before Black Friday, you can send an Interactive Flipbook to your email subscribers. In that flipbook, you can promote the discounted products in a very appealing and informative way. For example, you can highlight the 10 best deals you'll have during Black Friday that people shouldn't miss out on. That way, you really play on the FOMO effect.  
You can add various interactive elements to your flipbook, such as informational hotspots, Marketing Games, contests, gated sections, etc. It's basically an all-in-one tool that can be very powerful to incorporate into your Black Friday campaign. 
Pro tip: Reuse these Black Friday tips for your Cyber Monday marketing ideas.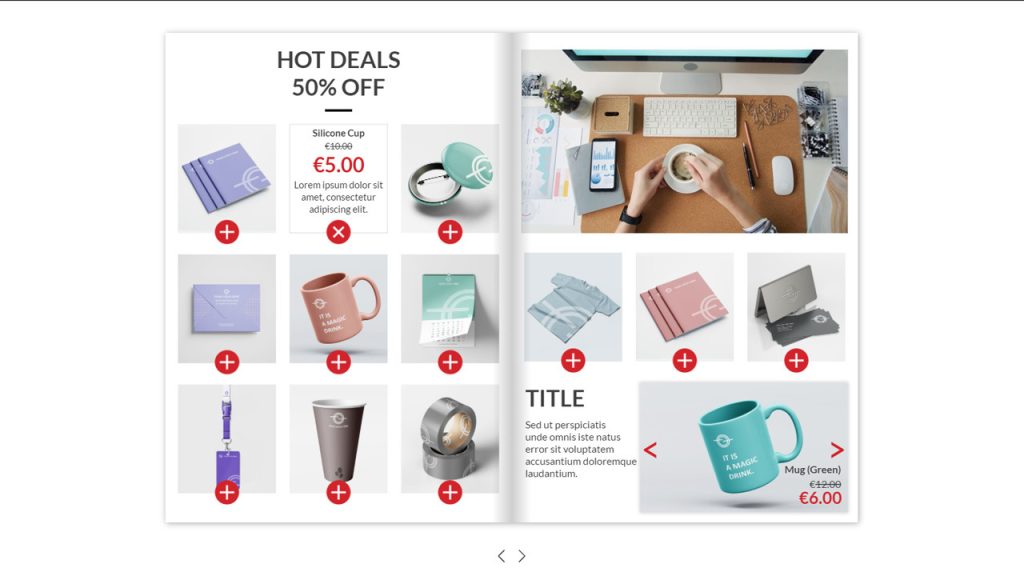 Why does an Interactive Flipbook work for your Black Friday marketing? Replacing a static product catalog with an interactive one engages people to a higher extent. They are more willing to buy as they become a part of your brand journey. 
Click To Tweet
8. Black Friday Sales Landing Page 
A landing page helps promote your products and drive customers to make a purchase. Having an attractive and dynamic landing page that adjusts according to your customers' preferences would improve the user experience and secure more sales for you.
For example, this Black Friday Sales landing page template below includes a mystery box game that gives the user a chance to win a prize. So exciting!
Related: Engage & convert: The magic of Interactive Landing Pages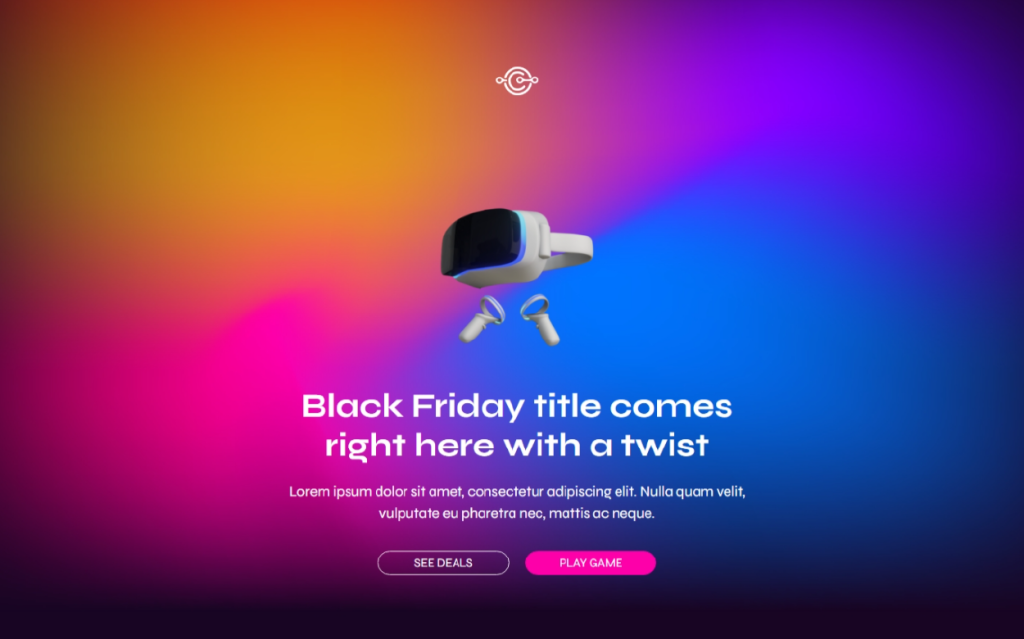 Boost your Black Friday marketing with stunning Interactive Experiences! 
Now that you know how to set your brand apart from competitors with Interactive Content, you can try to create your own experience. You can find premade Black Friday templates on our Black Friday Collections page. Furthermore, you can take any experience and customize it to suit the busiest shopping day of the year.  
Using any one of these examples in this blog post can take your Black Friday marketing to the next level. However, imagine the breath–taking results you can achieve by combining two or more Interactive Experiences! Whatever option you go for, one thing is guaranteed – you will significantly boost sales this November with Interactive Content!  
Can't visualize your content yet? No worries, you can start by creating a free account and start customizing as many templates as you like! You'll see how easy it is to pick a ready-made template and brand it as your own Black Friday marketing campaign. Happy selling!
---
This blog was updated by Cathryn Kok on 6th September 2023
See below for more marketing ideas: